September 1994 Articles
Cover Story
Darrell Elmore
Features
Staff
Columns
Berk Bryant
Jim Galipeau
Rick Cain
Paul Moffett
Keith Clements
Todd Fuller
Darrell Elmore
Duncan Barlow
CD Reviews
Bob Bahr
John Goodin
Kevin Gibson
Mark Clark
Kory Wilcoxson
Kory Wilcoxson
Bob Bahr
Michael Campbell
Allen Howie
Allen Howie
Kory Wilcoxson
Michael Campbell
Performance Reviews
Wally Stewart
Jan Winders
Bob Bahr
Ninette Shorter
Beverly Howell
William Brents
Interviews
Bob Bahr
Calendar
Preview
Bob Bahr
Photos
Staci Core
LASC
Paul Turner
Staci Core
Jean Metcalfe
Paul Moffett
Bookmark Louisville Music News.net with these handy
social bookmarking tools:
Available RSS Feeds
- Top Picks
- Today's Music
- Editor's Blog
- Articles
Add Louisville Music News' RSS Feed to Your Yahoo!

Kenny G at the Fair
By Ninette Shorter
There's no mistaking it, Kenny Gorelick enjoys making music. His eyes twinkle as he plays and roams through throngs of squealing — yes, I mean squealing — fans, who smile and go gooey-eyed, and he keeps pouring it out. Pied Piper, indeed.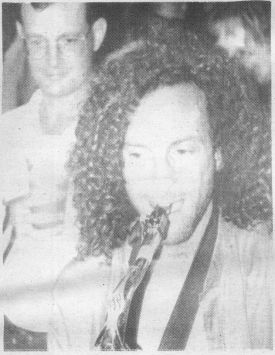 Kenny G.
Strains of "Songbird" opened the two-hours-plus show on the first Friday of the Kentucky State Fair, with no visible sign of the sax man for a few minutes of audience rubbernecking. Then, playing through a wireless mike, G made his spotlighted entrance from a Freedom Hall balcony and charmed his way through the aisles to join his five-piece band on stage.
One crowd-pleasing melody after another rolled out of a remarkably clean and clear sound system. Somewhere around the seventh song, I began to suffer from they-all-sound-alike syndrome, and I even had to wonder if a song got slipped in twice on the set list.
This is not to say the evening wasn't entertaining. To tell the truth, I enjoyed the whole experience. It looked as if everyone around me did too.
There was an older couple just down the row from me who should get a blue ribbon for chair dancing, and even though they couldn't tell me any song titles, the smiles on their faces and their shuffling footsies told all. Three teen-age girls in front of me, who bought discounted tickets just for the heck of it, were repeatedly surprised by the songs they recognized and liked. They were smiling too. Lovebirds all over the place. More smiles.
If there's a theme here, it's smiling. And since I haven't mentioned romance, let me mention it. Romance. It's one of the main reasons Kenny G fans are Kenny G fans. While G is frequently slotted in the jazz category, his music — at least at this performance — didn't stray outside the lines of pop. But his fans don't really care if he's jazz or not. They like the way his music makes them feel. His musical style is pleasing, melodic, emotional, and romantic ... and it makes people smile. Not a bad thing.
The backup band was itself worth wading through Fair traffic to hear, full of talent and enthusiasm. On grand piano and synthesizer was Robert Damper, the most jazz oriented of the group. Ron Powell — whom G dubbed Yul Gossett Jr. for his new do — provided primal percussive accompaniment, complete with vaulting off his congas and rolling his tambourine across his chest from arm to arm like a hoop. More than just an acrobat, he made that tambourine hum with bewitching rhythms. Drummer Bruce Carter, bassist Vail Johnson — a thunder-thumber if I ever heard one — and guitarist John Raymond completed the quintet.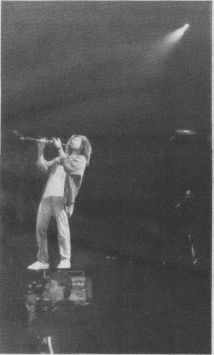 Genny G.
The band members played well off one another, and a mix of sax-and-piano and sax-and-bass duets, and solos for all, let individual talents shine. More than an hour into the concert, all six musicians came down to center stage for an "unplugged" segment, a nice break for crowd and band alike.
With his latest album, Breathless, having hit the ten-times-platinum mark, G announced that a new album called Miracles will be out for the holidays. A sax-and-piano rendition of "White Christmas" from the album got a little holiday spirit rolling around, as well as a little early promotion.
After another trek through the aisles, the show wrapped up with an encore that included, yes, you missed it, the "Star Spangled Banner" on solo soprano sax, and another lovely Kenny G whatever-the-name-of-it-was tune.
You know he left 'em smiling.