September 1994 Articles
Cover Story
Darrell Elmore
Features
Staff
Columns
Berk Bryant
Jim Galipeau
Rick Cain
Paul Moffett
Keith Clements
Todd Fuller
Darrell Elmore
Duncan Barlow
CD Reviews
Bob Bahr
John Goodin
Kevin Gibson
Mark Clark
Kory Wilcoxson
Kory Wilcoxson
Bob Bahr
Michael Campbell
Allen Howie
Allen Howie
Kory Wilcoxson
Michael Campbell
Performance Reviews
Wally Stewart
Jan Winders
Bob Bahr
Ninette Shorter
Beverly Howell
William Brents
Interviews
Bob Bahr
Calendar
Preview
Bob Bahr
Photos
Staci Core
LASC
Paul Turner
Staci Core
Jean Metcalfe
Paul Moffett
Blogs
Got Shows?
Send Them To Us
Bookmark Louisville Music News.net with these handy
social bookmarking tools:
Available RSS Feeds
- Top Picks
- Today's Music
- Editor's Blog
- Articles
Add Louisville Music News' RSS Feed to Your Yahoo!

Issue: September 1994


Down On The Corner
• Dallas Ain't Dead Dept. In case you missed the Bo• Hill article in the C-J, Dallas Embry, he of Homefront and Uncle P's notoriety, is not the Dallas Embry found dead under an overpass over Ohio Street. The live Dallas has had the curious experience of finding out who really was upset over his demise.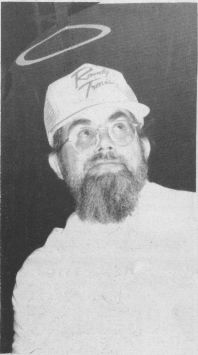 Dallas Embry
Tim Krekel phoned to say that there will be a benefit for David Marasco at Dutch's on Wednesday, September 7. Playing will be the Wulfe Bros., the Mudcat Blues Band and Krekel's band, the Punishers. Plus friends who drop in to play. The $5 admission will be donated to help Marasco offset medical expenses.
Music Warehouse International? Dept. Well, that's an exaggeration, but Ray Shipp of Music Warehouse is opening his fourth store, this one in Elizabethtown. The store will be open September 1, with a Grand Opening set for October. Mike Molesco will be the store manager. Ray says that "there are a lot of guitar players in E-town." Pick your way on in.
Kids in the Candy Store Dept. Beverly Howell reports that it was one of the more interesting experiences of her life to sit in Guitar Emporium and watch Jackson Browne and John Hiatt playing with the old guitars and amps. Owner Jimmy Brown opened up the store after Browne and Hiatt played a show at the Louisville Gardens recently. Ah, fame.
Building for the Ballet Division. The Louisville Ballet has broken ground on their new center, a structure to be part new construction and part renovation of an existing building on the site. The Center is scheduled to be completed in the spring of 1995. They've raised $1.8 million and need to raise an additional $1.875 million to complete the center.
Prez is a Four-Letter Word Dept. The Louisville Jazz Society is having a General Membership meeting on Thursday, September 8, from 7:00 – 8:30 p.m., at the Highlands-Shelby Park Library in the Mid-City Mall at 1250 Bardstown Road. Nominations for President of the Society will be taken at this meeting. They are pleading for Jazz Society Members to show up.
Melody Hill Studio is up and running, according to owner Vince Emmett. He says it's a miniature Bearsville. Call him at 502-267-5298. Currently, Vince and Charles Ellis are scoring a Civil War-era movie, with the working title of "Sinkhole." Vince previously worked for Allen-Martin Productions and Alpha Studios in E-town as an engineer and was in the band Shaking Family.
Speaking of Allen-Martin Dept. Legendary audio engineer Bill Porter is saying "auf weiderschön" to the J-town recording studio, where he has been president since 1989. Porter has started Captain Audio roductions. and he will be available for consultation on audio projects. Why is he legendary? Can you say Roy Orbison? Elvis Presley? Everly Brothers? Do 37 gold records mean anything to you? You can reach his voice mail at 502-569-1753 or write him at POB 99501, Louisville, KY 40269.
In the Groove and in the Niche Depot. Ray Yates and Brian Curella of Media Music have had a CD of their music released by a music library service in San Antonio. The company specializes in music for commercial "beds" and related usage. Yates says that a second CD is scheduled for release by the end of the year.
• You Never Know You'll Meet Dept. Flipping through the September issue of the Singing News, the Southern Gospel Music trade magazine, who should I see in a full-page ad but former Louisvillian Cynthia Clawson, who is now with Chapel Music.
A little further on in the same issue, there's a photo of Chuck Higginbotham, who has found a home on Goldenvine Records. Chuck is a mechanic at J.R.'s Volvo, where I take my ailing auto. He's also a very fine singer and I'm happy that he's gotten what was an independent project picked up by a label.
• NAMM Notes Division.
b Several local music stores sent representatives to the National Association of Music Merchants Show in July in Nashville. According to Ray Shipp of Music Warehouse, NAMM will hold shows in Nashville at least two more years, working from a waiting list for exhibitors. The Music Warehouse folk played in a golf scramble with some Nashville celebrities.
b Jimmy Steilberg of Steilberg String Instruments also went. He ordered some 'nifty' new Taylor and Washburn guitars and got to see Pat Kirtley, Phil Keaggy, Martin Simpson and Jorma Kaukonen at the Station Inn's "Great Guitarist" Night. He said it was "inspiring."
b Jeff Shrensker and Kevin Stepp from Bill Edwards Music journeyed down. It was their first show and they had a fine old time. It was educational, Jeff said, and they even went window shopping at Gruen's Guitars, as well as at the show.
• Marvin Maxwell of Mom's went as an exhibitor and, according to several sources, his Jammin' Johns™ toilet seats were the smash of the show. Now, he says, he has to get production rolling, as he has many orders. Ah, the blessings of success.
• From Showcase Music, Jeff Hillerich and crew went down. They "walked all over Nashville" checking out new clubs. Oh, yeah, they looked at all the new stuff in the show and schmoozed with their suppliers, too.
Showcase Music recently moved from 2507 Preston to 3021 Preston, in case you went looking for them and couldn't, ya know, find them.
• Ed Hudgins from Dixie Music Center said he just drove down on Saturday and came straight back, not "partaking of the available fun." He's cranked about the new Crate Vintage Amps, which, he said, are being compared favorably to vintage Fender amps.
Hudgins also commented on the sale and move of Tobias Bass from California to Nashville. Tobias was bought by Gibson and their production has increased without loss of quality.
• From Indiana, Brad Canady and Rick Boone from Far-Out Music made the trek south, according to Kenny Deweese. They didn't find anything they just had to have, because they had been to the LA NAMM Show in January.
• John Dowell from New Albany's Kentuckiana Music Center journeyed down. Besides all the neat stuff at the show, Dowell and company toured the Gibson Guitar factory, which is always a treat.
NightBites – News and Tidbits About Local Nightspots
• Uncle Pleasant's has gone down for the third and, apparently, last time. The new bar owners and the landlord were in dispute over a little matter of wiring in the building. The alternative acts have moved back to the Cherokee, neé Cherokee Blues Club, neé Tewligans.
• The Cherokee Blues Club is now the Cherokee Club or the Cherokee Blues Club, depending on who's playing there. At least, that's how I understand it. The club is booking alternative and blues, according to Jamie Clark. Changes are still going on, however, so watch this spot for more news.
• Bottom's Up is belly up, according to Jerry Roubieu of RUOK?. Someone else has bought the business, but there is no word on what will be there then. Or something like that. Call me if you know any more.
• T.K.'s Pub has been in the middle of expansion. The construction is pretty much done and it's much expanded. T. K.'s is located in the Spanish Cove Shopping Center on Bardstown Road in Fern Creek. Owner Todd King has also opened up the Bullfrog Garden Restaurant next door. Gitcher frog's legs here.
• Big Band Bureau. John LaBarbera has arranged for the second Tuesday of each month at the Rudyard Kipling to be a Big Band night with the Community Jazz Ensemble. The Ensemble is a credited course for members of the community who want to play in the big band style. LaBarbera has extensive credits as the music arranger for the Buddy Rich Orchestra and is internationally known for his big band jazz arrangements and compositions.
The Ensemble will perform material ranging from Count Basie to Glenn Miller, in two sets, from 8 - 10. There is no cover or minimum. Anyone interested should call John LaBarbera at 852-6615 for more information.
The Rick Wagner and Friends Show has moved from Uncle P's to the Blue Bird Cafe, 956 Baxter Ave., on Tuesday nights. Wagner's show is an open stage, sort of, so bring yer axe. I stopped in the other night for a quick check and was surprised to find matching tables and comfortable padded chairs. There weren't any holes in the floor and the place was well-lighted. I'm still not sure it's a real blues club, being so nice and all, but don't let that discourage you. Us purists like our corn likker straight and our blues in a crowded, smoky, ramshackle joint that gets raided by the police. Or something like that. I know, 'cause I saw it in a movie oncet.
Got some club news? Call Paul Moffett at 241-2699, 9 - 5 W-F.