September 1994 Articles
Cover Story
Darrell Elmore
Features
Staff
Columns
Berk Bryant
Jim Galipeau
Rick Cain
Paul Moffett
Keith Clements
Todd Fuller
Darrell Elmore
Duncan Barlow
CD Reviews
Bob Bahr
John Goodin
Kevin Gibson
Mark Clark
Kory Wilcoxson
Kory Wilcoxson
Bob Bahr
Michael Campbell
Allen Howie
Allen Howie
Kory Wilcoxson
Michael Campbell
Performance Reviews
Wally Stewart
Jan Winders
Bob Bahr
Ninette Shorter
Beverly Howell
William Brents
Interviews
Bob Bahr
Calendar
Preview
Bob Bahr
Photos
Staci Core
LASC
Paul Turner
Staci Core
Jean Metcalfe
Paul Moffett
Bookmark Louisville Music News.net with these handy
social bookmarking tools:
Available RSS Feeds
- Top Picks
- Today's Music
- Editor's Blog
- Articles
Add Louisville Music News' RSS Feed to Your Yahoo!

Onstage: The Beat Daddys
By Darrell Ray Elmore
I did a little research about these guys before I went to see them. Everyone I talked to had this to say: "Beat Daddys? Wow! They're like REAL musicians!" or "Beat Daddys? Wow! They're like great! You'll really like them!" But a few said, "Beat Daddys? Who the ---- are they?"
I'll tell you who they are. For the most part (with no offense intended to the rest of the guys in the band; I'll get to them later), The Beat Daddys are this bad--- looking guitarist named Tommy Stillwell, he of the long, stringy hair, the tattoos, the obligatory Stevie Ray Vaughan/Johnny Winter black cowboy hat # even the obligatory Stevie Ray chops # blistering, heavy, thunderous guitar. Seriously, Stillwell looks like a manic Dennis Hopper and plays with a hint of predatory menace lurking just below the surface # flat out mean.
Stillwell steals the show in just about every aspect. Plenty of wah in there, plenty of string bending, smoking lead with a side order of Texas summer.
Throw in the rest of the band -- Ken Vogelsang on drums, Joe Grissom on bass and Larry Grisham who fronts this band and plays rhythm -- and you've got some of the deadliest white-boy blues in town. These guys could play background music for beer commercials all day long # and I don't mean that as an insult; some of those beer commercials have better music than many movie soundtracks I have heard.
The Beat Daddys are slick, with carefully laid-out lead and rhythm, ponderous noise with subtle vocals provided by Mr. Grisham who is just throaty enough to make it all work. No offense there, Larry, but I'd LOVE to see these guys do a few numbers with a female vocalist . . . the dangerous power of their music combined with a sexy chanteuse, well, It makes me shiver to think about it.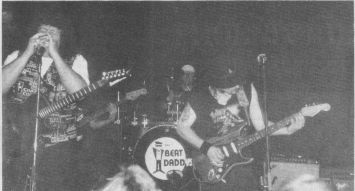 Left to right, Larry Grisham, Ken Vogelsang and Tommy Stillwell. Photo by Darrell Elmore
The only thing that got me was the seemingly total apathy from the audience. Granted, these blues fans are an older crowd, but what is this? A funeral? I mean, sure, some of the ladies are rocking and swinging in their seats . . . but hey, this stuff is ultimately danceable.
Halfway into the set and Tommy Stillwell is still hogging all the attention with his adept use of a finger slide . . . it is definitely about his prowess with a Fender Strat.
Straight into "Hoosier Lottery," a song complete with witty-quirky lyrics and a little bit of boogie-woogie thrown in . . . man, I hate that quirky stuff, but these guys make it work . . . I just can't stand it!
Mr. Stillwell can't leave it alone! The rest of the band takes a break while he sits down on the drum riser and delivers a virtuoso slow piece to further impress us with his dexterous use of the electric geetar # yowza! Huzza-huzza! Incredibleositude!
***Again, even with all of Tommy's grandstanding, this band simply would not work without the extraordinarily tight rhythm section . . . like a well-oiled machine, they provide the framework for the guitar work of Stillwell, who blends perfectly with them, adding punches and dabs of color to a clean, slick white canvas, a true artist. Yes, Stillwell eclipses the rest of the band # but it is obvious that they're doing it right, otherwise it wouldn't be so seamless an operation. There is no wasted time during their set # they are obviously well-rehearsed perfectionists to the nth degree.
This was one of the first real shows I had attended at the new Cherokee place (where Tewligans used to be) and I must admit (no matter how much it hurts) the owners have done nice things to the old place. They've even got a working kitchen set up that produces some of the best barbecue I've ever eaten. Who'da thunk it? If you want to warm up your heart, then check out the Beat Daddys, and if that's not enough, have a few of those Cajun fries; I'm sure they'll provide some heat.
All in all, an outstanding performance by these guys from Clover Point, via Evansville, Ind. All this and they got just about the coolest band logo I've ever seen: a hip-looking beatnik kinda guy with a goatee, in wrap-around shades. Odd, but I had more expected a skull with a bunch of snakes wrapped around it or something, considering the danger-zone slant of their music. During the break, I rushed up to the stage and was the first in line to grab me a T-shirt.
The Beat Daddys will be releasing their new record on the 13th of September, and Larry told me they hope to do an in-store kind of thingy at ear X-tacy to promote it. My advice? Be there.