May 2018 Articles
Cover Story
Paul Moffett
Columns
Eddy Metal
Eddy Metal
Blogs
Got Shows?
Send Them To Us
Bookmark Louisville Music News.net with these handy
social bookmarking tools:
Available RSS Feeds
- Top Picks
- Today's Music
- Editor's Blog
- Articles
Add Louisville Music News' RSS Feed to Your Yahoo!

Issue:


I've Got A Mind To Ramble
If I were looking for an authentic character to portray a veteran bluesman for a movie, say "Crossroads II," I'd pick Fred Murphy. Fred has been around the blues all of his 75 years. He started to play his harp at the tender age of twelve on Beale Street where he grew up in Memphis. He even claims to be a third- or second cousin of B.B. King.
Fred moved to Louisville to join his uncle fifty years ago. Here he met Toby Howard, the D.J. for WLOU, and the singer/promoter Cliff Butler, for his first gigs. Later Fred teamed up with Henry Woodruff and some other musicians to form the Blues of the King. They played the local scene like the Sunset Bar and the Cotton Club and traveled around the state to play in Bardstown and Lebanon Junction. Fred held court at the 26th Street Tavern in the '70s and '80s, performing with the house band. There he established a reputation in the African-American community throughout the West, and recently Fred has left the 26th Street Blues Band to play with the B.B. Taylor Blues Band.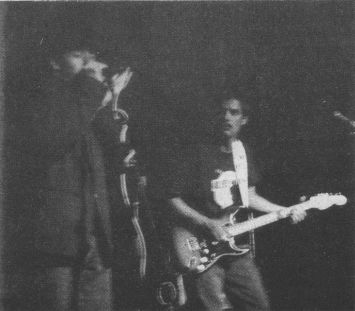 Rude Mood, winners of the KBS 2nd Annual Amateur Blues Competition. Above, Phil Smith, vocals/hardp and Rex Cushman, guitar
I had a chance to hear the group perform together at the Fastbreak Restaurant & Pub in downtown Buechel by the railroad tracks. After a few numbers by the band, Fred got up to work the audience. He was all decked out with his white suit and hat. He operates like a preacher turned bluesman, gesturing and stalking about in front of the stage and even standing up on a chair to hit a high note. He knows when to blow and how long to hold a note to get the maximum effect from his assortment of six harps. This only comes with years of experience.
Fred captures the blues sounds of the '50s and '60s, performing standards such as "Rock Me Baby," "Got My Mojo Working," "Just Can't Help Myself," "Down Home Blues," "Stormy Monday" and "You Got Me Running." He does great covers of these songs with a heavy Howlin' Wolf influence, plus he has done some originals such as "I'm Going Down Slow" and "Don't Let the Green Grass Fool You."
B.B. Taylor's laid-back guitar and singing complements nicely with Fred's antics on such songs as "Start All Over Again" and "Rainy Night In Georgia." The rest of the band included two keyboardists, Leroy Buford and Don Harris, plus the rhythm section of Lay Lepard on drums and Marshall Smith on bass. Marshall comes from Mississippi and has played with Elmore James, but that's another story.
Jim Gilbert has been managing the group and hopes to have them as the house band at a new club he is planning to open on 20th Street. Presently there is only one blues bar in the West End.
The future looks bright for Fred and B.B. for they are starting to play to a wider audience and they have been recording at Stylistic Production in Louisville for a future release. This is the real thing, folks, and you will get to hear them Friday, Oct. 7, at the Garvin Gate Blues Festival.
• "Goin' to California." That's what blues guitarist Curtis Marlatt will be singing for he and his family are planning to move to Palm Springs in September. Curtis has not had the big break in Louisville and wants to relocate to where there is a better blues climate in the Southwest. Curtis and the Kicks will be performing at the 1994 Miller Riverfront BluesFest at Eckwood Park, Peoria, Ill., on Sept. 2 and 3, along with Gatemouth Brown and Tinsley Ellis, who will be in Louisville at Jim Porter's on Sep. 1. A farewell concert is planned at the Cherokee Blues Club on Sept. 4. Curtis will return to play at the Garvin Gate Blues Festival on Sat., Oct. 8. We will miss Curtis, who was on the Board of Directors of the KYANA Blues Society and was featured in the November 1993 issue of Louisville Music News.
• Hot flash! We have a winner. The Second Annual KYANA Blues Society Amateur Blues Contest is history and by a very close vote Rude Mood came out the winner. The band came from Richwood, Ohio, to compete at the Back Stage on Sunday, Aug. 7. They were the last of six bands so they knew how good the competition was by the time they hit the stage. Phil Smith fronted the band with some scorching vocals for such a small young guy. The real standout was their guitarist, Rex Cushman, who could handle Stevie Ray Vaughan and Chicago blues with a lot of maturity for his age. The rest of the band's punch was provided by Jason Phelps on bass and Junior on drums. With the exception of the bass player, the band has been playing together for five years and now they will get a real test when they compete in the final round of the National Blues Talent Competition in Memphis on Oct. 9. We are going to have to drop the "amateur" from our title for next year's competition for the overall quality of all the bands has gotten so good.
Keith Clements is president of the KYANA Blues Society.