September 1994 Articles
Cover Story
Darrell Elmore
Features
Staff
Columns
Berk Bryant
Jim Galipeau
Rick Cain
Paul Moffett
Keith Clements
Todd Fuller
Darrell Elmore
Duncan Barlow
CD Reviews
Bob Bahr
John Goodin
Kevin Gibson
Mark Clark
Kory Wilcoxson
Kory Wilcoxson
Bob Bahr
Michael Campbell
Allen Howie
Allen Howie
Kory Wilcoxson
Michael Campbell
Performance Reviews
Wally Stewart
Jan Winders
Bob Bahr
Ninette Shorter
Beverly Howell
William Brents
Interviews
Bob Bahr
Calendar
Preview
Bob Bahr
Photos
Staci Core
LASC
Paul Turner
Staci Core
Jean Metcalfe
Paul Moffett
Blogs
Got Shows?
Send Them To Us
Bookmark Louisville Music News.net with these handy
social bookmarking tools:
Available RSS Feeds
- Top Picks
- Today's Music
- Editor's Blog
- Articles
Add Louisville Music News' RSS Feed to Your Yahoo!

Issue: September 1994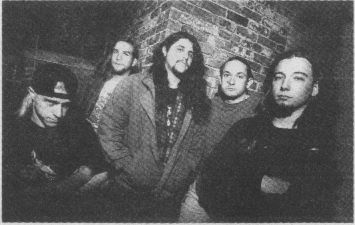 Pushmonkey
two different ways to groove with loud guitars
Colorblind (Atlantic)
Collapsing Lungs
Maize (Sector 2)
Pushmonkey
If you're in the mood for something fast and furious, you could do a lot worse than either of these discs.
Colorblind, the short (19:19) but potent EP from Collapsing Lungs, is especially satisfying.
It's crammed wall-to-wall with smart, angry thrash, a la Rage Against the Machine. The band's grooves are as hard as diamonds, as infectious as smallpox and its lyrics are as volatile as nitroglycerine. This seven-piece noise factory rivets samples and sound bites as well as percussion and keyboard textures onto metallic guitar riffs. The band's lyrics are as tough as its music. Like Aesop's fables, every tale has a moral.
"Crackerjack" is an unflinching glare at domestic violence. "Bang!" takes aim at gun-related violence. "Too Blind to See" addresses racial injustice.
The EP's best cut, "Let's Play a Game," is a cry to help the homeless. Vocalist Brian Tutunick's shout, "This is f–-ing reality/Can anybody hear me?" says more in two lines than Phil Collins could communicate in an entire sappy ballad.
Colorblind is a very tight EP – short, focused and powerful. Maize, the new release from Pushmonkey, is longer (over 60 minutes), looser and more experimental. As far as Collapsing Lungs is concerned, the groove and the message are everything; anything else is in the way. Pushmonkey presents a broader tableau.
The band takes bottom-heavy thrash grooves and spices them with melodic choruses. Guitarists Will Hoffman and Howie Behrens are mere cinder blocks in the band's wall of sound, which also includes, on occasion, trumpet, piano and even a skillet (!).
"Crush It," which opens the disc, sounds like a slice from Collapsing Lungs. Built on an intricate, jazzy bassline by Pat Fogarty, the song chases the groove while vocalist Tony Park rants about intolerance: "So many faces, so many places/Too many bigots for too few races." But the next two songs, "Sweet Caribbean Bungalow" and "Media Shark," each feature long, spacey diversions.
As Maize progresses, the band wanders further and further afield, at times into terrain that recalls '70s "art rock" groups like King Crimson. If you have the patience to sit back and enjoy the ride, this makes for a interesting journey.
Both of these bands depart from the same place and arrive at the same destination, but Pushmonkey takes a leisurely cruise through the back roads, while Collapsing Lungs speeds down the interstate.