December 1989 Articles
Cover Story
Staff
Columns
Berk Bryant
Paul Moffett
Earl Meyers
CD Reviews
Jim Powell
Performance Reviews
Karen Le Van
Dallas Embry
Bill Ede
Bill Ede
Calendar
Staff
News Item
Staff
Bill Ede
Jean Metcalfe
Preview
Staff
Staff
Staff
Staff
Staff
Staff
Staff
Staff
Errata
Staff
LASC
Paul Moffett
Diana Black
Diana Black
Diana Black
Jean Metcalfe
Paul Moffett
Tom Metcalfe
Staff
Jean Metcalfe
Staff
Letters
Staff
Industry Review
Karen Le Van
Paul Moffett
Music Business News
Staff
Paul Moffett
Staff
KYANA Blues Society
Staff
Staff
Dallas Embry
Blogs
Got Shows?
Send Them To Us
Bookmark Louisville Music News.net with these handy
social bookmarking tools:
Available RSS Feeds
- Top Picks
- Today's Music
- Editor's Blog
- Articles
Add Louisville Music News' RSS Feed to Your Yahoo!

Issue: December 1989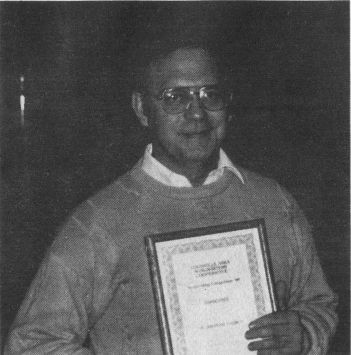 Andrew J. (Jack) Roberts collected a certificate and a $500 check as the Grand Prize winner in the L.A.S.C.'s Songwriting Competition '89. His tune, 'The Limestone Church,' was recorded by the New Horizon band at Artec Studio in Salem, Ind. Photo By Tom Metcalfe
"Run For the Royalties" Seminar
By Paul Moffett.
The Louisville Area Songwriters' Cooperative staged its second annual Songwriting Seminar / Trade Show / Awards Banquet and Showcase on November I8, 1989 at the Hurstbourne Hotel and Conference Center.
In addition to the seminar, prizes for Songwriting Competition '89 were awarded. A. J. Roberts of Clarksville, Indiana took home the Grand Prize for his tune "The Limestone Church." In addition to his Grand Prize Certificate, Roberts received a check for $500.
Second Place went to the team of Chris Hale and Edward Hager for "Once Love Goes, It's Time To End." Third Place was awarded to Debbie Tuggle for "Follow The Light."
The "Best Production" award went to Terry Hennessey and Joe Bergman for their work on "Cocky Feet," a tune written by Lee Cable and sung by Robbie Bartlett, sister of jazz vocalist Rick Bartlett. The award for "Best Vocal Performance" went to Prince Phillip Mitchell for "Once Love Goes, It's Time To End," co-writtten by Chris Hale and Edward C. Hager.
The "Best Recording" award went to Rob Magallon of Studio 2002 in New Albany, for "Cocky Feet."
A number of Nashville music business personalities attended the seminar, including Kurt Denny of Broadcast Music, Inc. (BMI); John Briggs of the American Society of Composers, Artists and Performers (ASCAP); Tom Casey of the performing rights organization SESAC; Pat Huber, the new Executive Director of the Nashville Songwriters Association, International; and several representatives of music publishing houses. Songwriters from several states attended the event, including contingents from North Carolina, Indiana, Ohio and West Virginia..
Audio pioneer and legend Bill Porter, who was Elvis Presley's engineer for many years, presented an hour-and-a-haIf "History of Rock 'N' Roll." Porter recently became president of Allen-Martin Productions in Jeffersontown.
The day-long seminar kept all the attendants busy, with the opportunity to "pitch" songs to publishers an ever- present inducement to-stay alert. The afternoon was spent in critique sessions, as songwriters played demos of their tunes and the publishers commented on the songs. A number of songwriters received encouragement and requests for more material to be submitted.
The Awards Banquet was the most heavily attended event of the day, as a number of prizes were scheduled to be given away, including a Yamaha 4-track cassette recorder, courtesy of Yamaha and Mom's Music; an acoustic Epiphone Dreadnaught Model PR 350S guitar and a silk Gibson road jacket, courtesy of Willis Music; a $250 hot air balloon ride, courtesy Hot Air Promotions; plus several smaller prizes, in addition to the above-noted songwriting prizes.
Both local and Nashville music business figures were in attendance at the banquet, including Briggs, Casey, Huber, and Denny, who appeared escorting Barbara Carter, lead singer for Shaking Family. Others included MERF President and Mom's Musicians General Store owner Marvin Maxwell; Louisville native and award-winning songwriter Prince Phillip Mitchell; Grammy-winning songwriter Debbie Hupp; Dick Van Kleeck, Director of the Lonesome Pine Specials; Jeff Carleton of Willin' David Music; Sam Rammage of EMI Nashville; Mark Brown of Warner-Chappell Music; Roy Sinkovich of the Music City Song Festival; Louisville native and songwriter Alan Rhody; Steve Engel of Intervisions; Louisville jazz stalwart Greg Walker; A & M artist David Wilcox; plus many finalists in the songwriting contest.
The showcase featured a string of writers playing one tune each, followed by Charlie Walls and the Silicon Valley Boys, his synthesized "band," accompanying more songwriters. The evening was closed out by Wilcox, who played material from his two releases, including his most recent A & M album, How Did You Find Me Here.
Around midnight, a very tired but satisfied crew of L.A.S.C.ers packed up the sound system and lights and went home, already thinking about next year's event The Nashville group headed for hotel rooms, preparing for either the trip back or another night of listening to music, as some stayed for the MERF Benefit scheduled for the next evening.
SONGWRITING COMPETITION '89 REPORT
By Paul Moffett
The "Run For The Royalties" Seminar, Trade Show, Awards Banquet and Showcase are done for another year.
The Seminar story is above. This story includes some of the information in that story as well as the results of the Songwriting Competition '89 and the recordings that were made of the winning songs in each category.
The Recordings.
The fourteen winners of the songwriting contest were to be recorded at various studios by different performers, with the assistance of local producers. For the most part, this worked out as planned, with only a couple of exceptions. The studios, producers and performers donated their time and talents. Members of the Board of the Trustees handled the Executive Producer chores.
Here's how it came out: The Grand Prize winning song was in the Folk / Bluegrass / Other category and was written by A. J. Roberts of Clarksville, Ind. "The Limestone Church" was produced by Steve Cooley and performed by the New Horizon band. The recording was done at Artec Studio in Salem, Ind.
The Second Place winner in the Folk / Bluegrass / Other category was "Between The Lines," written by Donna Beck Michael, produced by Cooley at Artec and performed by New Horizon, with Susan Tomes, a regular at Renfro Valley, handling the vocals.
In the Country category, Ron Peake sang "I'd Don't Understand All I Know About You," written by Earl Meyers and Andy Broughton. The tune was recorded at Tom Scoggins' Louisville Recording Projects, with Tom handling the producer chores.
Larry Easton's Second Place tune, "I'd Love To Hear All That Noise Again," was produced by Charlie Walls, who sequenced all of the instrumental sections at Music Man Studio. He found a very good singer to do the vocals, but due to previous contracts, the singer's name can't be mentioned.
In the Gospel / Contemporary Christian category, David Pitt sang Debbie Tuggle's first Place song, "Follow The Light." Charlie Walls produced and sequenced the music. Vocals and main tracks were laid down at Alpha Recording in Elizabethtown.
Walls also did the production and sequencing on Cynthia McBride's song, "If It Weren't For You," which picked up Second Place in the Gospel / Contemporary Christian Category. Amy Lewis sang it.
The MOR / Pop category found Debbie Tuggle's first Place song, "Some Loves," being cut at Tom Scoggin's studio, with Willie Little handling the producer chores. C. Lynn Riffle covered the vocals. Little also played saxophone, Curtis Marlatt was the guitarist and Deanna Scoggins played keyboards.
The number two tune in the MOR / Pop Category was Melissa Combs' "When I Close My Eyes." Recording was at Howie Gano's Sound on Sound, later remixed by Gano at Mom's. Combs was the vocalist.
The Jazz / Blues category was won by Curtis Marlatt with "Something's Wrong." Marlatt's band, Curtis and the Kicks was picked to record the tune, which was cut at Mom's, produced by Marlatt, with Howie Gano engineering.
The Second Place song in Jazz / Blues was "Cocky Feet," written by Lee Cable, produced by Terry Hennessey and Joe Bergman at Studio 2002. Robbie Bartlett was the vocalist. The song won the "Best Production" award for Hennessey and Bergman. Rob Magallon of Studio 2002 also picked up the "Best Recording" plaque for the tune.
In the Rock category, first Place went to Frieda Stelmach's song, "Full Moon Magic." The recording was done at Sessions, Inc., a studio owned by the Ohio Songwriters' Association and was produced by J. N. A. Wunderle.
The Second 'Place tune in the Rock Category was "Once Love Goes, It's Time To End," written by Chris H. Hale and Edward C. Hager. Prince Phillip Mitchell was the producer and also sang the song. The recording was done at Allen-Martin Productions in Jeffersontown, Ky. Mitchell also won "Best Vocal Performance" for the tune.
In the Rap category, the first Place song was "Social Conscience," written by the Lyric Lords, aka Damon Long and Garland Thomas. The song was recorded at Studio 2002, with Bill "Dollar Bill" Higgins producing. The Lyrical Lords handled the vocals.
Second Place in the Rap Category went to Earl Meyers for "Spring Me." Recording was done at Studio 2002, Rob Pickett of the Mudcats producing. Carlos Merriwether was the vocalist.
Seminar Critique Session
By Diana Black
I had the pleasure of moderating a critique session with four very patient, knowledgeable panelists: Steve Engel from Intervision Group, Nashville; Sam Rammage representing EMI, Nashville; Prince Phillip Mitchell, who has his own publishing company, called Hot Stuff Music, here in Louisville; and Bill Porter, President of Allen-Martin Productions, also in Louisville.
We heard tunes ranging from contemporary Christian to jazz to folk and, of course, country. One remark heard most consistently from the panelists was "lyrics need work."
Each panelist stressed that you must remain focused lyrically or you lose the listener. And it is extremely important to come up with original lines and titles, as there are already established writers all over the country who have written songs much better than the majority they had heard and those established writers are having trouble getting cuts. New writers must stretch as far as they can with their ideas and creativity to outshine tunes publishers hear day in and day out.
But please don't think the panelists had only negative comments. Not by a long shot! Now for the good news: They heard several tunes they felt could be hits with a little work. At least one song knocked them out! The common thread I could see that caused the panelists to pick up their ears was a fresh idea, fresh approach, good song structure and memorable melody. Piece O' cake, right? No. They each commented how difficult it is to write a good, let alone great, song. It takes time and a lot of writing, writing, writing.
I would like to again thank the panelists for giving up a Saturday (not to mention braving the cold!) to help the seminar be a success. I heard a lot of valuable information and advice and that's what it's all about.
Open Tuning Your Guitar As Taught By David Wilcox
(Who was one of several persons who learned to open tune a guitar when the opportunity presented itself at the L.A.S.C. Seminar on November 18 at the Hurstbourne Hotel and Conference Center.)
Open tuning was always uncharted ground for me. I once felt overwhelmed with the task of changing the voice of the guitar. David Wilcox brought some simple methods into focus which changed forever the way I approach the guitar.
Open tuning takes advantage of the guitar's natural harmonic effect. These sounds set me into a mode which conjured up some new images and some new songs. If anyone would like for me to send them a diagram of how to get these tunings, just see me or give me a call at (502) 893-2059.