December 1989 Articles
Cover Story
Staff
Columns
Berk Bryant
Paul Moffett
Earl Meyers
CD Reviews
Jim Powell
Performance Reviews
Karen Le Van
Dallas Embry
Bill Ede
Bill Ede
Calendar
Staff
News Item
Staff
Bill Ede
Jean Metcalfe
Preview
Staff
Staff
Staff
Staff
Staff
Staff
Staff
Staff
Errata
Staff
LASC
Paul Moffett
Diana Black
Diana Black
Diana Black
Jean Metcalfe
Paul Moffett
Tom Metcalfe
Staff
Jean Metcalfe
Staff
Letters
Staff
Industry Review
Karen Le Van
Paul Moffett
Music Business News
Staff
Paul Moffett
Staff
KYANA Blues Society
Staff
Staff
Dallas Embry
Blogs
Got Shows?
Send Them To Us
Bookmark Louisville Music News.net with these handy
social bookmarking tools:
Available RSS Feeds
- Top Picks
- Today's Music
- Editor's Blog
- Articles
Add Louisville Music News' RSS Feed to Your Yahoo!

Issue: December 1989
Musicians Emergency Relief Fund Raises Over $13,000
By Karen Le Van
The Musicians Emergency Relief Fund concert on November 19 raised over $13,000 to go into the fund to provide limited but immediate emergency funds to area musicians and their families in times of crises.
MERF was started in 1982 with funds left over from a benefit concert staged by fellow musicians to help Marvin Maxwell following a serious automobile accident. This was the fifth year for the multiple-concert series.
I can remember attending the first benefit when all the concerts were held on Main Street and the street was closed for about a two-block area. At that time there were only five clubs, featuring six or eight bands each and lasting from 7 p.m. to 4 a.m. It was really quite a party. The street party almost made you feel as if you in New Orleans. Maybe when Main Street gets it back together like they plan, MERF can have another block party there.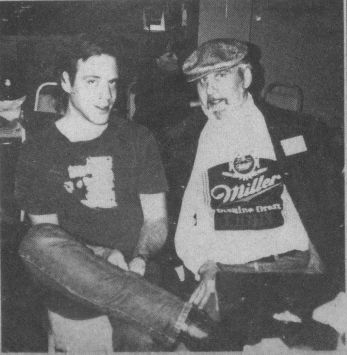 A & M recording artist David Wilcox, left, and Musicians Emergency Relief Fund Treasurer Rocky Adcock-Amaretto got acquainted at the MERF Benefit on November 19. Photo by Karen Le Van
This year there were 12 stages in various parts of the city, featuring acts playing from 7 p.m. to midnight. For only $5 you could hit as many stages as possible.
I started at Uncle Pleasant's to see A&M recording artist David Wilcox. Londa Crenshaw started off the evening with her special brand of bluesy folk and failed-love funnies ("Everybody Ought to Have A Wife"). Londa, as usual, gave a super performance to a somewhat sparse but appreciative audience.
Next up was Wilcox, who started off his set with "It's fine," a song about an accidental paint spill that became a kitchen masterpiece. David has a unique way to get his messages about life, loves and relationships through in song. "It's Fine" makes an analogy between a paint spill and life, putting each in their proper perspective:
Most folks suffer in sorrow
Thinking they're just no good
They don't match the magazine model
As close as they think they should
They live just like the paint by numbers
The teacher would be impressed
A lifetime of follow the leader
So it's like all the rest
Leave it like it is
Never mind the turpentine
Leave it like it is
It's fine.
Most of his set were message songs and the messages got through to those in the audience with a keen ear to listen. Unfortunately, the audience was generally noisy and inattentive until Wilcox's set was almost over. Sorry, folks, you missed "Nightshift Watchman," "Sunshine On the Land," "Rusty Old American Dream" and "A Still Small Voice," among others. l hope the rude audience won't discourage this unique singer-songwriter from making a return trip to Louisville. His current album on A&M Records is How Did You Find Me Here.
Next up at Uncle P's was the Winston Hardy Blues Band featuring Winston Hardy, Rocky Adcock, Michael Showalter and Tony Sharon. Rocky was wearing his blue-blocker sunglasses but they didn't work – the blues just came bustin' through and the group was nothing short of hot on "Built for Comfort," "Every Day I Get the Blues" "Red House," and "Honky-Tonk Blues."
Curtis and the Kicks came next, with Curtis Marlatt, Butch Ellis (who earlier in the evening was running from club to club videotaping the MERF events), Rick DeBow, John McClure and Gary Underwood. Curtis had Just won the blues category of the L.A.S.C. Songwriting Competition '89 the previous evening with his song "Something's Wrong," and, judging from the response of the audience to the tune, they felt something was wrong that he didn't win the grand prize. Other songs they performed were "Why Must Good Love Go Bad," "You Don't Know What Love Is" and "Check On My Baby."
I couldn't stay for the entire set because my friend Bill Ede was on at 11 p.m. at Phoenix Hill, so it was off to the Hill. When I arrived Shaking Family was doing their last song in the Saloon; Nashville BMI rep Kurt Denny, who had been a panelist at the L.A.S.C. Seminar the previous day, was in the audience and loving every minute of the show. He told me he thought MERF was a great idea and that we were lucky to have such great support from and for the musicians.
Upstairs Bill Ede was about to start his set. Opening with Neil Diamond's "Two-Bit Manchild" and Townes Van Zandt's "Quicksilver Daydreams of Maria," Bill continued with a tribute to the late Irving Berlin, singing "All By Myself." Bill's guitar broke and, luckily, Bob Rosenthal was in the audience and lent Bill his own guitar to finish the set. Bill had everyone in the audience "going" with Bill Morrissey's "Grizzly Bear" and Curtis Mayfield's "Um, (Um, Um, Um, Um, Um." Then it was back to "easy-listening Ede" with "If There Was Something I Could Do," "1943 Copper Penny," "My Brother's Keeper" and, naturally, a Chris Gantry song, "That Same Mistake Again," which really captured me.
At midnight the MERF fund was $13,000 richer and my ears had been entertained by six groups. Just for the record, the club bringing in the most money for the event was the Do Drop Inn with approximately $3,500. Good job!
Good deeds do not go unnoticed. In 1989, at the National Association of Music Merchants International Music and Sound Expo in Chicago, MERF was awarded the humanitarian award for the best community service program. Keep up the good work, Marvin (Maxwell), Rocky (Adcock), Wayne (Young) and Joe (Peebles) and all the great people who make MERF work. We salute you.