March 1995 Articles
Cover Story
Bob Bahr
Columns
Berk Bryant
Jim Galipeau
Mike Stout
Paul Moffett
Earl Meyers
Keith Clements
Todd Hildreth
Darrell Elmore
Duncan Barlow
Henry C. Mayer
CD Reviews
Jean Metcalfe
Bob Bahr
Robert Gruber
Mike Stout
Mike Stout
Bob Bahr
Robert Gruber
Bob Mitchell
Kory Wilcoxson
Bob Bahr
Berk Bryant
Performance Reviews
Kevin Gibson
Heather Butcher
Heather Butcher
Ninette Shorter
Jean Metcalfe
Paul Moffett
Mike Stout
William Brents
Calendar
Bob Bahr
News Item
Photos
Blogs
Got Shows?
Send Them To Us
Bookmark Louisville Music News.net with these handy
social bookmarking tools:
Available RSS Feeds
- Top Picks
- Today's Music
- Editor's Blog
- Articles
Add Louisville Music News' RSS Feed to Your Yahoo!

Issue: March 1995
Randy Travis, Sammy Kershaw
By Michael W. Stout
The incredibly talented, multi-award winning Randy Travis stopped off in Louisville on February 10 for the first time in over two years.
Every time he comes to town, he said, the response is so overwhelming that it feels like a homecoming. He joked that he wishes he would get such good response from his own hometown. This show at Freedom Hall was part of Travis' first tour in two and a half years and he came back in style: a brand new stage, lighting, three larger-than-life video screens that incorporated clips of his music videos with concert footage. and an incredible nine-piece band. Not to mention that he was dressed as sharp as a tack in black jeans, a white button-down shirt complete with cuff links, a black sports coat and black cowboy boots.
Travis kicked off his 75-minute set with his recent hit, "Whisper My Name," and continued with past hits such as "A Better Class of Losers" and "On the Outer Hand." He sang new songs from his current smash album This Is Me, us well as a majority of the long string of hits from his ten-year country music career. With more than enough hits to fill a show, he doesn't have to borrow tunes from other singers. You pay for Randy Travis, you get Randy Travis.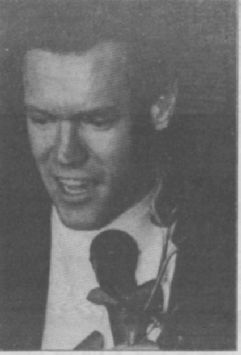 Randy Travis. Photo by Letha Marshall
Even though the creeping crud caused his voice to cut out a few times. Randy was in great form. I'm sure he felt that if the crowd could stand up and scream for 75 minutes, the least he could do was sing. He didn't missed a note on classics such as "Deeper Than the Holler" and "Diggin' Up Bones," and the arena went wild on "A Matter Of Time" when Randy's low bass notes pounded on their chests.
Randy Travis is a no~frills, pure, genuine, classy, perfect country gentleman. I had misconceived him as a dry, cut-to-the-chase performer, but l found him to be quite a storyteller with witty, down-home humor and very personal with and responsive to his audience.
Sammy Kershaw is a veteran performer here in Louisville; he thought this was about his fourth stop in the past year. That's alright though, because the crowd ate him up.
This onetime Wat-Mart remodeling supervisor could easily be described as the "common man country crooner." He even dresses the pan: blue jeans. Button-down shirt with sleeves rolled up past the elbow and cowboy boots. Nobody can sing a working man's, or woman's, anthem quite like Sammy. The amazing crowd response to songs such as "National Working Woman's Holiday," "Queen Of My Double Wide Trailer" and "Cadillac Style" proved this. He described his current single, "Southbound," as being pretty much his life story.
Within his 45-minute set, Kershaw sprinkled cover tunes like "Fire and Rain" and Lynyrd Skynyrd's "I Know a Little" into his show, along with hits from his three Mercury albums. Cadillac, Sammy's seven-piece band, complemented him very well with some remarkable fiddle and acoustic guitar highlights.
Daryle Singletary, one of Randy Travis' guitar players, opened the show with three songs from his upcoming debut album. Singletary is one of the new country performers that Randy has been cultivating while on his recent sabbatical from touring. Daryle had some decent material, hul unfortunately his muddled vocals caused this to be, at best, a mediocre set.
Overall, the evening was quite loud, but not one to soon forget. The crowd responded to the music like ravenous wolves. Maybe Louisville has just been deprived of some real country music lately. Well, not anymore; this show was pure COUNTRY!