March 1995 Articles
Cover Story
Bob Bahr
Columns
Berk Bryant
Jim Galipeau
Mike Stout
Paul Moffett
Earl Meyers
Keith Clements
Todd Hildreth
Darrell Elmore
Duncan Barlow
Henry C. Mayer
CD Reviews
Jean Metcalfe
Bob Bahr
Robert Gruber
Mike Stout
Mike Stout
Bob Bahr
Robert Gruber
Bob Mitchell
Kory Wilcoxson
Bob Bahr
Berk Bryant
Performance Reviews
Kevin Gibson
Heather Butcher
Heather Butcher
Ninette Shorter
Jean Metcalfe
Paul Moffett
Mike Stout
William Brents
Calendar
Bob Bahr
News Item
Photos
Blogs
Got Shows?
Send Them To Us
Bookmark Louisville Music News.net with these handy
social bookmarking tools:
Available RSS Feeds
- Top Picks
- Today's Music
- Editor's Blog
- Articles
Add Louisville Music News' RSS Feed to Your Yahoo!

Issue: March 1995
1964: The Tribute
By Kevin Gibson
It's all the real thing; the Rickenbacker and Gretsch guitars, the Von amplifiers, the Beatle boots — right down to Ringo's nose.
So says Mark Benson, who fronts 1964: The Tribute, the Beatles tribute group which performed Monday, January 23, at the Derby Dinner Playhouse in Clarksville.
"The mics are new, but everything else is vintage," said Benson, who plays John Lennon. He insists the equipment wasn't hard to find when he, Gary Grimes and Greg George were forming the band eleven years ago.
"It is (hard to find) now, but when we were digging it up it was a little more plentiful," said Benson, his moptop Beetle wig coiffed perfectly to match Lennon's early 1960s hairstyle. "The amps are rebuilt, but to original specs."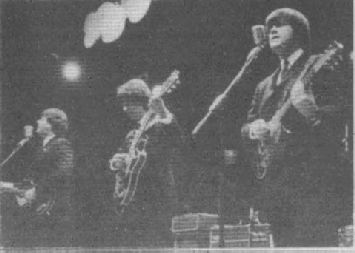 1964 A Tribute. Photo by Kevin Gibson.
As one would expect, the music that flows fluidly from those Vox amps is an exact replica of what Paul McCartney, George Harnson, Ringo. Starr and Lennon were producing 30 years ago, right down to every chord change and harmony.
The shocking replication is reinforced by the uncanny likenesses the players bear to the originals.
Grimes (McCartney), the left-handed bassist of the group, has the same sleepy eyelids: Jibmmy Pou (formerly of "Beatlemania") meets Harrison's stature and posture perfectly, while George (Starr) is a shocking resemblance to the man who set the beat for the Fab Four so many years ago. '
"We've known that guy since he was 16 and playing in a soul band," said Benson. "We used to go to clubs just to see him and say, 'Man, he looks like Ringo Starr.'"
These young men growing up in Ohio during the 1960s were all influenced by the Beatles and other pop-rock acts. Their mutual love for the music was the beginning of 1964: The Tribute.
"We've never all played in a band at the same time," Benson explained. "We've known each other all along, though, through musicians' circles and so forth."
The band members still write their own music and play it whenever possible, although it doesn't all sound like "Love Me Do." Not by a long shot.
"It's pop-influenced," said Benson. "We were influenced by the Beatles, of course, but we grew up in the '60s with the whole psychedelic scene: Cream, Jimi Hendrix, the Who and even the country influences like the Eagles.
"We write, but it's hard to find time (to play the music) because this is full-time."
To call 1964 full-time might be to call the Ohio River wet. The band plays 180 to 200 dates across the country every year.
"Those are just show dates," said Benson. "The rest of the time we're traveling."
Practice is a thing of the past for this foursome, as well. Not that they couldn't find time; they just don't need to, Benson said.
"Most of it is just practicing at shows now," he said. "This is our eleventh year — we've been all over the country doing this. At this point, it's just a matter of playing hit after hit after hit."
Each night, 1964 cranks out near-perfect renditions of classic Beatles tunes ranging from such universal favorites as "Twist and Shout" to album tracks such as "And Your Bird Can Sing."
Eleven years is quite a span for any band to cover, especially a specialized outfit such as 1964. However, Benson said the gig isn't a lifetime plan. Just an enjoyable interim until the passion burns out
"We're doing it now because it's fun getting to travel, it's a great family show, it's good entertainment value for the dollar and it's just good, clean fun.
"You saw all the kids out there, and it's great to see kids and parents doing things together these days because there is so much bad stuff out there to do."