March 1995 Articles
Cover Story
Bob Bahr
Columns
Berk Bryant
Jim Galipeau
Mike Stout
Paul Moffett
Earl Meyers
Keith Clements
Todd Hildreth
Darrell Elmore
Duncan Barlow
Henry C. Mayer
CD Reviews
Jean Metcalfe
Bob Bahr
Robert Gruber
Mike Stout
Mike Stout
Bob Bahr
Robert Gruber
Bob Mitchell
Kory Wilcoxson
Bob Bahr
Berk Bryant
Performance Reviews
Kevin Gibson
Heather Butcher
Heather Butcher
Ninette Shorter
Jean Metcalfe
Paul Moffett
Mike Stout
William Brents
Calendar
Bob Bahr
News Item
Photos
Blogs
Got Shows?
Send Them To Us
Bookmark Louisville Music News.net with these handy
social bookmarking tools:
Available RSS Feeds
- Top Picks
- Today's Music
- Editor's Blog
- Articles
Add Louisville Music News' RSS Feed to Your Yahoo!

Issue: March 1995

Cowboy Corner
Award-Winning Country
The 1995 American Music Awards were handed out Jan. 30 and country music was well represented. In addition to acting as co-host of the awards ceremony (with Queen Latifah and Tom Jones), Lorrie Morgan performed her signature song, "Something ln Red." And Tim McGraw, recipient of the Favorite Country New Artist award, performed "Refried Dreams," the latest release off his 5+ million-selling Not A Moment To Soon album.
The entire list of country awards is as follows: Favorite Country Male Vocalist, Garth Brooks; Favorite Country Female Vocalist, Reba McEntire; Favorite Country Band, Duo. or Group, Alabama; Favorite Country New Artist, Tim McGraw; Favorite Country Single,"Whenever You Come Around" by Vince Gill; and Favorite Country Album, Reba McEntire's Read My Mind. Congratulations to all the winners!
0 Country Radio Rates
Country radio stations in the Louisville area really left their mark on the latest Arbitron ratings, proving that country music is really big and hot in the vicinity.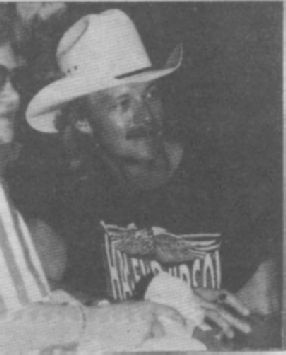 Alan Jackson at Fan Fair '93. Photo by Beverly Ingram
WAMZ 97.5-FM has continued to hold its number one spot in the local radio market; new country station 98.9-FM WKJK, has impressively landed the seventh spot in Kentuckiana (WAMZ has lost approximately the same number of listeners that WKJK has picked up since coming on the air last year); WHKW 107.7FM resided at the number 11 spot; and 620-AM WTMT ranked l7th.
Congratulations to all the country radio personnel, air personalities and to you for making country music such a success in the Louisville area!
0 St. Jude Radiothon
WAMZ's success can be attributed not only to their fine array of country music and their excellent air personalities, but also to their efforts in helping those in need. Everyone at WAMZ. as well as each of you who helped, should be commended for the grand success of WAMZ's 7th Annual St. Jude Children's Research Hospital Radiothon held February 12-14 at the Bashford Manor Mall.
St. Jude is a children's hospital in Memphis, Tenn, that treats children with diseases such as cancer and leukemia. WAMZ managed to collect in excess of $180,000 for St. Jude. which will help pay children's hospital bills as well as assist their families with room and board while in Memphis.
UK head basketball coach Rick Pitino deserves many thanks for his generous donation of $10,000 to St, Jude through the Daniel Pitino Foundation, an organization formed in honor of Pitino's lute son, who passed away due to kidney complications.
Congratulations and thanks to all those who helped make this benefit such a success for all the ciriltiren in need! Country really DOES care!
0 Latest Country
You'll want to swing by your favorite local record store and pick up some of the latest country CDs. Trisha Yearwood's Thinkin' About You, which contains thec hit title track as well as Trisha's recent number one hit, "XXX's And OOO's (An American Girl)," is now available. You'll also find the latest by Boy Howdy, Born That Way, which includes the popular "True to His Word."
Shania Twain's The Woman In Me and newcomer Noah Gordon's I Need A Break, with "Blue Pages" as seen and heard on CMT, are now available. And I'm sure you'll want to be on the lookout for the amazing John Berry's Standing On the Edge, a follow-up album to his smash selftitled debut release
0 Country Flood Advisory
Country concert-goers had better get out their wallets and put on their wading boots because Louisville will soon be flooded with sizzlin' country concerts.
You'll be happy to know that the incredibly talented Tracy Lawrence will be stopping off in Louisville on Sunday evening, March 12, at the Palace Theatre. You can count on Tracy performing hits from his current smash aIbum. I See It Now. as well as his string of hits from Sticks and Stones and Alibis.
Baby, I'm sure you'll like to rock it with the hot new group The Tractors when they bring their unique blend of rockabilly swing to the Palace Theatre on Sunday evening. March 19. Expect to have a good time when they perform songs from their smash debut album.
Friday night, March 24. Kenworth Trucks will present the award-winning Alabama, along with Neil McCoy, at Freedurn Hall as part of the Mid-America Truck Show Alabama won't have any trouble entertaining you with all the number one hits they've enjoyed over their long country music career. Neil McCoy will undoubtedly sing "For a Change" from his new You Gotta Love That CD as well as all the hits from his breakthrough album, No Doubt About It.
Sunday evening, April 2, Freedom Hall will be filled with fans of Mary-Chapln Carpenter and The Mavericks. MaryChapin will most certainly perfonn hits from her new album Stones in the Road, like "Shut Up and Kiss Me" and "Tender When I Want to Be," as well as all the hits from her very successful album Come On Come On. The Mavericks will entertain you with all the hits from their breakthrough album What a Crying Shame.
Nothing's written in stone, but something tells me that Sawyer Brown may be popping up in the area sometime in the near future. Keep your eyes and ears open; I'm sure you won't want to miss this.
Reba McEntire is breaking her tradition of opening the Kentucky State Fair, but don't worry, I'm sure she'll stop in Louisville sometime this year with a show you won't forget. If Reba's not going to open the fair: then who will? Well, a reliable source tells me that the well-received, recent stale [air regulars Brooks & Dunn will fill the opening night slot.
O Cowboy Corner Country Quiz
Q: Was Alan Jackson really water-skiing in his "Chattahoochee" video? D. Siegert, Jeffersonville, IN.
A: Well, yes and no! According to Alan Jackson': publicist, Alan did do the majority of the water-skiing in the video. But did he actually do the flip on water skis? No. He is definitely a talented water-skier, but not quite that good, or maybe just not that brave. Was he really only wearing cowboy boots while skiing? No. Thanks to modem video technology Alan was actually filmed slalom skiing and the ski was later removed and the cowboy boots were added.
Now that you know how it was done, it doesn't sound as impressive as it looks. But that's alright, it's still entertaining and helped Alan win numerous awards for this fun song.
"Chattahoochee" spent four weeks at the number one spot on the country charts and this amazing video was directed by Martin Kahan of Think Pictures. Alan's water-skiing scenes were filmed and directed in Orlando, Fla., by documentary action photographer Brad Fuller. Fuller also filmed the truck mudding scenes in Alan's recent "Summertime Blues" video.
If you have a question you'd like answered about one of your favorite country artists, please send your question, along with your name, to: Cowboy Comer Country Quiz, Louisville Music News. 7505 Cambridge Drive, Crestwood, KY 40014. Please don't hesitate to send in your question. We're anxious to hear from you.
Well, that's it for now. Always remember: Keep your boots shined up and your hat on straight, 'cause country music is comin' your way.