April 2018 Articles
Cover Story
Paul Moffett
Columns
Eddy Metal
Eddy Metal
Blogs
Got Shows?
Send Them To Us
Bookmark Louisville Music News.net with these handy
social bookmarking tools:
Available RSS Feeds
- Top Picks
- Today's Music
- Editor's Blog
- Articles
Add Louisville Music News' RSS Feed to Your Yahoo!

Issue:


I've Got A Mind To Ramble
Lamont Gillispie Benefit
Valentine's Day is a time to share with someone you care about and so it was with Lamont Gilllspie and about 500 blues fans at Stevie Ray's. Lamont has been going through some tough times with an intestinal blockage. and probable surgery ahead. Like most musicians out there. he has no medical coverage to pay those expensive bills.
A benefit for Lamont was quickly organized, with the whole blues commumty coming together. The KYANA Blues Society sent out fliers to its local membership. Jeffrey Puckett mentioned the event in his Nightlife column and Scott Mullins plugged it on his Saturday Night Blues Party radio show. The word must have quickly spread around town for the place was packed that Tuesday night.
The blues musicians also answered the call with a lineup of six outstanding bands. B. B. Taylor's Blues Band opened at 7:30 with Louisville's west side sound of solid blues that has that genuine rough edge to it. Sue O'Neil and the Blues Hounds followed, featuring Mark Stein on guitar. Sue "tells it like it is" with her opening song "I Don't Want No Leftovers." Mark Stein was back again with the Steam Rollers, giving his guitar a good workout. Mark Hoekstra joined in to do a gut-wrenching version of "You Better Leave My Little Girl Alone."
A young crowd gathered around the bandstand when The Predators took charge. This is a powerful rock/blues band with a big following that shows a lot of Stevie Ray Vaughan and Jimi Hendrix influences. Screaming John Hawkins has come a long way from those Tuesday night blues jams at the Rudyard Kipling where he first got his moniker. Jim Rosen also blew a little harp with the band and when they finished their set it was 11 p.m. Time for me to go home to be in decent shape to face the next day.
But there 'was still plenty of great music yet to come with the Mudcat Blues Band, Ricky Feather and finally Lamont's band, the Homewreckers. Unfortunately Sam Myers couldn't make in from Dallas, for he was feeling under the weather.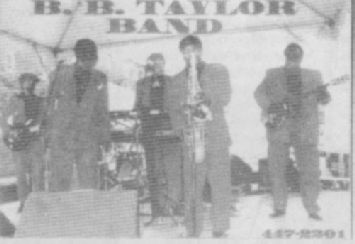 Jerome Hawlett playing sax with the B. B. Taylor Band at the `1994 Garvin Gate Blues Festival. Photo by Jim Gilbert
There was a wonderful spirit of camaraderie between the musicians and the crowd who were all there for a common cause: to help Lamont. The guest of honor was everywhere acting as MC and shaking hands with well wishers. Lamont looked pretty good for someone who had just lost 40 pounds the hard way. There have been many MERF benefits for musicians, but it was especially nice to help someone in particular who has been such a big part of the local blues scene.
Members of the Derby City Bop Association came by after their Tuesday bop session at Jim Porter's to make a donation and several people who couldn't make the event have sent checks. If you want to help Lamont, send a check to 1943 Deer Park, Louisville, KY 40205.
Remembering Jerome
Fate has not been as fortunate for Jerome Howlett who passed away on February 9 at University of Louisville Hospital. He died of complications from a stroke he suffered several weeks ago.
Jerome was born in 1945 and was a graduate of Shawnee High School. He grew up in a big family that included nine brothers and one sister. He had been a musician for 33 years, playing in various bands including The Saints, a reggae band, Cosmo & the Counts and the B.B. Taylor Blues Band. He will be remembered by his friends and fans as being a spirited little musician who always brought a lot of enthusiasm to the stage when he blew his saxophone.
Blues Cruise
The Louisville Bluesland Cruise is about ready for its maiden voyage. It will depart on Saturday, April 8, at 7 p.m., from the parking lot at the Holiday Inn at 2nd and Broadway. We will board a yellow extra-stretch and go to Willie's Restaurant & Lounge for a first-class dinner. With full stomachs, we will head over to Stevie Ray's to hear the Red Snapper Blues Band. Then we will continue on to the Backstage Cafe to see the Cincinnati Blues Allstars. (Remember that great set they did on Sunday at the '94 Garvin Gate Blues Festival?) Finally, we will go deep into the West End to the 26th Street Tavern to hear Joe Wells and the house band plus some guests. We will return to the Holiday Inn about 1 a.m, or so.
This event is sponsored by the KYANA Blues Society for its members, The cost is only $15 per person, which includes the food, transportation and covers. If you are interested, make out at check payable to the KYANA Blues Society and send it to me at 2010 Village Drive, Louisville, KY 40205.
Rmervatjons will be on a payment-received basis. Since the bus holds only 44 blues cruisers, act now before it's booked up. This should be a night to remember.