March 1995 Articles
Cover Story
Bob Bahr
Columns
Berk Bryant
Jim Galipeau
Mike Stout
Paul Moffett
Earl Meyers
Keith Clements
Todd Hildreth
Darrell Elmore
Duncan Barlow
Henry C. Mayer
CD Reviews
Jean Metcalfe
Bob Bahr
Robert Gruber
Mike Stout
Mike Stout
Bob Bahr
Robert Gruber
Bob Mitchell
Kory Wilcoxson
Bob Bahr
Berk Bryant
Performance Reviews
Kevin Gibson
Heather Butcher
Heather Butcher
Ninette Shorter
Jean Metcalfe
Paul Moffett
Mike Stout
William Brents
Calendar
Bob Bahr
News Item
Photos
Blogs
Got Shows?
Send Them To Us
Bookmark Louisville Music News.net with these handy
social bookmarking tools:
Available RSS Feeds
- Top Picks
- Today's Music
- Editor's Blog
- Articles
Add Louisville Music News' RSS Feed to Your Yahoo!

Issue`: March 1995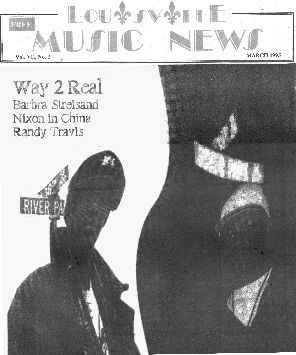 Way Too Real
WAY 2 REAL
Story and Photos By Bob Bahr
You just can't please some people.
At press time, Way 2 Real's "Tha Butterfly" was No. I5 on Billboard's Rap Singles chart. The sung was No. 36 with a bullet on the Hot R&B Singles chart. And the song's architect, Richard "Bam" Carter, had this to say about it: "l don't really like it I don't understand [its popularity]. To me, none of the songs on the album sound right."
One recent evening in his house on 38th Street in Louisville's West End, Bum talked about 38th Street, Way 2 Real's first album released nationwide on So-Lo Jam Records. Bam and his partner, Ramon "Bodie MC" Johnson, recently underwent a mild transformation from Undaground Mafia to Way 2 Real. Simply put, it was a gentle nudging of a misunderstood hardcore rap group toward a more mainstream, R&B direction.

But that is not the topic of conversation tonight. Bam is currently consumed with the notion that 38th Street could have been a much better album. "If everybody would just leave me alone and let me do this, it would be dope. Now that I'm selling records, maybe I'll get more leeway." Bam said.
This isn't about dissing the producers who mixed down the album. Bam can live with the sound of the record. "It's cool. It's fine," Bam said.
This doesn't reflect what the public thinks. The single is also No. 36 with a bullet on the Singles Sales chart. And "people tell me, 'that sh— is dope' when they hear it," said Bam.
This is about Bam wanting something better.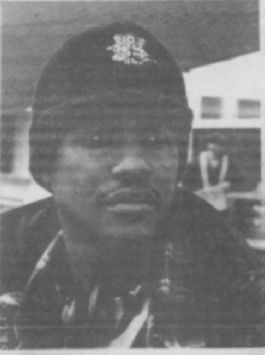 Bodie
Bam remembers the first hip-hop track that captivated him. It was a bootleg cassette called "Millie from Philly" that a friend in New York City mailed him tn l985. Legendary rap figure DJ Red Alert was the producer. Bam made copies and sold them on the street for $15 and $20.
When the Queens rap trio Run-DMC blew up big and became nationwide rap stars, it inspired Bam to work on his rapping style. Bam and his friend Bodie started wearing Kungol hats, Gazelle sunglasses and Adidas with no shoelaces in tribute to Run-DMC. He soon found himself fascinated by the scratching and mixing of Jam Master Jay, arguably the least heralded and most talented member Of Run-DMC.
"Me and Bam, we used to rap together in the 8th Grade," Botlie recalled one recent afternoon. "l left and went to Texas, to a town about 30 minutes from Austin. When I came back. he was in another group. I was just waiting for my turn. When they split, up, l joined. The group was called Undaground Mafia, and me and him just came in and took over."
By I989. Bam had switched over completely to DJing and producing. He gained a name in Louisville for his DJing abilities — and for playing on the Fairdale High School football team. To this day, remarks Bodie somewhat ruefully, Bam remains the better known of the duo. Bam's higher profile will be perpetuated by the title of Way 2 Real's debut album: his house sits at the corner of 38th Street and River Park Drive. Bodie lives two blocks farther down River Park.
Bam's style is clearly influenced by Public Enemy's production team, called the Bomb Squad. He produces a veritable wall of sound, using sound effects to heighten a feeling of suspense, but always respecting the groove. But while the Bomb Squad is decidedly East Coast, Bum favors a slower, head-bobbing beat. In the last couple of years, Bam has begun to rap again; on 38th Street, he is the primary rapper on two cuts.
Birdie': rapping delivery style has been compared to Ice Cube's That doesn't go over real well with either of the pair. So we asked Bam who he thought Bodie sounded like.
Pause.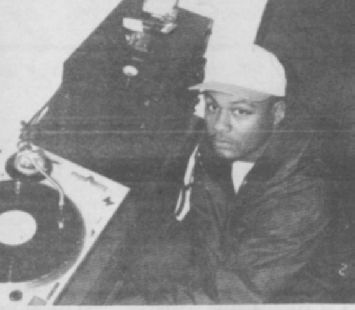 Bam
"Ice Cube. But I don't think he tries to. It's just the way his voice is. I think their personalities are the same. I think Bodie came from the same kind of background as Ice Cube."
In Undaground Mafia's beginning, Leslie "Ca Ca" Graham was the rapper and they were "as dirty as 2 Live Crew but I can't rap," said Graham, who now serves as the group's road manager. Bodie took over the rapper's spot, and in August of I991, he found himself in the studio for the first time, recording a rap with Undaground called "Gangsta Walk." A light overview of one day in the life of a successful Louisville rapper, "Gangsta Walk" spawned a dance to go with it. M.C. Hammer allegedly appropriated the steps for a hit single a year later.
A rough mix of the deeply grooved song caught the ears of some investors, and Undaground Mafia found themselves aligned with an opportunistic management team. "Gangsta Walk" was remixed for release as a single, backed with an other popular Undaground song, "Godfather." The single sold over 7,000 copies in Louisville, and later became popular in the Oakland, Calif., area and elsewhere. Bodie cringes a hit when "Gangsta Walk" is mentioned.
"'Gangsta Walk' was a little chopped up." he said. "I wrote the song the day before we went into the studio. I never liked it. But if it weren't for that song, I wouldn't be sitting right here right now."
National record companies took notice. A little too hastily, Undaground Mafa inked a deal with Sam's Records, the label affiliated with Sam Goody's record stores. Aside from some plum gigs opening shows for Ice Cube and Too Short in the region, Sam's didn't push the act. The Undaground Mafia started to fall off.
Additionally, Undaground Mafia's image was causing them trouble. They were living by the gangsta sword, and they were in danger of dying by the gangsta sword. Bam found himself dodging bullets at a party. Someone poured gasoline on their Mercedes Benz and burnt the car on Algonquin Parkway. The press picked at them, accusing the group of glamorizing a life of crime.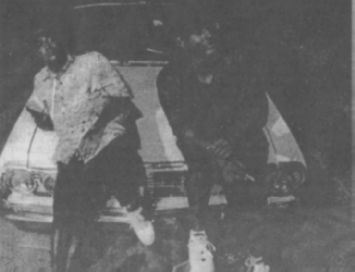 "When we were Underground Mafia, we were a wild, stupid-assed group," said Bam
At the heart of the problem was the question of where fiction ended and reality began.
They weren't dealing dope or killing people, they were just living in a part of the city where half the young adult males were doing it. Some of their hanging buddies were among the criminal half; it was happening right outside of their door. So they rapped about it. "When we were Undaground Mafia we were a wild, stupid-ass group," said Bam.
Some folks called their bluff and challenged them with guns. The crew that surrounded Bodie and Bam weren't helping things.
"We were tryin' to be gangsters," Bam said. "Tryin' to be big dope dealers, just 'cause that's what our buddies were. But we weren't. Everybody goes through that phase. I guess. But we grew the f— up. Boys to men, that's what I tell people. Boys to men."
Bodie echoed Bam's answer.
"We live in a quote-unquote bad neighborhood, but it's not any worse than anything else in other cities.' said Bodie. "We see people getting shot. We see people selling drugs. We've seen friends die. We've seen friends go to prison. But we never did anything like that, because we were instilled with family values, as they say. Bam's mother, my grandma, they taught us what's right. We always got support from our families, buying us musical equipment, supporting what we're trying to do."
When Undaground Mafia parted ways with Sam's Records and found themselves floundering, support was one thing they didn't get from anyone else.
"Everybody around here ghosted," Bam said angrily. "In the year, year and a half that we were off, people just deserted us.
That was good. Like one person said, 'that emptied out all the weak-ass friends you had running around with you."'
Graham, for one, remained a loyal and enthusiastic friend and manager, but things were coming unraveled. Ghetto Thing, an independently produced album, gave a strong showing in I994, but the gangsta thing was played out for Bodie and Bam. Their music really wasn't strictly hardcore gangsta anyway. The fans in their hometown forgot them. In the summer of I994, things had reached the lowest point.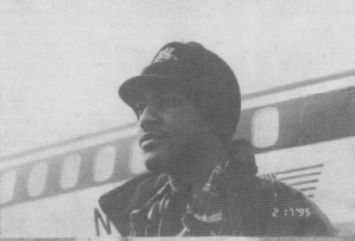 Bodie in front of his newest ride
"We had damn near quit," said Bam. "l was through with it, I was ready to go back to school. I was through with this rap sh--."
Bodie was feeling the same way, but a bit more panicky. Then luck struck. One June afternoon. Bam had his stereo loudly playing the Funkadelic album Mr. Jam Wants You when he noticed some teenaged girls doing a dance called "the Butterfly" outside his house to the groove of "(Not Just) Knee Deep." Something clicked.
"I was like, 'Daron. we need a gimmick to get this thing started,' and there it was," Batu said. Using musical ideas from "Knee Deep," Bam built a track with a groove deeper than the Grand Canyon. Bodie added lyrics about meeting women at a nightclub. The resulting song. "Tha Butterfly," was light, infectious, and ultimately danceable.
In August a copy of the song made its way down to lntersound Records, an Atlanta label known for its country and jazz compilation albums. They were setting up a subsidiary to sell hip-hop records, and they were looking for a flagship group. "Tha Butterfly" clicked with Intersound, and Undaground Mafia began lengthy, careful negotiations with the label.
Bodie and Bam were impressed with the way So-Lo Jam treated them.
"With Sam's we had to spend our own money," Batu said. "So-Lo fed us, gave us a wardrobe budget for the pictures. They showed us their studio. They treated us real nice."
They signed with So-Lo Jam, then the work started. First. there was the matter of the name — Undaground Mafia didn't fit this duo anymore. Bam came up with "Way 2 Real," which reflected their more honest approach.
"I named the group Way 2 Real because we are going to be ourselves from now on," Bam said. "Just being real."
But the hardcore edge of Bodie and Bam wasn't just a style they hung on Undaground Mafia. It reflects their neighborhood. Way 2 Real is now a profanity-free, hard-hitting group with lyrics that still reflect ghetto life. That doesn't mean Bam and Bodie don't fight against the "thug life" movement.
"I'm stuck in the asphalt-f—ing jungle and I can't cope!" Bam bellowed, echoing a Way 2 Real song. "These people round here. that's all they want to hear us rap about is dope and killin' people. But we don't want to rap gangsta all the time. We want to rap about having a good time and partying."
Said Bodie. "If l'd killed somebody. I'd be in jail somewhere. People want reality and the reality they want to hear about is what they do everyday —for real. Party music, that's where rap is going to. Goin' to clubs and talking to women. Goin' to look at girls. At Joe's [Palm Room], Taylor Made, occasionally at Willie's [537 Lounge]."
After some pre-production here in Louisville, Bodie and Bam traveled down to Atlanta — heralded as the new Motown of the South — to Digital Edge studio to record their first nationwide CD release. They only had two weeks to record. Bam had see his production tapes surrender to the cold precision of an ADAT machine. ("I love analog," says Bam.) Despite the 90° weather in Atlanta. Bodie and Bam pulled on flannel coats and long pants for their photo shoot; a February release couldn't have people wearing shorts on the cover. It was a rushed job, performed under adverse conditions.
In a decidedly unglamorous fashion, Bam and Bodie were home just hours after the recording session, back at their regular jobs. Bam retumed to work at J.D.'s Custom Cabinets. Bodie got a job cleaning office buildings. Then they waited.
Six months later, the advance Way 2 Real single. "Tha Butterly." is storming the charts. Most musicians don't get a shot at stardom; Bodie and Bam got two. The first time around, mismanagement and a lack of experience did them in. "We should have gotten rich off that single "Gangsta Walk." said Bam, a wise rap veteran at age 22. "We didn't see that money. People now say, 'How come you don't trust anybody?' I just don't. And I think that we'll get along better that way."
The key to longevity, they both agree, is adapting to current trends. "It's changing with the times," said Bodie, 24. Bam elaborated, "Rap music changes every two years or so. I figure that if we can stay up with it, we'll do all right."
Bum is already looking down the road several months.
"l learned how to play keys, that was the last transition. l had to lay the parts down piece by piece. First the bass line, then go back and add chords." Bam said he is excited about using the Mini Moog, a keyboard that produces exaggerated, electronic bass tones. He looked woefully at the empty keyboard rack against the wall in his house. Way 2 Real's equipment is still in Atlanta, and Bam is getting restless. He is waiting for the record company to ship it back to him, augmented by more equipment and enhanced computer components.
"I'm worried about forgetting some of the ideas I have," Bam said. "I sometimes get five songs in my head, and I roll them around in my head, thinking of it keyboard part or a guitar part. Then when I'm ready, I put it together. But it's all about timing. That's how you get hits.
"I'm tired of looking at this empty-ass keyboard stand."
Bam's dream is to have a fully equipped studio – analog please, but heavy on the MIDI equipment. The studio would be his lab, the place where the songs are born.
"I'd be the kind that lives here, but never stays here. I'd work here then jet out to do shows. But knowing my stupid-ass self, I wouldn't open the studio up to the public, I 'd want to keep it all to myself."
Right now, life for Bam and Bodie is decidedly up and down. Two weeks ago, Bodie and Bam found themselves in Atlanta performing promotional duties at Hotlanta Music, a record store. Kids were screaming, Way 2 Real's music was blaring, and Bodie and Bam were signing autographs.
"I turned to Bodie and I said, 'Damn Bodie We're rap stars again!" Bam recalled. "And he said. "We sure as hell are!" Then they came home lo Louisville. No screaming crowds. No autographs.
"I was all depressed," Bain said. "I didn't want lo be here. We get no props in our hometown. I'd get up and look our the door and say f— it, and go lay down. Just sleep."
A bit unappreciated in Louisville, Way 2 Real is getting to be big news everywhere else. And on what? An album that is best described as transitional. 38th Street has three songs that are remixed versions of Undaground Mafia tracks. It has three remixes of "Thu Butterfly." The album is a mere introduction.
"As far as my standards go, the record is not near what it could be," said Ham. "It's not up to my potential." When Way 2 Real finally does produce something that fully utilizes the pair's potential, rap music will most certainly feel the shock waves.
Tags: