March 1995 Articles
Cover Story
Bob Bahr
Columns
Berk Bryant
Jim Galipeau
Mike Stout
Paul Moffett
Earl Meyers
Keith Clements
Todd Hildreth
Darrell Elmore
Duncan Barlow
Henry C. Mayer
CD Reviews
Jean Metcalfe
Bob Bahr
Robert Gruber
Mike Stout
Mike Stout
Bob Bahr
Robert Gruber
Bob Mitchell
Kory Wilcoxson
Bob Bahr
Berk Bryant
Performance Reviews
Kevin Gibson
Heather Butcher
Heather Butcher
Ninette Shorter
Jean Metcalfe
Paul Moffett
Mike Stout
William Brents
Calendar
Bob Bahr
News Item
Photos
Blogs
Got Shows?
Send Them To Us
Bookmark Louisville Music News.net with these handy
social bookmarking tools:
Available RSS Feeds
- Top Picks
- Today's Music
- Editor's Blog
- Articles
Add Louisville Music News' RSS Feed to Your Yahoo!

Issue: March 1995
Upcoming Live Music
By Bob Bahr
I hope you're not saving up to pay your tax bill — March is too rich with good acts to spare the wallet. It's solid from a Supa Fuzz start to a Freedy Johnston finish; From the top . . .
The snowballing effect of Supa Fuzz continues. The Lexington band's rendition of groovy '70s power-trio rock is gaining converts rapidly. Taste the new religion on March 1 at the Butchertown Pub; Push Down and Turn shares the bill with tha Fuzz. Their appearance is part of the WQMF/Budweiser/MERF band search.
As if Hawley-Cooke's walls and walls of books wasn't temptation enough, the Shelbyville Road store will host banjoist Steve Cooley and mandolinist Mike Schroeder on March 4 for a little acoustic music. Cooley is the newest member of the Dillards (of "Andy Griffith Show" fame) and once shared the stage with Bill Monroe himself — until Big Mon discovered that the Louisville native was wearing sandals. Schroeder is known in these parts for his bluegrass group New Horizon and for his work with the Louisville Mandolin Orchestra. Call Hawley-Cooke for times.
That night (March 4) at Louisville Gardens, a neglected talent will take the stage for an HIV/AIDS Legal Project benefit; Maura O'Connell. A masterful interpreter of songs with an emotive voice, O'Connell produces albums that critics love and the public ignores. Do the right thing in two different ways: check out this fine musician and help provide legal services for HIV positive people who otherwise couldn't afford legal help.
They Might Be Giants? Aren't they the two who crank out quirky pop using a drum machine and some glorified home-studio equipment? They Might Be Giants is now a six-piece, complete with two trumpet players and a saxophonist/clarinetist. The new lineup plays March 5 at the Thunderdome.
The second half of that bill is a band with a critical buzz: Soul Coughing. With acoustic bass, funky drumming and a vocal delivery that mixes rapping and spoken word passages, New York's Soul Coughing melds jazz to hip-hop and throws in a touch of beatnik poetry. Are you curious yet?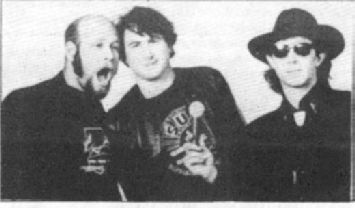 Counterbalance seriousness with Dash Rip Rock at the Butchertown Pub on March 30.
Delbert McC1inton has quite a history.
Sharing a Grammy with Bonnie Raitt. A smattering of hits, including "Giving It Up for You," demonstrated the Texan's blend of roadhouse, rock and country. Way back when, McClinton was a harp player who rubbed shoulders with the Beatles.
But there's one more reason why McClinton's show on March 6 at Coyote's is so tempting: McClinton's 1992 single "Everytime I Roll The Dice." Sweet country soul. .
Odd pairing of the month: the young bluegrass sounds of the Galoots and the kinetic rock of the Velcro Pygmies.
They're both at Phoenix Hill Tavern on March 10 and 11. My bet is they won't be sittin' in with each other.
Country traditionalists will want to catch Little Jimmy Dickens on March 11, even though it means a drive to Corydon for the Indian Creek Theatre's Saturday Night Opry. May the bird of Paradise thy up your nose. . .
Tracy Lawrence hit it big at age 23 with "Sticks and Stones," and the country singer has found the top of the charts to he to his liking ever since. His new album, I See It Now, supposedly shows that this young honky tonk heartthrob has an old soul. Fans can catch him at the Palace Theatre on March 12.
Performance artist Laurie Anderson is one of the best known artists that no one has ever heard. Her work must be approached by folks with time, patience and an appreciation for the avant garde. Anderson's latest endeavor is titled "The Nerve Bible," and she'll present it at the Palace Theatre on March 15.
I know, I know. You've heard a lot of blues guitarists in your time. But it you haven't caught Buddy Guy, then you don't know the standard by which to judge the rest. Gregarious, piercing, emotional and crisp, Guy's playing is what Hendrix would have sounded like had he gone more into traditional blues. Kelly Richey opens Guy 's show at the Thunderdome on March 15.
We built this city on rock and roll'? Well, actually, we built this city on river commerce. But that doesn't mean we can't enjoy Starship, the latest reincarnation of Jefferson Airplane, does it? While it is unclear who will be piloting the Starship, its ETA is penciled in on March 17 at the Phoenix Hill Tavern. Whatever Will and lovesauce & soulbones will also be in the house that night.
I happened to catch the Ark Band in Austin last year and I can attest to their sltills at playing reggae. But don't take my word for it; catch the Columbus, Ohio, band at Dutch's Tavern on March 18. It's good for the soul, mon.
Good news! Patricia Louise Holt is coming to town!
Folks in her old Philly neighborhood might know her by that name, but the rest of the world recognizes her as Patti LaBelle, the large-haired empress of big- time R&B. If you ask real nicely at her March 18 show at the Palace Theatre, maybe LaBeIle will sing "Lady Marmalade."
Instead of a trademark hairstyle, Bobby Shew has a trademark horn. Dubbed "the Shewhorn," it's a trumpet with an upturned bell. The attraction, of course, is not the instrument but the player. Shew's ability has put him on the stage with Maynard Ferguson, Buddy Rich, Woody Herman and Della Reese and on the road with performers such as Paul Anka.
Having seen both the pop side of things and the jazz side of things, Shew has chosen to stay true to jazz. Hear him blow at the Silo Brew Pub on March 20. It's a Louisville Jazz Society concert, so the profit is going towards a good cause.
You may not have heard of Michael Hedges, but your favorite guitar player has. Hedges total1y eschews the music industry machine, which means that he may get immense satisfaction from his recording projects, but the general public will probably never get the chance to embrace him. Word has it even his guitar strumming will dazzle you. Hedges will perform at the Palace Theatre's Stage Door Johnnies on March 21.
Hearing Lee Luvisi play the piano is a delight that Louisville residents can enjoy on a regular basis, as he is currently teaching at the UofL School of Music. But don't let Luvisi's performances be one of those things that you always mean to catch but never do. You've got two chances to catch him this month. On March 23 and 25 at the Kentucky Center for the Arts' Whitney Hall. Luvisi will join thc Louisville Orchestra in performing works by Brahms, Kodaly and Dahnanyi. Jorge Mester will conduct.
On quite a different tip, the melodic hardcore musicians of Evergreen are scheduled to rock the Butchertown Pub on March 28. The band has been plagued by a high turnover in personnel, but the music is reportedly still vital. Venture down by the stockyards and see for yourself.
"We exist purely to counterbalance the serious, depressed, pseudo-intellectual crap like R.E.M., Judybats and The Connells," says Dash Rip Rock vocalist/lead guitarist Bill Davis. Instead, the Louisiana trio aspires "to be remembered as the wildest, fastest, funniest, Southern cult icon band to ever exist." They are a favorite of Mojo Nixon. I think you have enough information to make a decision. Dash Rip Rock is playing the Butchertown Pub on March 30. The magnificent ones — the Java Men — open the show.
The Freedy Johnston/Sheryl Crow concert at the Palace Theatre will undoubtedly draw a large and diverse audience. Crow has mainstream (and sex) appeal; Johnston is a darling of the critics. Whichever group you associate with will be at the Palace on April 1, I guarantee.