March 1995 Articles
Cover Story
Bob Bahr
Columns
Berk Bryant
Jim Galipeau
Mike Stout
Paul Moffett
Earl Meyers
Keith Clements
Todd Hildreth
Darrell Elmore
Duncan Barlow
Henry C. Mayer
CD Reviews
Jean Metcalfe
Bob Bahr
Robert Gruber
Mike Stout
Mike Stout
Bob Bahr
Robert Gruber
Bob Mitchell
Kory Wilcoxson
Bob Bahr
Berk Bryant
Performance Reviews
Kevin Gibson
Heather Butcher
Heather Butcher
Ninette Shorter
Jean Metcalfe
Paul Moffett
Mike Stout
William Brents
Calendar
Bob Bahr
News Item
Photos
Blogs
Got Shows?
Send Them To Us
Bookmark Louisville Music News.net with these handy
social bookmarking tools:
Available RSS Feeds
- Top Picks
- Today's Music
- Editor's Blog
- Articles
Add Louisville Music News' RSS Feed to Your Yahoo!

Issue: March 1995
On Stage: The Dennis Ervin Band
BUTCHERTOWN PUB — Dennis Ervin is a bull-goose loony. A nutcase, certifiable. Crazy, crazy, crazy. But can he play guitar? Crunch city, man. This Ervin guy is at-out talented. His fingers y over the fretboard, working every note possible, including many that a guy named Jimi once rnade famous with a left-handed Fender Strat. Yeah. Hendrix. This Dennis guy does picture-perfect, hearing-enhanced, numero uno suing bending just like Jimi.
I walked in to B-town expecting another blues band. At least that's what I was told the Dennis Ervin project was supposed to play. Instead I got James Brown. Hendrix, ELO, Motown, The Doors. etc., etc. And some blues.
Ervin, who plays guitar and sings lead vocals, has only been back in the business for about eight months. Years ago, he toured with bands like The Coasters and The Drifters and played back-up guitar for guys like Bo Diddley.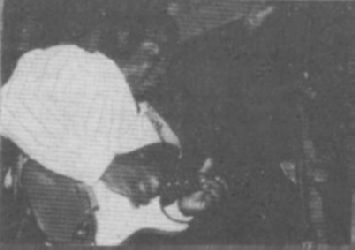 Dennis Ervin. Photo by Darrell Elmore
Dennis claims this incessant touring through places like Vegas is what gave him his sense of humor. Butch Watson, the band's keyboard player says Dennis' sense of humor is a direct result of him being insane.
I tend to agree with Butch.
On this particular night. Dennis was in rare form, cracking jokes, raving about OJ. Simpson ("Yeah. prune juice will give you the runs, but that OJ.. will kill you!") and was always ready with a quick retort to any of my inane music reporter questions (me: "uh, so what's it like playing in a band with three black guys and one while drurnmer?" Dennis: "Man, we're equal opportunity, we screw everybody ...").
It was almost breathtaking. the way this guy could come off stage. sweating from his effort and just keep running on and on and on. There were two other bands (Flyspay and Paul K.) hanging out in the Butchertown dressing oom (undergroundband naws alert the B-town new stocks the dressing room refrigerator with non-alcoholic brews only) and all of them were chuckling and chorlting at Dennis' jokes.
When I asked about the blues, Dennis said. "Man, I'm sick of the blues. Playing five or six songs, all in the same key ... that's boring. And all of 'em depressing!
'My baby left me ... ' I mean, how many times is that b— gonna leave that guy?"
Yeah. How many times? Anyway, Dennis says he'd rather do a variety of music, jazz, blues, rock, reggae.
And he does, with a drummer procured from an ad in the paper. Derrick Croft, originally from Paducah, Ky., used to play drums with Atlas Shrugged. When that band faded, he ran an ad in the Courier-Journal and received twenty-five replies. He settled on Dennis. "Well, I get teased a lot, you know, about being the only white guy," says Derrick. "Yeah," cracks Dennis, "He's the son I'll never, ever have."
These guys get along pretty darn well, even though Denrrick's only been with Dennis for a couple of months and the bass player, Doug Sharpe, recruited from a jam session at Zena's, has only been with the band two weeks. "I have the hardest time finding good drummers and bass players," says Dennis."You know, ones that will really stick with it —but I think we've found just what we needed with Doug and Derrick."
Indeed, the band was exceedingly tight the night I saw 'em. You would have thought they had all been playing together for years. Of course, years of experience on both Dennis' part and that of their keyboardist, Butch Watson, is a big help.
Keyboards. Yeah, I know. Visions of New Age schmaltz. But when you got a guy like Butch Watson, keyboards really aren't a drawback.
Watson has been playing for years. many of them performing with Sam Anderson. Butch had plenty of stories about the Toy Tiger, back when it was Brown's Suburban Dinner Theater. This was in the early '70s and Butch tickled the ivories with the house band, playing show tunes for touring Las Vegas showgirls. What a life!
Butch certainly seemed to have his act together. He looked like a walk-on detective for an episode of Barney Miller, what with his trench coat and battered Totes rainhat. I liked his image. He plays electric piano with a self-assured ease, plenty of style and not a small amount of class. I think it was the easygoing grin that stayed plastered on his face that really sold me.
Ervin and his troupe have been gigging around town, Jim Porter's, B-Town, The Silo, etc., and hosted a jam session every Wednesday night in January at Stevie Ray's, downtown. My advice is for you to check them out.They're skippy, man.