March 1995 Articles
Cover Story
Bob Bahr
Columns
Berk Bryant
Jim Galipeau
Mike Stout
Paul Moffett
Earl Meyers
Keith Clements
Todd Hildreth
Darrell Elmore
Duncan Barlow
Henry C. Mayer
CD Reviews
Jean Metcalfe
Bob Bahr
Robert Gruber
Mike Stout
Mike Stout
Bob Bahr
Robert Gruber
Bob Mitchell
Kory Wilcoxson
Bob Bahr
Berk Bryant
Performance Reviews
Kevin Gibson
Heather Butcher
Heather Butcher
Ninette Shorter
Jean Metcalfe
Paul Moffett
Mike Stout
William Brents
Calendar
Bob Bahr
News Item
Photos
Blogs
Got Shows?
Send Them To Us
Bookmark Louisville Music News.net with these handy
social bookmarking tools:
Available RSS Feeds
- Top Picks
- Today's Music
- Editor's Blog
- Articles
Add Louisville Music News' RSS Feed to Your Yahoo!

Issue: March 1995
balancing Squirrel Bait and Big Wheel
Master Vibrators (Buzz Records)
Starbilly
By Kory Wilcoxson
Starbilly faced some high expectations before guitarist David Ernst even played his first lick.
The band was created from the fallout of Big Wheel, a personal favorite of mine that never seemed to find a niche. Lead singer Peter Searcy gained even bigger fame in Squirrel Bait, a standout punk rock band that is now only talked about in revered tones.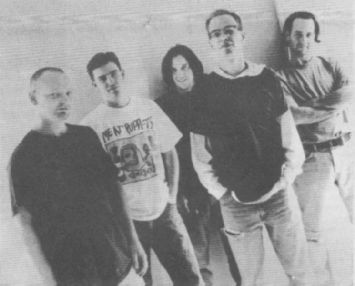 Starbilly
And then there is Searcy's voice, labeled the second best voice in rock and toll by Rolling Stone magazine, second only to Paul Westerberg. That's a heavy weight for a fledgling band to carry.
There was no need to worry. There's nary a hint of the flutters on Master Vibrators, Starbilly's debut. The band rocks with the savvy of veterans and their know-how shines through on all eight songs.
The band's style falls somewhere between Squirrel Bait's intensity and Big Wheel's pop sensibilities. Starbilly has a punky edge to its sound, but the songs are dominated by sharp hooks and Searcy's unmistakable voice.
There is an unclean atmosphere to the music that seems intended; there are no definitive barriers to Ernst's and Searcy's guitar work. The band is content to lay out a few chords and see where it takes them.
No matter how close to falling apart the music gets, Searcy is always able to pull the rope that brings it back. Most of the songs stick far into the craw and they score high on the hummability scale. In particular, "Our Aileen" and "Career Day" will not leave my brain without a fight.
Searcy seems to have found a medium between his last two bands. Time will tell whether it is a happy one or not, but judging from Muster Vibrators, he could finally be well on his way to success.