January 1997 Articles
Cover Story
Kevin Gibson
Features
Columns
Berk Bryant
Decimus Rock
Mike Stout
Paul Moffett
Vicky Moon
Vicky Moon
Keith Clements
Todd Hildreth
Laura Karnes
Henry C. Mayer
CD Reviews
Tim Roberts
Bob Bahr
Bob Bahr
Laura Karnes
Tim Roberts
Performance Reviews
Henry C. Mayer
Laura Karnes
Laura Karnes
Henry C. Mayer
Michael A. Howard
Paul Moffett
Mike Stout
Pete Strojny
Calendar
Paul Carney
Blogs
Got Shows?
Send Them To Us
Bookmark Louisville Music News.net with these handy
social bookmarking tools:
Available RSS Feeds
- Top Picks
- Today's Music
- Editor's Blog
- Articles
Add Louisville Music News' RSS Feed to Your Yahoo!

Issue: January 1997
The Kennedys Play the Twice Told Coffeehouse
Untrendily Positive
Text and photo by Michael A. Howard
The Kennedys played a pair of sold-out performances on Monday, December 2 at the Twice Told Coffeehouse on Bardstown Road. Arriving early for the second of the two shows, I ordered a hot bowl of thick split pea soup (vegetarian, like the Kennedys). Along with a helping of pita, it hit the spot on a rather chilly night. Yet something was missing in this cafe … aha! That's it! No smoking! A real disappointment, since I generally enjoy people blowing smoke in my face as I'm eating my dinner. Nothing but fresh, clean air here. Owner Rick Towles explained: "I just wanted to offer a healthy environment to eat and listen to music in."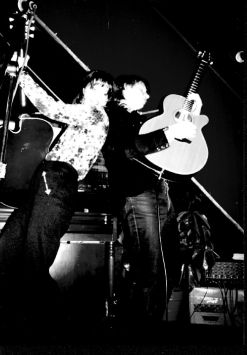 Pete and Maura as rockstarts
Maura (of the Kennedys) was selling CDs to fans in line between shows. "Looks like big business," I said to her.
"Yeah, it keeps us in gas money," she replied, smiling. A woman asked her if she and Pete got along offstage as well as on.
"We support each other on stage," Maura answered. "We're like two halves of a single soul. I felt a real connection the first time I saw him – more than just attraction."
After the last few stragglers shuffled into the back room, coffee in hand, the Kennedys began bonding with their audience.
"WFPK stands for We Feature Pete Kennedy, right?," she joked. "Yeah, and in a few years it'll stand for We Forgot Pete Kennedy."
There was plenty of chuckling and laughing going on as Maura and Pete spent the next several minutes "loosening up the crowd" with humor. Pete introduced their first tune (a cover called "Wall of Death") as "Dr. Kevorkian's favorite song." Blending "jangly" guitars and melodic vocal harmonies, The Kennedys seemed so comfortable on stage that it was as if they had played there every Monday night and this was their "regular crowd."
I was pleasantly surprised when they began pumping out some foot stomping swamp rock on their third tune. Pete ripped through some lightning-fast licks on his acoustic guitar while Maura kept a steady rocking rhythm. As if he wasn't satisfied with his blistering (and technically excellent) licks, during the next song he detuned and re-tuned the bass string on his guitar. No big deal? He did it mid-solo, never missing a beat, strumming, plucking and thumping his guitar like it needed a good workout. The only comparison that comes to mind is Michael Hedges.
Maura related a frequently asked question: "Are you-all husband and wife or brother and sister?" "Yes" is the answer they give. They had a few more anecdotes, like the time a guy came up to them during a show and said "I didn't come in here and I ain't leavin'."
And of course there's the "strangest gig" story. They were in Nokesville, Virginia (in a tiny public gathering place) and there were about nine people there. Before they started playing, this guy banged a gavel on a table and said, "Okay, everyone, it's time to say the pledge of allegiance. Since we don't have a flag, everyone turn to face the Pepsi machine."
Their second set began with songs from their new album, including the catchy title track, "Life is Large." A few of Pete's buddies – Nils Lofgren, Steve Earle, Roger McGuinn, Charlie Sexton and Peter Holsapple – contributed to their new album, giving it a fuller sound than their "unplugged" concert. Pete explained:
"It's good to record with a band and have a nice big sound, but on tour, we like to be more focused [on the stripped-down song in its purest form]. With just the two of us, we can get louder or softer and it really changes the dynamics."
Speaking of Roger McGuinn, the Kennedys covered several Byrds' tunes, including "Eight Miles High," during which Pete put on another clinic for solo acoustic guitar while Maura tossed in a thumpy bass solo to add to the audience's delight. After covering an early Emmy Lou Harris tune and playing a few more originals, their last tune left Pete Kennedy his final opportunity to thrash, thump, pluck, bend, detune and play complex percussion patterns on his guitar.
They were all smiles throughout the show, as if they were genuinely surprised that the crowd was eating up every note. For an encore, they played "She Loves You," by the Beatles. After the show, I asked Pete to describe their philosophy and he said "we're untrendily positive."