April 2018 Articles
Cover Story
Paul Moffett
Columns
Eddy Metal
Eddy Metal
Blogs
Got Shows?
Send Them To Us
Bookmark Louisville Music News.net with these handy
social bookmarking tools:
Available RSS Feeds
- Top Picks
- Today's Music
- Editor's Blog
- Articles
Add Louisville Music News' RSS Feed to Your Yahoo!

Issue:


I've Got A Mind To Ramble
Bordertown Legend comes to Derby City
When I picked up Stevie Ray's calendar of bookings for December and saw that Long John Hunter was performing on December 4, I knew this was a show I could not miss. I still have great memories of Long John and Philip Walker on stage together during the last evening of last summer's Chicago Blues Festival. That show was the high point of the festival, for it was a reunion of two great guitarists, who first played together 38 years ago in West Texas, when Long John was Phillips mentor.
During the many years of playing of border towns of South Texas and Mexico, Hunter developed a highly personal, very mature blues style. His guitar work was sparse but effortlessly eloquent as needed. His high-pitched voice was deceiving for his size, at times sounding like J. B. Lenoir.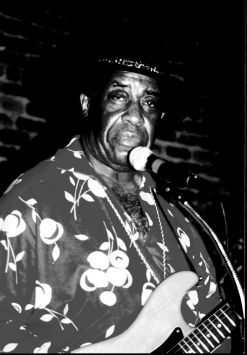 Long John Hunter at Stevie Ray\'s
Hunter's experience at handling crowed showed as he mixed slow, bluesy ballads like "Irene" and "Arkansas" with funky Tex-Mex shuffles like "Nasty Ways" and "Old Red." Many of his tunes were regional. "Marfa Lights" refers to the mysterious lights seen on the horizon around Marfa, Texas, attributed by many to aliens.
Equally impressive was his tight road band, who have been with him for eight years. "Thrifty" Nickles was the drummer, Mark Helm the keyboardist and Dave Keowin covered the bass. The sax player, Jerry Rauch, played with strong emotion all evening, occasionally falling to knees during intense solos.
Most blues guitarists are staunch believers in the brand of guitar they use. At the break, Hunter was comparing the pros and cons of Gibson versus Fender guitars with another musician. Hunter defended his Stratocaster by saying "Those Gibsons are always getting out of tune."
Following his Louisville show, Hunter and band headed for Detroit before rolling into Buddy Guy's Legends in Chicago for a weekend show. He mentioned a possible European tour in the Spring.
Look for a new release in April as a follow-up to his excellent Alligator CD, Border Town Legend.
Long John Hunter is a consummate bluesman who is just now getting the chance to present his musical experience of playing all those road houses, honky tonks and the occasional juke joint throughout the Southwest to a much wider audience. Kudos to Stevie Ray's for the booking.
Eddie Kirkland Getting On Track
Eddie Kirkland was in town the week of December 16, laying down some tracks for Scott Mullins' Rollin' & Tumblin" Records. Kirkland came from Macon, Ga. with Rock Bottom, a harpman from Tampa, Fl. to collaborate with local musicians on a CD set for release summer 1997. I had a chance to interview Kirkland before his recording session.
To set a mistaken record straight, Kirkland was born in Jamaica in 1923, not 1928, as is commonly thought. His parents settled in Alabama when he was a year old. He was brought up listening to shouts and hollers, working in the cotton fields and listening to his mother's records of 1920's blues. The blues eventually took him to Detroit and he wound up touring with John Lee Hooker in the Forties and Fifties.
Once he was traveling through Mississippi with Hooker, when the "Boogie Chillun" man suddenly fell ill and had to return home. The road manager didn't want to lose a good thing, so he booked and billed Kirkland was John Lee Hooker for the rest of the tour and nobody knew the difference.
Kirkland has had a rough road with record companies over the years. He has recorded for Prestige (Tru Sound/Fantasy), Trix, Lupine (Relic), JSP, Pulsar and, most recently, Deluge. Some of these companies went under shortly after his records were released or the record companies were not sympathetic to the message Kirkland was trying to get across.
The Rollin' and Tumblin' recording is expected to rectify that situation. Kirkland and Rock were teamed with the Mudcat Blues Band's drummer, Gene Wickliffe; Tim Krekel's bassist, Jim Bauer; and guitarist Rusty Ends. The sessions were recorded at Jeff Carpenter's Real to Reel Studio on 1" Ampex tape. The Monday and Tuesday sessions, when Kirkland's roughhewn voice was in good form, had produced ten cuts, but by Wednesday, he was starting to get hoarse.
The cuts I head on Wednesday were "Don't Blame Me," a very emotional song about life in the ghetto, and "Let Me Take Care of You," which was a mix of Mississippi Delta and Byther Smith. A third cut, "Been Gone Too Long," was an instrumental with an infectious rhythm.
Kirkland brought along an odd assortment of guitars, many retrofitted with modified pickups, including an old Peavy, Electra and an acoustic guitar held together with tape and wires, At his feet were a row of homemade pedals, used to get his distinctive, raucous amplified sound and to accommodate his unusual chord changes.
Kirkland still tours when he gets gigs and festival slots. He closed our interview with this remark:
"You have to devote your full life to the music to be good."