January 1997 Articles
Cover Story
Kevin Gibson
Features
Columns
Berk Bryant
Decimus Rock
Mike Stout
Paul Moffett
Vicky Moon
Vicky Moon
Keith Clements
Todd Hildreth
Laura Karnes
Henry C. Mayer
CD Reviews
Tim Roberts
Bob Bahr
Bob Bahr
Laura Karnes
Tim Roberts
Performance Reviews
Henry C. Mayer
Laura Karnes
Laura Karnes
Henry C. Mayer
Michael A. Howard
Paul Moffett
Mike Stout
Pete Strojny
Calendar
Paul Carney
Blogs
Got Shows?
Send Them To Us
Bookmark Louisville Music News.net with these handy
social bookmarking tools:
Available RSS Feeds
- Top Picks
- Today's Music
- Editor's Blog
- Articles
Add Louisville Music News' RSS Feed to Your Yahoo!

Amnesia Motel -- A Place To Escape The Machine
With a resume that reads like a trade publication from the coasts, composer/songwriter Joel Timothy is more than pleased to tell the world that Louisville is the hometown he's been searching for. Having met the woman of his dreams in San Francisco in the early 90s, Joel awakened only to find that the lovely artist Karen Boone was born-and-bred in Louisville. After they were married, son Ian came along, and the whole family made the circle back to Kentucky to set up shop for music, art and showing a toddler what autumn leaves looked like.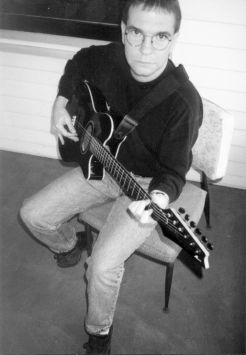 Joel Timothy
It's not quite as pat as that. Joel is an old acquaintance of mine from Los Angeles, where I reviewed and interviewed his band several times. I always remembered what a down-to-earth person that keyboardist Joel Timothy was: a refreshing person to meet in the struggling rock blur.
I suppose the last time we spoke was in 1981 and Joel was networking between L.A. and San Francisco. (Here the picture spins around like a Dick Van Dyke flashback.) Fourteen years later on a wet summer day at the Eastern Parkway Walgreen's, I hear "Cindy Lamb?"
Ulp. Hoping that the BMG Music Club hadn't sent a hitman, I glanced back and there was Joel Timothy. After the hug, the card and the promise for dinner, we departed friends again – probably closer.
It wasn't long afterwards that Joel made himself a welcome entry to the Rudyard Kipling's Open Stage on Mondays. It was great to see him standing in a soft light, sketching out bittersweet songs on an electric guitar. And considering the work that he'd leave behind just to commune with local and regional musicians late into a week night, his solo performance struck an even deeper note.
Joel and Karen together amount to a drive-through production house. Sometimes it's hard to tell who has more toys and crayons – Dad, Mom or Ian. While bouncing a baby on her knee, Karen designed the 1996 Derby Festival Poster, as well as the Ursuline Arts Festival. In a bold move this fall, Ms. Boone took her noted graphic designer shingle from the prestigious DeLor firm to her office at home, where she is flourishing in new projects – including Rick Pitino's new pasta and sauce line.
Mr. Timothy, on the other hand, packed his Kurtzweil K-2500, along with other state-of-the-art systems, and set up shared Frankfort Avenue business digs. Out of Joel's home studio since mid-1995 have been commercials for customers ranging from Big O Tires to Yamaha. He has been honored with such regional and national media honors as Gold Vision Award (Kentucky Bank), Silver Louie Award (Korbel Champagne) and Gold and Silver Summit Awards (West Virginia Lottery).
"I love Louisville," he says. "This town is the perfect place to be. There is room to breathe, and park your car (Ed. note: If you've ever lived in San Francisco, you know that parking space is like gold), yet the people, the culture and the arts are first rate and world-class."
Joel and I have had similar questions from L.A. and New York friends or colleagues about the logic of a Louisville move. His answer:
"This community has welcomed me and my family with great warmth and openness. After moving around most of my life, I have finally found a hometown."
In January of 1996, Joel co-founded Amnesia Motel with Deckard Kinder and Dallas Thomas. This still-evolving concert concept of storytelling, eavesdropping and memories lost is both haunting and humorous. The three wise guys who take turns diving into your streams of unconsciousness aren't afraid of untapped waters. They're used to letting it all down on stage individually, so why not book it as Amnesia Motel?
People checked into the Motel at the Rudyard Kipling last January and the Bunbury Theater in August. They arrived curious and probably left even more so. That's fine with Joel, Deckard and Dallas. When asked for comment, Juergen Tossmann, Bunbury's producing director noted, "Amnesia Motel is many things but it is never what you expect."
Songs from Joel's pen include "The Bondage of Logic," Ashes and Grace" and local rave "Indigo's Room." All are part of his room at the Motel. Even a Kentucky song, "Let the Bridges Burn" reminisces of his departure from the hectic Bay Area.
I'm tired of these savage streets, I'm tired of living in fear.
This city's got a mean streak, let's get out of here.
We can drive straight through to Memphis and take a left turn.
And when we cross the border to Kentucky
Just let the bridges burn.
"We're taking on a very brave move to assemble almost sixty minutes of background music for Deckard at our next performance in the Spring," Joel reminded me. When I asked him for a preview, he asked if I'd ever seen the David Lynch video "Industrial Symphony." This thought alone sent a shiver down my neck, so I'm sure the next installment of Amnesia Motel will be...weird?
"The creative chemistry was just right," Joel says of his fellow boarders. "We've experienced similar things in life, and though we are all three very different, there is a common thread that weaves through our individual work."
Born in Omaha, Nebraska in 1951, Joel and his family soon moved to England, where he spent most of his childhood. After returning to the U.S., they settled in San Francisco's Haight-Ashbury district, where Joel disappeared into theater and music. After majoring in film at the University of California, he tried to balance starring roles in Shakespeare, small movie roles and even a stint as an acrobat with Ringling Bros. Barnum & Bailey Circus. So what kind of thoughts go through the mind of one talented, mellow guy while he's turning flips in the sand or scampering as Puck in Midsummer Night's Dream or cramming for a semester final movie script?
"Music. There was always a constant internal battle between theater and music ... finally, music called louder than the theater." Between stints of recording and touring with A&M and Capitol Records, Joel established his own studio and publishing company in San Francisco, composing music for commercials and documentaries.
Joel Timothy's key to Amnesia Motel opens many different trunks.
"Amnesia Motel is my sanity," Joel agrees, "it keeps me in touch with my creative roots."
Hit Me With Your Best Shot
Topping out at 100 shows a year, the road warrior that Tanya Savory is makes it hard to find her in Louisville anymore. Imagine my surprise when my search for the singer-songwriter ended one morning at 8 o'clock when – WHAM! – she's on my radio with Laura Shine.
"There you are!" I pointed to the Samsung boom box, while my coffee sloshed onto my duck slippers.
Promoting her just-signed deal with So Real Records for Better Shade of Green, Savory brought her Kerrville Folk Festival-winning pipes to croon for the sunrise set.
We finally did link up on the phone, however, long enough to find out about some upcoming shows, at the Twice Told Coffeehouse on January 10 and at Bellarmine College on January 18.
On a funky note, it turns out that one of her favorite shows this year was the Iris DeMent concert at Phoenix Hill. Tanya and manager/keyboardist friend Kim Wohlenhaus were at ringside seats to help a fellow performer.
"Iris had said something like, 'Man, I'd like a shot of whiskey.' so Kim ordered one and handed it up to her," Tanya laughed. "Somebody else handed a martini on stage and I think she passed it over to a band member."
Thank's to Kim and Tanya for reminding folks that they're in bourbon country. Look for more Tanya to savor in the February issue of LMN's "Front & Center" in a feature-length interview.
Christmas Bundles
Danny Flanigan and son Ben met Linny Simkin and son Peter at Nat "X-tatic Records" Graumann's Christmas party. The tots enjoyed meeting all the friends at Nat's warm, home style celebration – you know, the tree, the lights, the wine, the Doberman. (Aja is one hot dog and an enthusiastic entertainer.)
Ben and Peter, 7 and 8 months old respectively, were sporting new "holiday" teeth for all to see. (And sometimes feel...) Flanigan will be easing up on the Rain Chorus/Greathouse/danny flanigan shows to get revved for spring. Simkin will return from Christmas in Seattle to play January shows.