April 2018 Articles
Cover Story
Paul Moffett
Columns
Eddy Metal
Eddy Metal
Blogs
Got Shows?
Send Them To Us
Bookmark Louisville Music News.net with these handy
social bookmarking tools:
Available RSS Feeds
- Top Picks
- Today's Music
- Editor's Blog
- Articles
Add Louisville Music News' RSS Feed to Your Yahoo!

Issue: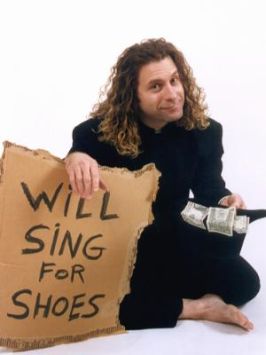 Photo by Ralph H. Sidway. (Note: the printed cover was in black and white.
Chaz: Louisville's most annoying success story?
By Kevin Gibson
Chaz Rough beams when he shows off the personal letters he's received from President Bill Clinton.
The first, which arrived nearly a year ago, he got by sending Clinton some samples from his Unity Wear clothing line. The second came after an episode typical of his perseverance.
When Clinton visited Louisville's Hillerich and Bradsby plant shortly before last November's presidential election, Chaz (his given name is Charlie, but he is best known by the nickname his sister bestowed upon him during childhood) decided he would try to get one more shirt to the president. It was more difficult a task than he'd imagined even though he had a ticket to the event.
"There was an 'A' section and a crappy section," Chaz recalled. "I was in the crappy section."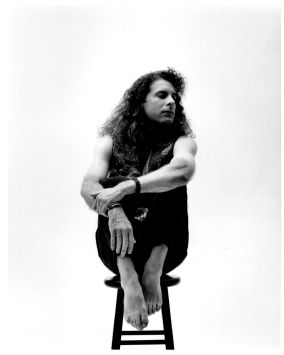 Photo by Warren Lynch.
Nevertheless, after the speech he approached the gate leading to the 'A' section and told the guard he'd lost his parents and that he had to find them. The guard let him in, and he pushed his way up to the stage.
He saw Clinton behind the stage chatting with local officials, and Chaz thought for a moment he'd gone as far as he could. But he didn't give up. Suddenly, a group of Clinton supporters cheered, and when the president turned, his line of sight passed right through Chaz.
Chaz pointed at the shirt, and Clinton immediately recognized the distinctive logo. Clinton sent an assistant to retrieve the shirt, and Saturday, Dec. 14, another letter arrived at Chaz's home, thanking him for the thoughtfulness.
"Even after I got the shirt to him I just stood there for a good two minutes and just laughed," Chaz said. "I thought, 'My God, I did it again.'"
Chaz called it "the classic story of persistence ... It's pure determination. If I think it, I can make it come true because I believe."
That and his ability to schmooze know no bounds. In fact, he attracts attention almost everywhere he goes.
Whether it's his curly, auburn hair, his clothes (usually black) with the distinctive Unity insignia on his shirt, or his eagerness to discuss his latest project with whomever will listen, this south end product is always looking for a set of eyes and/or ears to occupy or entertain.
And while many of his endeavors are aimed at helping others, Chaz isn't everyone's favorite local celebrity.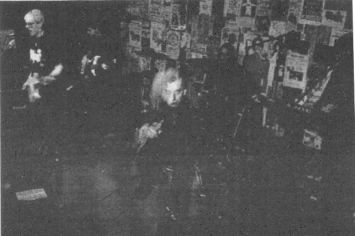 The Synthetics, circa 1987, at Tweligans. From left, Christ Greg, Chip Dumstrof, Chaz, Todd Smith and Kelly Dumstorf. Photo by Bill Karlen
Perhaps it's his artist's demeanor or his relentlessness, or maybe it's just his affinity for talking about himself, but the mention of his name could elicit a smile or a cringe, depending on who is nearby.
Chaz responds to this fact of Louisville life with a shrug and a smile.
"I do get a lot of flack from people because I'm constantly out in the public eye. That's what I'm about ... To me, life's a 50-50 shot. People can say yes or they can say no. So many people are afraid to hear either answer."
Which is why this 33-year-old musician/designer/artist/promoter pushes for answers: He knows that, half the time, the answer will be yes.
His latest success story, being signed by Wild Justice Records of New York and the December release of his six-song EP Unity, is a typical story of Chaz's ability to network.
A musical vision
Wild Justice signed Chaz just over a year ago after seeing him perform at the Harvest Showcase (another of Chaz's pet projects), and the result is his new album, a "vision" he has been working on for two years.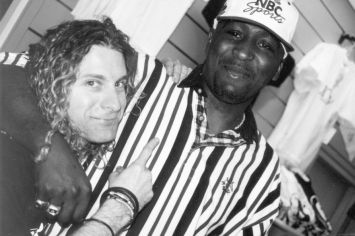 Chaz clowned with Robbie Valentine at the Unity Wear Release party at J. C. Penney in June 1996/
While he had to compromise on the EP (he had 12 songs he wanted to appear on the album), Wild Justice vice president Victor Somogyi has given Chaz almost total control. His new single "Can't Make it Stay" is getting airplay on WFPK New 92 FM, and Chaz debuted a video for the song (which, with typical Chaz optimism, has been sent to MTV) Dec. 21.
Chaz will record some new songs for a summer release to include the six tunes that didn't make it to Unity. One of the new songs is a tune called "The River" which Chaz talks up with confidence unusual even for him.
"It will be a hit. That song will break my career on the next CD."
If it wasn't for persistence, he wouldn't even be talking about another national release. Or even the first one, for that matter. Chaz met with an industry bigwig (he wouldn't reveal his name) in New York nearly two years ago but didn't expect anything to come from it.
"I thought 'Man, what a jerk.' He really was aloof. I came back here and wrote the guy off."
Four months later, the man called Chaz and told him about Somogyi. Chaz communicated with Victor over several months, developed a friendship and eventually was signed.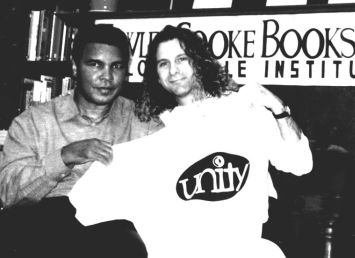 Chaz got a quick picture of himself with another man accused of excessive self-promotion in the early days of his career, Muhammad Ali. Photo by Tony Morris
He finished recording the songs for Unity here in Louisville with longtime friend and former bandmate Todd Smith, a producer who learned his craft from Glenn Johns, who worked with bands like the Beatles, the Rolling Stones and the Who.
Chaz said Smith Brought soul to Unity.
"If you listen to old Beatles songs, you'll note they're not perfect," Chaz said. "That's what makes them so classic ... If there's no soul there, all you've got is words and sound." A recording, Chaz believes, really has to "capture the moment" when the music is made.
"I help him flush out the sound and do the actual process of recording," said Smith, who is studio manager and composer/producer for Allen-Martin Productions in Louisville. "I'm the translator from his idea to a finished product.
"We have a very easy, open relationship. There's absolutely no walking on eggshells or dancing around anything. I can say to him 'that sucks' or he can say to me 'that sucks.' I value that sort of relationship because it's straight to the point; there's not a lot of time wasted."
Chaz believes that on Unity Smith captured the essence of his strength.
"I'm a good musician. I never claimed to be the world's greatest; but you don't have to be the greatest musician to be a successful artist.
"That's where my strength lies – in my writing, and my ability to take music and promote it in my way. '(Somogyi) said 'You know exactly what you're doing with your career so we're going to work with you on that.' They've given me full reign on my creativity because they trust my judgment."
"Chaz has spent the last few years putting this together," said Somogyi in a telephone interview. "Why mess with success?"
An example of the freedom he has is the video. Rather than lip-synch the lyric, Chaz hired a woman fluent in American sign language to sign the lyric.
"I wanted to do something totally different, that's never been done before," he said.
He doesn't know if the video will hit MTV, but he has developed a measuring stick for success:
"If I can get Beavis and Butt-head to trash me on their show, I'll know I've made it."
Charity and promotion
Through the Christmas season, Chaz donated $1 for every copy of Unity sold. That's Chaz. In 1992 he organized a local "Rock the Vote" at Oxmoor Mall, where more than 1,000 new voters were registered. Also Chaz, through and through.
His supporters applaud efforts such as this. His critics bash him for using them as vehicles for self-promotion.
Something no critic can change, however, is the nine tons of food that have been raised by the annual Harvest Showcase concert series, a Chaz brainchild dating to 1993 when, he said, it was "just an idea that was floating in the air."
In fact, he came up with the concept at his nephew's high school graduation, during which he jotted down ideas on his program. He knew it wouldn't be easy.
"I had to figure out a way to get people in Louisville excited to come out and hear original music. And that's a task."
He went to Kentucky Harvest president Stan Curtis with it and got a less than enthusiastic response.
"He basically said 'Yeah, whatever, go ahead.'" So Chaz did. Ear X-tacy and the Great Escape pitched in $1,500 and Louisville Eccentric Observer, an alternative newspaper here, provided some free advertising space. Chaz also promised there would be CDs for sale featuring bands from the event, though he had no idea how he would finance it.
"I was just throwing my hat in the ring," he said. And the first year, some 1,400 people showed up at the Silo over two nights, paying three bucks and three canned goods apiece to get in. "It was a rush; I was blown away. It was a prayer that got answered."
He funded the CD with the door take.
Year two, at the Brewery Thunderdome, the results were the same. The third Harvest Showcase was held at Stagedoor Johnnie's (next to the Palace Theatre). This year it was at the Toy Tiger and was sponsored by the NTR.NET Corp. of Louisville.
Now Mayor Jerry Abramson is behind it, and The Fox radio station has signed on as a sponsor. Representatives from Geffen, Outpost (a subsidiary of Geffen), Dream Works and Warner Bros. attended this year to check out the local talent. And a large food corporation based in Louisville is considering sponsoring next year's Showcase, which Chaz promises will be bigger and better.
Chaz said Curtis is finally convinced: "Now, going into the fifth year, Stan is going (pounds fist) 'We've got something here!'"
John Timmons, owner and operator of Ear X-tacy, found it easy to throw his support behind Harvest Showcase.
"He's always working for some cause or charity. He's the promotion machine of Louisville. I have never known him to not be doing like 10 different things at once. He's one of those people you can't say 'no' to, either."
And Timmons doesn't count himself among Chaz's critics.
"He is Mr. Self-Promotion but I kind of admire that. It's kind of hard to pick on him. He's not everybody's cup of tea, but he is (sincere)."
LEO managing editor Joe Grove takes jab after jab at Chaz, including relating to a reporter a fictitious story about Chaz's life-size cardboard cutouts of himself wearing a Unity Wear diaper. (LEO had to hide them in the back room of its offices because, Grove said, "Children were getting frightened." Remember, it's fiction.)
And Grove blames Chaz's promotional personality on a cosmetic procedure gone awry: "Until he had that hair transplant he was a pretty normal guy. A few of them were put in too deep. They transplanted the hair from his nostrils." (Again, fiction.)
Even through his barbs, Grove is willing to give credit where it is due.
"I do like him. He is a realist about the system. He's not pretentious, but rather a pragmatist. He sees the key to success as exposure, and he's willing to expose himself."
Grove added, tongue pushing eagerly into cheek, "My opinion of Chaz is that he is industrious enough and relentless enough and probably incompetent enough that he no doubt will be a major success someday. If you urinate on enough fences, one of them is going to be electric one of these days."
He wears it well
Unity Wear might just be Chaz Rough's electric fence. He designed the logo one day on his computer while "just goofing around. Then one day I said 'Hey, that looks like unity.'"
He made a few shirts and started selling them out of the back of his car; soon they were stacked at Ear X-tacy on consignment, then at J. C. Penney, and now there are three separate lines: In the Rough (golf clothing); Team Unity, and Rip Gear (aerobics wear), and national licensing rights are in negotiation.
"Somebody said, 'Everything you touch turns to gold,' and I said, 'Right now it's just a healthy color of bronze. But I'm going to keep shining it.'"
Now the golf caps are being sold in North America, Central America and Europe. Hootie and the Blowfish wear the products, producer Scott Litt (whom he came to know through Harvest Showcase) agreed to pass some along to R.E.M., and of course Clinton has more than one shirt.
Again, chalk it all up to Chaz's unrelenting promotion.
"The clothes line was nothing I ever anticipated getting into," he said with a shrug. "It was purely accidental."
Learning the ropes
Chaz said his days of serious promoting began in the early 1980s while he was still a student at University of Louisville. He and Smith (whom Chaz calls "Smitty") formed The Synthetics, a band that held together for about seven years (1983-1989), and enjoyed plenty of brushes with fame, largely due to Chaz's thirst for it.
"My early years with the Synthetics were my growing years. I was pissing people off way back then," he said.
Smith remembers it much the same way: "He hasn't slowed down a bit since the day I met him. It all pretty much revolved around the Synthetics. He was constantly designing posters, putting up posters all over U of L, booking shows, making t-shirts, passing out tapes – working it, working it, working it.
"That is really very similar to what he's doing now except he's spread his scope to include other things and he's doing it on a bigger scale. His approach has become more refined and businesslike but really it's the same thing – a massive shotgun approach."
One of Chaz's early brainstorms was to record a single called "The Look" and to donate the proceeds from its sales to then-LRS 102's Bridge the Gap, which provided toys for needy children. The station gave the song some airplay, and the Synthetics enjoyed newfound popularity for their efforts – just what other musicians hated to see.
"The other bands in the area were ticked off" because they were getting so much attention from the single, Chaz said. "But we took the initiative."
Other bands around U of L also resented Chaz and his 'mates because Chaz was so adept at designing and hanging posters announcing the band's gigs around campus. He said people got so fed up they would often tear them down soon after they were hung.
"So, to make them even madder I hung a bunch of flyers that said 'The Synthetics – TBA,' just to poke fun at these people."
The band's popularity peaked around 1987, Chaz said, and they called it quits in 1989 soon after Smith left the group. Before they split, however, the Synthetics' videos were on MTV's "Basement Tapes" and "120 Minutes," which Chaz said never happened to any other Louisville band. The band also played at legendary CBGB's in New York and he and Smith – largely through Chaz's networking by pretending he was a manager rather than a musician – got into meetings at Virgin, Elektra, CBS, Atlantic and various others.
They were never signed. "There was interest," Chaz said. "We just didn't hit the right door."
Friends, enemies
Chaz usually talks about those who dislike him with flippancy. He did admit, however, that sometimes critical words written or said about him are "upsetting."
Still, he makes no excuses for his energy and attention span, which has all the length of a French fry. His secret to his success lies more in his drive.
"I've come to realize that this desire is something special," he said, referring to his ability to promote. "Whether that p****s people off or not, I have no apologies for who I am. Nobody has given me anything."
He then laughed and added, "I always tell people I'm the A.D.D. (attention deficit disorder) candidate of the year because my train of thought shifts so much."
Smith calls his friend "The Chazmanian Devil."
"I told him if he ever got on Ritalin it would probably ruin his career."
Smith continued, "Chaz is so bursting with energy and ideas that he will talk to a rock for three hours because it will sit there and not go anywhere. When he gets hold of somebody he tends to just go on and on about his projects. What Chaz sometimes forgets is that no one is as excited about his projects as he is ... it's a boyish, childlike excitement and I think that's a good quality, but in today's somber adult world that makes the wrong impression."
Another knock against Chaz is that he takes the easy path rather than earning his successes.
"Chaz does take a lot of heat (because) he has the appearance of not really working very hard" Smith said. "At first glance, people think things just fall into his lap. And I think they resent that. But that's just not true. He's one of the hardest working people I know. He does more before lunch than I do all week."
"There are a lot of people who are put off by people who are aggressive," said Somogyi. "And Chaz is certainly aggressive. I've never met anyone like Chaz. He's amazing. And I think he has more supporters than he has detractors."
One of Chaz's most outspoken critics – who Chaz himself suggested be interviewed for this story – refused to comment and asked that his name be left out because he didn't want to be associated with Chaz in any capacity.
Said Smith to Chaz's critics: "Lighten up a little bit. He's not hurting anybody. He's got lot of energy and he's doing good, productive work with it. It's fine to have a criticism of someone but I think some of the criticism has been over the line a little bit."
And with or without the criticism, Chaz has accomplished plenty with his drive – and the help of his wife, Connie, who he said supports him every step of the way.
And between opening up for bands like REO Speedwagon and Richard Marx, promoting the new album at area Disc Jockey stores as well as playing a regular Wednesday gig at The Train Station in Anchorage to showcase local artists, promoting his clothing lines and other side projects, he still has time to spend with his baby son, Noah (who Chaz said is the light of his life).
And he knows he won't be successful unless he's persistent.
"You could definitely say I'm outspoken and I'm out there getting things done in the community, but no one's going to do it for me. No one's going to come and say 'Here's a record deal, Chaz.'
"I'm not going to sit on my ass. Over the course of a few years I've gained national attention with the Harvest Showcase, got signed with a national label that believes in me, and got a clothing line that is about to be licensed nationally. It's working."
Counting his blessings, he said, "I've got a baby son, a beautiful wife who supports me. What more could anyone ask for ... except to sell a couple million CDs."
A statement like that might draw more ire from his detractors, but he welcomes the criticism. "When people make fun of me, they're only throwing more fuel on the fire," he said.
Asked what he would say to his critics, Chaz smiled and leaned forward. He said assuming everything – the recording contract, the clothing line and the continued success of Harvest Showcase – goes the way he expects it to, his statement is this:
"If you hate me now, you'll really hate me in a year."