January 1997 Articles
Cover Story
Kevin Gibson
Features
Columns
Berk Bryant
Decimus Rock
Mike Stout
Paul Moffett
Vicky Moon
Vicky Moon
Keith Clements
Todd Hildreth
Laura Karnes
Henry C. Mayer
CD Reviews
Tim Roberts
Bob Bahr
Bob Bahr
Laura Karnes
Tim Roberts
Performance Reviews
Henry C. Mayer
Laura Karnes
Laura Karnes
Henry C. Mayer
Michael A. Howard
Paul Moffett
Mike Stout
Pete Strojny
Calendar
Paul Carney
Blogs
Got Shows?
Send Them To Us
Bookmark Louisville Music News.net with these handy
social bookmarking tools:
Available RSS Feeds
- Top Picks
- Today's Music
- Editor's Blog
- Articles
Add Louisville Music News' RSS Feed to Your Yahoo!

Issue: January 1997
Shady Grove (Acoustic Disc)
Jerry Garcia & David Grisman
By Bob Bahr
From August, 1990 until Jerry Garcia's death in August, 1995, the Grateful Dead guitarist and mandolin master David Grisman rolled the tapes during their irregular but frequent jam sessions. They played music that they shared a love for -- old folk classics, bluegrass, jazz, country, anything their acoustic-leaning hearts desired. In the liner notes of Shady Grove, a collection of traditional folk songs and ballads, Grisman reports that forthcoming volumes from these recording sessions will focus on the other genres he and Garcia explored. Rather than distill the bulk of their collaboration into two or three eclectic albums, Grisman has presented their performances as archives -- careful renditions of classic songs that strive to achieve an authentic sound. In this context, Garcia's weak warble of a voice is an essential element.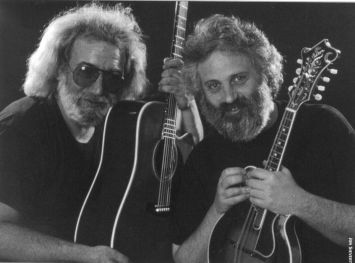 For 64 minutes, Grisman's mandolin and Garcia's voice and guitar are unassuming stars, bringing the folk songs beloved in the early '60s to new ears, casting a road-weary melancholy with songs of love, regret, murder and, er, the loneliness of 19th century sailors. Bluegrass fans will recognize some of these lyrical themes, and Grateful Dead fans will hear a familiar, loping joy in the down-hearted songs. Indeed, while "Louis Collins," "Dreadful Wind and Rain," "Off to Sea Once More" and "Whiskey in the Jar" belong part-and-parcel to this project, it's hard to hear "Stealin'," "Jackaroo" and "Casey Jones" (not the GD composition) and not imagine that these are stripped-down demos for Grateful Dead numbers. Likewise, hearing Grisman and Garcia harmonize on "Stealin'" and the unlisted bonus cut "Hesitation Blues" makes one think of Old & In the Way, the bluegrass group the two formed in the mid '70s. ("Hesitation Blues," incidentally, also makes one yearn for a volume of acoustic blues from this duo.)
Solos are minimal. Rather than relying on hot improvisations, these songs lean on their time-tested, people-friendly melodies, with the instrumental passages almost always echoing the simple vocal lines. Actually, the austere approach, though it be wonderfully executed and warmly recorded, makes for a sameness that can bore you over the course of an hour. One can cling to the wonderful, "Ripple"-like trot of Mississippi John Hurt's "Louis Collins" or the mournful sound and message of "Off to Sea Once More," but there are a number of songs that pass without riveting the listener. For every "Stealin'," with its mischievous tone, there's a "Fair Ellender" that doesn't catch fire.
The press is ecstatic about Shady Grove, but the average listener will probably be bored with it. Garcia fans, Grisman fans, and hardcore folkies, however, have been given a particularly nice New Year's gift.