March 1997 Articles
Cover Story
Bob Bahr
Columns
Berk Bryant
Decimus Rock
Mike Stout
Paul Moffett
Cindy Lamb
Vicky Moon
Keith Clements
Todd Hildreth
Laura Karnes
Henry C. Mayer
CD Reviews
Paul Moffett
Tim Roberts
Tim Roberts
Bob Bahr
Bob Bahr
Performance Reviews
Katie & Joe Elder
Joshua D. Smith
Laura Karnes
Paul Moffett
Calendar
Paul Moffett
News Item
Henry C. Mayer
Blogs
Got Shows?
Send Them To Us
Bookmark Louisville Music News.net with these handy
social bookmarking tools:
Available RSS Feeds
- Top Picks
- Today's Music
- Editor's Blog
- Articles
Add Louisville Music News' RSS Feed to Your Yahoo!

Issue: March 1997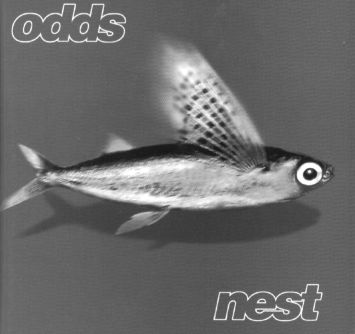 Nest (Elektra)
Odds
In the first song and first single from the Odds' newest 11-shot salvo of smart pop, they sing, "I'm a song about the song/That once said something new." That's an accurate self-diagnosis in one sense. This CD has clear roots in the first blushes of English pop circa the Dave Clark Five, and their pop genetics traces them right up through contemporaries such as Squeeze. Let's just say the Odds are not blazing new trails in pop music.
We've heard these sounds before, felt the pull of hooks like these, heard lush harmony vocals like the ones delivered by Craig Northey, Doug Elliott and Steven Drake before. Heck, the hammering chords themselves of "Night's Embrace" sound an awful lot like those in the Pretenders' "Tattooed Love Boys." And when "Suppertime" comes on with its extremely Beatlesque piano and a little slide guitar work that isn't far removed from George Harrison, your hackles might be up. And this is when the Odds earn their keep.
Not only do the Odds play melodies as memorable as the popsters of the past, they also write literate, witty lyrics. It's power pop that avoids the smugness of some Elvis Costello and the empty goofiness of The Pursuit of Happiness, to name two other current pop crafters. "Suppertime," for example, has a poor man dreaming about riches and sympathy -- "Let me lick the dew from the money tree/Have the moms of the world all care about me/At suppertime." Who hasn't known a musician like that? Later, he dreams, "Let me battle all your rich man's habits/Let me cry down the front of a smoking jacket/After suppertime."
Earnest, whole-hearted love songs such as "Say You Mean It Wondergirl" and the nearly perfect "Make You Mad" (with its sly slide guitar) cover more traditional themes, while "Nothing Beautiful" injects some nihilism. Even when these Canadians exhibit wickedness, it's all in good pop fun.
Sonically, the album rests primarily on guitar hooks of various volumes, sometimes approaching Smithereens-level force (as in "Tears & Laughter"), other times standing on an acoustic base ("Heard Your Wrong"). Please be amused by the trumpet hits on "Hurt Me," and the various thefts detectable in this or that song. This album is too good to be crippled by grudges.
Nest is another reason to thank our stars that the Beatles picked up instruments and shaped pop music -- if they hadn't we wouldn't have the Odds, XTC, Squeeze and other contemporaries to enjoy.