April 2018 Articles
Cover Story
Paul Moffett
Columns
Eddy Metal
Eddy Metal
Blogs
Got Shows?
Send Them To Us
Bookmark Louisville Music News.net with these handy
social bookmarking tools:
Available RSS Feeds
- Top Picks
- Today's Music
- Editor's Blog
- Articles
Add Louisville Music News' RSS Feed to Your Yahoo!

Issue:


I've Got A Mind To Ramble
Carl Weathersby at Stevie Ray's
Mike Pollard, co-owner of Stevie Ray's, said that they are living up to their promise to book national acts along with the best of the local talent, now that they have become established. February was a banner month, starting with Chicago guitarist Carl Weathersby on the fifth.
Weathersby spent equal time growing up in Meadville, Mississippi, and East Chicago, Indiana, getting exposed to both country and urban blues. He played rhythm guitar for Albert King, a friend of his dad, on some brief road trips in 1979, '80 and '82, before beginning a fourteen-year-long relationship with Billy Branch's Sons of Blues (SOBs). He still occasionally plays with Branch, recently joining him on a blues sea cruise that included the Thunderbirds, Etta James, Joe Louis Walker and James Thackery.
Weathersby had a day job in a steel mill in Hammond, IN., until he was laid off, at which time he began his career as a full-time musician. When not on the road, he performs in Chicago's North Side clubs including Kingston Mines.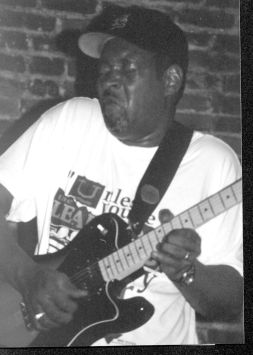 Carl Weathersby at Stevie Ray's. Photo by Keith Clements
Even though Weathersby plays his Fedner and Gibson guitars without a pick, saying that "most of the blues guitarists from southwest Mississippi play without a pick," he got off to a rough start, breaking three strings during his first set. Fortunately, he had a battery-powered string-winder, so delay was minimal.
Albert King's continuing influence on Weathersby's playing was demonstrated on the opening tune, "Rock Your Town," and later on "The Things the Blues Will Make You Do." He also did several tunes from his recent CD, Don't Lay Your Blues On Me, on the Evidence label.
There is a distinct urban edge to many of Weathersby's contemporary blues tunes, like "Somebody Help Me" and "Looking Out My Window," where he sings "I see things I don't understand." Then he switches to an optimistic ballad like "Your Love Is Everything."
He reminds me of Dion Payton, another Kingston Blues regular, and he did a nice cover of Payton's "All Your Affection is Gone." Weathersby also mimicked Howlin' Wolf's deep, gritty voice on "I Should Have Quit You." He even pulled out his slide for Elmore James' "Standing at the Crossroads."
Included in Weathersby's tight band were Skip Gaskin on rhythm guitar, Chucky Watts, drums, and Nick Charles, the veteran bass player from Howlin' Wolf's band.
The next night, Stevie Ray's booked Eddie Shaw and the Wolf Gang and the following Wednesday, Deborah Coleman rolled in on her current tour in support of her new CD. It was like a delayed replay of last year's Garvin Gate Blues Festival.
Memorials for Foree Wells
Following the passing of Foree Wells, his wife Lorene is facing major medical costs for her own treatments. The Kyana Blues Society is planning two special events to help her. The first will be a Blue Monday on March 10 at Zena's. This was the venue where Foree sat in with the Blues Syndicate on Sunday evenings, singing and playing keyboards.
The next fund-raiser will be at Jim Porter's on March 27. Foree and his Walnut Street Blues Band frequently played there. Tee shirts with a picture of Foree will be available and his sons Greg, Michael and Foree Jr. will be carrying on the tradition of the Walnut Street Blues Band, performing songs from Foree's soon-to-be-releases CD, It's A New Day Brother, at both benefits. Other bands scheduled to perform include the 10th Street Blues Band, Winston Hardy and the Roadmasters, Sweet Soul Vibe, George Bracken Blues Band and Mark Hoekstra with Pen Bogert. The music will start at 8 p.m. and there will be a mere $3 cover to help the "Godmother" of Louisville's blues.
Blues Cruise III
It's time to crank up the school bus again for the Third Annual KBS Blues Cruise, Saturday, April 12. The details are not completely worked out, but the tentative plan is to have dinner at Red Hot and Blue. We will then head downtown for some hot blues at Stevie Ray's and Zena's. Finally, we will hang out at the Smoketown Blues Club, where B. B. Taylor and the Blues Review is the house band.
Call Keith Clements at 451-6872 if you want to get on board. Watch this space for more information as the cruise details become available.