March 1997 Articles
Cover Story
Bob Bahr
Columns
Berk Bryant
Decimus Rock
Mike Stout
Paul Moffett
Cindy Lamb
Vicky Moon
Keith Clements
Todd Hildreth
Laura Karnes
Henry C. Mayer
CD Reviews
Paul Moffett
Tim Roberts
Tim Roberts
Bob Bahr
Bob Bahr
Performance Reviews
Katie & Joe Elder
Joshua D. Smith
Laura Karnes
Paul Moffett
Calendar
Paul Moffett
News Item
Henry C. Mayer
Blogs
Got Shows?
Send Them To Us
Bookmark Louisville Music News.net with these handy
social bookmarking tools:
Available RSS Feeds
- Top Picks
- Today's Music
- Editor's Blog
- Articles
Add Louisville Music News' RSS Feed to Your Yahoo!

Issue: March 1997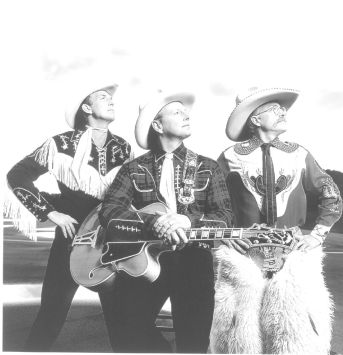 Riders In The Sky, March 3
Upcoming Live Music
By Paul Moffett
Since Louisville has had a relatively mild winter, be prepared for some snow-outs for these shows.
Just kidding. Spring is on the way (Yeah!), so crank yourself up, refurbish your wallet and go out and hear some live music. As always, there is a wide variety of styles and concerts, suitable for all tastes.
Big Band
The Glenn Miller Orchestra will be in concert at Memorial Auditorium on March 7. Glenn won't be there, of course.
Bluegrass
C. R. Wilson's Blue Grass Music shows at the Shepherdsville Country Music Place have been doing well. On March 21, the Goins Brothers, plus J. D. Crowe & the New South will be there.
Blues
The first full week in March is double loaded, with two, (clap, clap) two big blues shows, so call the Doublemint twins for commentary and the Brewery for tickets to Kenny Wayne Shepherd (Days of the News opening) on Tuesday, March 4 and the Jon Spencer Blues Explosion, Doo Rag opening, on Thursday, March 7. Get plenty of sleep in between. If you miss Spencer on Thursday, you have another chance on Friday, when the group travels to Lexington for a show at the U of K Student Ballroom.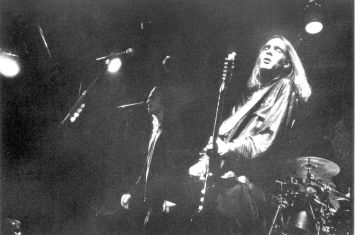 Kenny Wayne Shepherd, March 4
Tix: 583-3420 (Lexington: 606-281-6644)
Are you tired of hearing the blues sung by wrinkled old men? How about by a buxom blonde woman? The Cathy Jean Band from Baltimore offers you that possibility when they play at the Backstage Cafe on March 14. I would comment on the band's music, but no CD arrived with the CD insert.
Tix and info: 589-3866
Stevie Ray's mid-week booking practices of national acts have earned them a plug in Keith Clements' blues column (page 10). March's choices are good as well, with Rounder Records' Rory Block on March 5, Johnny Rawls on March 12 and Waldoxy's James Peterson, who has moved to Louisville, according to the street buzz, on March 19.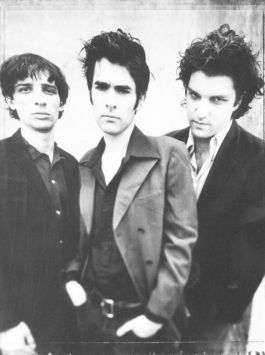 Jon Spence Blues Explosion, March 7
There will be a pair of memorial shows for Foree Wells in March. The first will be a Zena's on March 10, then on March 27 at Jim Porter's. Both events will offer multiple bands for a minimal cover. Proceeds will benefit the Wells family.
Country
It'll be the Cowboy Way on March 3 at Coyote's, as NPR Radio Theatre of the Mind favorites Riders in the Sky ride in for a fun show of goofy retreads of old radio show revisions of ancient vaudeville routines. Let's hear it for tradition! Knowing that no joke ever dies, Ranger Doug, Too Slim and Woody Paul will resurrect any number of hoary old chestnuts and have the audience howling along. Better get those tickets quickly, as they're being given away by sponsor Texas Roadhouse. This show is billed as all-ages, so any under-eighteen folks must be accompanied by adult.
On Thursday, March 13, Marty Stuart will turn Coyote's into a honky-tonk, 'cause honky-tonkin's what he does best. But then, does Coyote's already meet the definition of "honky-tonk?" In any case, get your tickets early, as his last show (April 7, 1994) at Coyote's was a sell-out.
Is Alabama old country or new country? Find out March 21 at Freedom Hall, when the former bar band cranks it out with Neal McCoy opening.
WAMZ's Free Show at Coyote's for March will feature Mark Wills on Thursday, March 20. Wills is still climbing on the strength of "Jacob's Ladder," his top 5 single. The show is free but you must have a ticket, available at Coyote's and any WAMZ remote.
Tickets and Information: 589-3866
Fans of old-time country music should get themselves out to Johnny Lee's Yellow Rose Of Texas in Shepherdsville on March 6, when Johnny Paycheck continues his efforts to get the attention of country radio.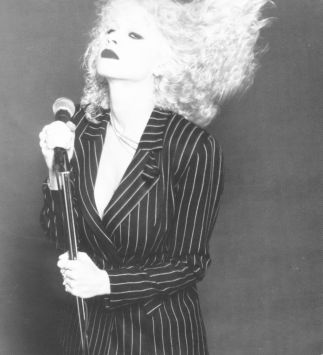 Cathy Jean Band, March 14
Mark O'Connor has nearly moved out of the country category, particularly when he appears with the Louisville Orchestra for a SuperPops show at the Gardens on March 15. We'll list him hear, anyway.
Tix: 584-7777
Jazz
The Louisville Jazz Society and the Louisville jazz community will barely have time to recover from Jazz Week before rolling out for Poncho Sanchez and his Latin Jazz Band, an eight-piece group, at the Silo Microbrewery on March 10, for a 7:30 p.m. show. Tickets are $15.
Tix: 589-2739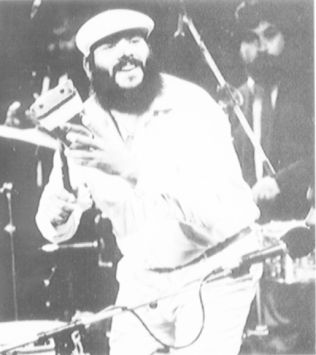 Pancho Sanchez & his Latin Jazz Band, March 10
If you can't wait for Poncho for your jazz fix, hit the Silo on March 3 for a $5 LJS show featuring Gayle King and Indigo.
Tix: 589-2739
Gospel
If old-time gospel is your fave rave, then take note. The McKameys will headline an Easter "Eggstravaganza" at Renfro Valley on March 29. In addition to the singing, there will be a full day of entertainment for the family, including an Easter Egg Hunt, clogging, singing, games and such. Tickets are $10, children twelve and under, half-price.
Tix: 1-800-765-7464
Rock and Its Variations
If you missed the V-roys when they were here last, you have another chance to see them, this time at the Bluegrass Brewing Company on March 15. The band is working hard to sell their new CD, Just Add Ice.
Tix: 899-7070
Korn returns to the Brewery on March 17. Opening will be Helmet and Limp Bizquit (I am not making these names up, really), so get in line outside now, boys and girls.
Tix: 583-3420
Homosexual rock is very much in your face these days. You can experience it first-hand when the Queers (the band's name, honest) appear at the Brewery on March 12. The Groovie Ghoulies and Screw 32 open.
Tix: 583-3420
Should you miss the Queers, you can catch the Pansy Division at the Backstage on April 1, with the Tigerlillies and Flip Doubt.
Tix: 589-3866
Do you miss Subduing Mara when they were last here? Did you know they were here? They're touring in support of Glossolalia, their new album. They'll be at O'Shea's on March 20.
Is there something about Louisville that brings bands right back to town? Pen Pal was just at the Butchertown Pub in January. You can have another crack at hearing the band on March 11 at the Backstage Cafe, when they are once more on tour in support of their Best Boy album.
Tix and Info: 589-3866
For the under-eighteen crowd, there will be an All-Ages show at the Brewery with the Offspring, Strung Out and A. F. I. on March 6. Tickets are $15.
Tix: 361-3100
Jerry Garcia may be dead but that doesn't keep anybody from cashing in on his name and fame. This time, it's some musicians who are one time or the other, played in his band, now traveling as JGB. They'll be at the Brewery on March 2 for an 8 p.m. show.
Tix: 361-3100
Ardent Records' artist Jolene has been getting a bit more airplay these days, so a Wednesday show at the Butchertown Pub on March 5, when they play a double bill with EMI artists Marcy Playground should be well attended.
Tix: 583-2242.
Steve Ferguson and the Midwest Creole Ensemble only play in town occasionally and then at the Air Devils Inn, often as not. On March 8, however, you can enjoy Fergie's music along with some fresh beer at the Bluegrass Brewing Company, which is certainly a larger room than ADI.
Tix: 899-7070
Musicals
Robert Goulet dreams the impossible dream at the Kentucky Center for the Arts March 4-9, when he plays Cervantes in Man of La Mancha. Goulet has appeared musicals in Louisville several times over the past ten years, including South Pacific and The Fantasticks and, most recently, as King Arthur in Camelot.
Tix: 584-7777
The Southern Baptist Theological Seminary is presenting the musical "Shenandoah,": based on the Jimmy Stewart movie of the same name. Admission is free. Performances are March 15, 17 and 18.
Information: 800-626-5525
Pop
The American Heart Association will present Rick Dulin in concert at the Louisville Gardens Theater on Derby Eve.
Opera
If you haven't had enough of the season of Love, you sill have time to take in the Kentucky Opera's "The Elixir of Love" on February 28 and March 2. Call 584-7777 for tickets.
Looking Farther Ahead
On the list of must-see for those obsessed with staying up with the Louisville alternative/hardcore scene is the Will Oldham show on April 9 at the Clifton Center. Oldham is best known for his "Palace" projects – The Palace Brothers, Palace, Palace Songs – but he is an enigma wrapped in a mystery surrounded by a cult, to mis-quote Churchill. He hasn't played a show in Louisville for so long that it might as well be never. Get your tickets early at ear X-tacy, Ground Zero, Underground and Blue Moon Records.
April country shows of note will include Eddie Money on April 1 and Merle Haggard on April 8 at Coyote's.