March 1997 Articles
Cover Story
Bob Bahr
Columns
Berk Bryant
Decimus Rock
Mike Stout
Paul Moffett
Cindy Lamb
Vicky Moon
Keith Clements
Todd Hildreth
Laura Karnes
Henry C. Mayer
CD Reviews
Paul Moffett
Tim Roberts
Tim Roberts
Bob Bahr
Bob Bahr
Performance Reviews
Katie & Joe Elder
Joshua D. Smith
Laura Karnes
Paul Moffett
Calendar
Paul Moffett
News Item
Henry C. Mayer
Blogs
Got Shows?
Send Them To Us
Bookmark Louisville Music News.net with these handy
social bookmarking tools:
Available RSS Feeds
- Top Picks
- Today's Music
- Editor's Blog
- Articles
Add Louisville Music News' RSS Feed to Your Yahoo!

Issue: March 1997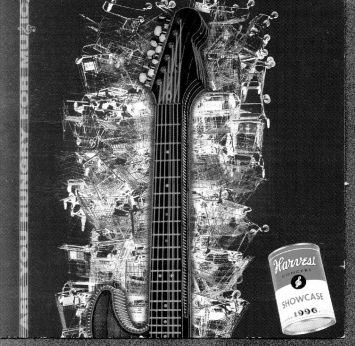 ? (Snail & Rocket)
Various Artists
By Paul Moffett
Point: Compilation albums are the ad mailers of the music business. Assembled as cheaply as possible and featuring a number of artists, they are sent out to a large mailing list and then usually forgotten. They're a waste of good ear time, although sometimes there are diamonds in the dung.
Counter Point: compilation albums are the poor person's record deal, put out by a very few people just trying to offer a chance at a cut to (relatively) unknown performers, a chance that might never come again. The material on those CDs ranges from awful to surprisingly good to excellent.
In the case of 1996's Are You Hungry for Music, the latter case is true, only it's not poor person's music, in any sense, and the chance will come again next year (probably) The ubiquitous Chaz Rough assembles the songs and manages the recording and distribution of these series of discs, the proceeds from which benefit Kentucky Harvest. In previous years, the CDs were noted more for the professional layout of the insert than the uneven material.
This year, however, the CD gets a big thumbs-up all around. Add this one to your list of buy-and-listen, especially if you're a regular listener to WFPK, where several songs from this CD get airplay, most notably the radio-friendly, groove-solid first song, "Kiss Kiss Bang Bang," by Detroit performer Stewart Francke.
The Air Conditioners offer up a catchy Tom Florian song, "I Used to Be A Jerk," even though the line "I will resist your mammaries" might put him back in that category with some people.
A fair chunk of what might be termed a Louisville funk musicians' "A List" teams up as L'woo for bassist Danny Keily's "Fire On Louisa," an experimental/fusion/pop tune held together by –surprise!– the bass line. For some reason parts of this tune put me in mind of Dan Hicks' Strike it Rich album.
Shannon Lawson, whose own Ham Days CD has just been released, takes aim at pyschobabble country with "All of Tennessee," co-written with Mandy Snider, wherein the singer sketches the details of a break-up, then ends each verse with an unrelated but killer country hook.
The smoky "Talkin in Maybes" scores big for Muffy Panics. It certainly made me want to hear more of the Muffy and band at my very first opportunity.
The contrast between Muffy's melodelicious tones and the "Heart of the Sunrise" style bass intro to Almost Noah's "Pass" couldn't be greater and it highlights the only notable goof in sequencing of the songs. While Almost Noah is arguably one of Louisville's most popular bands and the tightly written and performed tune is a solid and satisfying example of the band's abilities, the transition is jarring. This tune should be surrounded by similar tempo and volume songs.
Country songstress Dawn Merle Haggard gives us a come-hither croon on "Don't You Know What I Mean," sweetly arranged in a "The Judds meet Jimmy Buffett on a good day" style by Vince Emmett.
Dan Gediman has been making music in and around Louisville for some time, when he wasn't busy producing radio programs for NPR. His latest group, Dan Gediman and the Mindreels, puts an harmonic pop spin on "Dark of the Sea," which features Peter Search, lately of Starbilly, on cello, and the Guitar Emporium band, a.k.a. Jimmy Brown on bass and Steve Cooley tripling on banjo, mandolin and dobro.
Tim Krekel and the Groovebillies probably won't get the chart action on "Cold Grey Kentucky Mornin'," as Aaron Tippin is supposedly cutting the tune. That's all right, as Krekel is on a songwriting roll, with one #1 country hit in "You Can Feel Bad," and cuts on Sam Bush's Glamour and Grits and Tippin's album. If you have never heard Krekel or the Groovebillies, this makes a fabulous introduction.
The Union Tree contribution, "Patchwork," is a lush double helping of vocal harmonies wrapped around Todd Smith's thoughtful arrangements, with John Bajandas' analogy-driven lyrics for a trellis. Think Fairport Convention for the Nineties, script by Scott Peck.
Greg Foresman is a familiar figure to Louisville's rock aficionadas; his groove-dominated "Shoot It Up" might be a bit of a surprise to some. Tanita Gaines joins the vocal section on background and drummer Max Maxwell shares producer credits with Greg Foresman.
Nashville-based Every Mothers Nightmare stays true to tradition of Lynyrd Skynyrd and dirt track dates with the metallized "Southern Way."
Pick up your copy at H.M.V. Records in the Mall St. Matthews and both ear X-tacy Records locations.