March 1997 Articles
Cover Story
Bob Bahr
Columns
Berk Bryant
Decimus Rock
Mike Stout
Paul Moffett
Cindy Lamb
Vicky Moon
Keith Clements
Todd Hildreth
Laura Karnes
Henry C. Mayer
CD Reviews
Paul Moffett
Tim Roberts
Tim Roberts
Bob Bahr
Bob Bahr
Performance Reviews
Katie & Joe Elder
Joshua D. Smith
Laura Karnes
Paul Moffett
Calendar
Paul Moffett
News Item
Henry C. Mayer
Blogs
Got Shows?
Send Them To Us
Bookmark Louisville Music News.net with these handy
social bookmarking tools:
Available RSS Feeds
- Top Picks
- Today's Music
- Editor's Blog
- Articles
Add Louisville Music News' RSS Feed to Your Yahoo!

Getting the Lead Out
By Cindy Lamb
The first time I met Harry Lewman was at Air Devils Inn during an open stage Monday. All the card carrying members of the folk, rhythm and blues loop were in attendance, tuning up, swapping stories, Paul Moffett, Linny Simkin, Peter Rhee, Ray Major, Will Cary and others. Practically dwarfed by grand old Guild, Lewman pulled up a stool and proceeded to knock out a howling set of blues. From the Delta to New Orleans, Chicago to Memphis – his style swept the room up into times long gone. Somewhat a dichotomy, a very studious-looking gentleman with delicate features, Lewman wrassled the sad stories to the ground with that guitar, and a voice that echoed the souls of another walk. In so many words, not bad for a white guy.
Harry Lewman's enthusiasm for the multi-tiered blues genre is widely known in Louisville and he comes about it with as much honesty as he does passion. Having become a fan as well as an authority on the legendary Huddie Ledbetter, otherwise know in the brickyard and blues circuit as Leadbelly, Lewman is halfway through the process of transcribing an entire catalog of the artist's songs. This highly ambitious project has been as slow a process as tapping a Maple tree for syrup but extremely satisfying for this unlikely modern apprentice to a singer who died nearly fifty years ago. Just how a boy from the velvet lawns of St. Matthews got to be the center of attention at Shiloh Baptist Church in the Shreveport, Louisiana's black community is, like any blues song, a great story.
Son of a son of a real estate man, Lewman was a dyed-in-the-wool Country Day school boy, with classmates like Will Cary and Harry Castleman, who co-inspired music appreciation while growing up. While sipping herbal tea on rainy afternoon, Harry and I discussed the improbability of black folk and blues material becoming an integral part of his life in the suburbs. I grew up in the time where The Jackson Five were accepted into sterile white radio formats by the grace of Dick Clark; and before that well, Motown had its own city miles from current 60s wonders like Tommy Roe, The Beatles, Gary Puckett or Neil Diamond. Harry might owe his pang for the blues to a woman named Lula.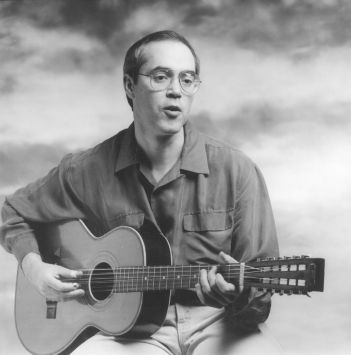 Harry Lewman
"A lot of kids grew up with housekeepers, nannies, what have you," he recalled, "And this woman traveled up from Galatin, Tennessee to work for my family. Her name was Lula Ramsey and we adored her. In the summertime, I'd go spend summers with her family in Tennessee. Those were wonderful times...we'd go to church services and hear the greatest music! I was so young, maybe only four or five years old and it never occurred to me that I should've felt any different toward the black people I lived with. Especially sharing that music, which is a very cultural thing, it's natural."
Harry pauses for a moment as if to consider the borders most kids grow up with today. "Well, it should be natural."
At the time, popular music on the other side of the Tennessee valley still impressed Lewman. "I was listening to songs, hits of the day like "Catch A Falling Star (And Put it In Your Pocket,' and I enjoyed going to the symphony with my mom on a regular basis.
Lewman started performing when he was 13 years old. "I could tell what my limits were," he smiled, "So I would gravitate toward music I could play, but I'd listen to anything."
"Even thrash metal didn't really turn me off, I could appreciate the distortion on the guitar. Distortion is a powerful thing, it is an energy to music that applies intensity. Most popular music nowadays involves distorted guitar."
Lewman encountered the other side of the stage when he did a stint as roadie and soundman for artists Taj Mahal and The Band.
"It didn't pay much but it was very interesting," Lewman noted of his road days in his early 20s. "That's a hectic lifestyle, touring, I don't think I could ever do that."
Back in the glory days of the Highlands – pre-piercing, no flashing X's above Bardstown Road and Phoenix Hill was simply a neighborhood – Lewman and friends were armed with guitars, slides, mandolins and more. Roy Gentry of the Fall City Ramblers put a few licks onto Lewman's unusual sets at places like the Mason Jar in the mid to late 70s. In the early to mid 80s, Lewman joined forces with friends Jimmy Brown and Danny Boone to knock out rock, blues and r&b tunes amidst the swell of synthesizers and skinny ties at Tewligan's as well as the bluesy downtown bar scene at Fat Cats.
"I began playing with Harry at a real turning point in my life," Jimmy Brown stated from his perch behind the counter at Guitar Emporium. "From '84 on was a brighter time for me, and Harry was such a great person to get to know."
Outside our mutual admiration for Harry, it is apparent that it's Leadbelly that is at the center of Lewman musical universe. "It's really in his heart," Brown continued, "He loved Leadbelly and it was very special playing with him. And it could be a challenge, too. I read about John Lee Hooker recently, how unpredictable his music could be for the other players in the band – like a 12 bar song could become 13 bar song, given the moment. Timing was bizarre with Harry like that but I have to give Harry a lot of credit to try and learn that style it is not easy to do. It's hard to copy someone's style that's that unorthodox. It was a lot easier for Leadbelly to make it up than for Harry to emulate it."
To hear Harry discuss the theory of 'sound' is like asking a technical question and getting a surreal answer. His early yearning to master the trumpet, and the message that a single note instrument delivers and his affection for Louie Armstrong was enlightening. The hushed appeal of a twelve-string guitar – the magic of chords, percussion and voice.
His treasured Sovereign 12-string even has a lineage of its own. Possibly one of the finest in existence, the instrument was built in the late 20's to early 30s. Harry bought it from premiere 12-string aficionado Mark Silber, who had owned the guitar for twenty years, keeping it back like a rainy day guarantee, knowing that someone like Harry Lewman might come along and buy it. Before that, 60's 12-string guru John Lundeberg owned the mighty Sovereign in California.
Lewman enjoys the privacy of a small recording studio on the shady parameter of Cherokee Park. Producing a cassette tape, titled simply with his name, Lewman booked shows in the summer of '95 at Hawley-Cooke Booksellers and Stevie Ray's, sprinkled with open mike nights with the local pickers and grinners. The guitar he is seen most with is a modern version of the Sovereign or the Guild 212 XL. And they mean XL, it's a big'un.
"Leadbelly played a Stella 12 string," he stated, "It's in the Rock & Roll Hall of Fame now and still has the original strings as when he died in 1949."
The full circle begins at the point where Lewman was rooting through his newly purchased Leadbelly CD and discovered the card of Sean (pronounced Shane) Keillean of the Leadbelly Society.
"There was a board od directors and everything," Lewman marvelled, "Pete Seger was really deeply involved."
Long story short, in the time it takes you to say 'woke up this mornin'...du DAH du DUM!' Lewman had looked up Leadbelly's niece, Tiny Robinson. One of the family members who has helped preserve the history of Leadbelly's music and times as well tending to copyright and publishing issues, Tiny manages the erstwhile estate of her Uncle Huddie.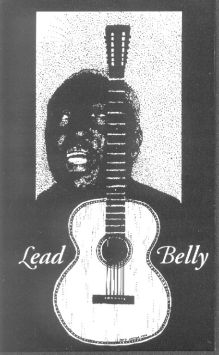 "She also helped other artists like Lightning Hopkins," Lewman stated, "She's an incredible person." A small photograph of Tiny with Harry standing on each side of one of Leadbelly's guitars shows Harry grinning like a possum. This moment coupled with the fact that Judy Bell of TRO, the company that handles copyright for Leadbelly, commissioned Lewman to transcribe note by note by bent note, every song the artist was known to write and/or record.
"It's up to a publisher to desciminate their artist, properly," Lewman added, "It's been done to a certain extent but not with much attention to accuracy and back in his day, all the music that people made was distributed in sheet music instead of recordings. So this really comes full circle."
If I was ever in need of a Leadbelly primer, I got one that afternoon at Heine Bros. What I learned over a couple of cups of coffee and tea was that Huddie Ledbetter was considered a contemporary with Blind Lemon who at the time of Leadbelly's sparked career was busking on the streets of Dallas, Texas.
"They created a whole genre of blues," Harry stated, "pretty much as the same time Woody Guthrie was folk icon. He was so different, so complex that there are actually more musicians familiar with Leadbelly's material than the general public."
With established favorites like "The Cotton Song," as he called it (the familiar "...in those old Cottonfields back home...") and "Goodnight Irene," the Louisiana native was perceived more as a folk singer.
"He wasn't really a Mississippi kind of guy," Lewman added, "Most of the blues are 12 bar, backbeat boogie, but Leadbelly loved all kinds of music. Look at the audience response to when Kurt Cobain did "In the Pines," you know, the 'where you gonna sleep tonight?' song. The style lasts for generations."
I ask Harry to come up with three songs to show the artist's range. We start with "Dekalb Blues."
"He killed a man there once," he claimed as his eyebrows arch, It's got a solid Texas feel with kind of a Mississippi rhythm. It's difficult to play and hard to transcribe.
"'Silver City Bound,' is a beautifully built song with a wonderful bridge," he responded, "and he only recorded it once. there's a funny meter, a change at the end of the 12th bar goes into a perpetual motion thing, like an Eschar print.
"'Alabama Bound' is a remodeled Jellyroll song, just a little folkier."
I had time to scan some of the notations one night at the Dundee Tavern where Harry was about to suit up for a jam with Jim Snyder. I giggled through one in particular, "Big Fat Woman With the Meat Shaking' On Her Bones." The juke joint lyrics – now deemed politically incorrect – jumped* right off the page and onto my red face.
Everytime I shake some skinny gal loses her happy home..."
WFPK's Scott Mullins, who also possesses a range between punk pop and blues sees Leadbelly as a true anomaly among blues artists. "Most blues players had core Southern, black audiences. With Leadbelly, he didn't really have a huge black audience in the 30s and 40s. The white fans came in, mostly due to folk archivist Alan Lomax who sprung him from prison and brought him to the public. He was Leadbelly's ticket out."
Leadbelly spent the better half of his life incarcerated. I wondered out loud if his name came from bullets he'd taken in the gut or if he'd pumped lead into other people. Harry and I agreed it was probably a stretch on the otherwise name of Ledbetter.
"You need a tough name to get by in prison," Harry assumed with a chuckle. He was a wild man, always in trouble with the law but it probably saved his life. He was so wired, so competitive – almost a perfectionist – that he felt he couldn't be beat at anything. Being in jail probably gave him a chance to cool down, get some discipline and with all the hard labor, he stayed in great shape for a smaller man. Gosh, he could hit a high C when he was 50."
It's odd that Leadbelly was so untamed, coming from a very respectable family, it didn't quite fit. He married several but most memorable was Martha Promise, twin sister of Mary, in their hometown of Shreveport, Louisiana. They had a son who passed away at an early age.
"Shreveport was a thriving, very self-supportive black community," Lewman said, "there was a strong sense of family, church and belonging. Of course, there was music. Blues in the late 20s were huge and it was a very prosperous time for blues players. It just kind of died out after then."
For the unveiling of the statue of Leadbelly in Shreveport, Harry Lewman couldn't fly south fast enough. There he was again, surrounded by, as he'd heard it so many times before, people of color, celebrating, sharing and basically whooping it up at the Shiloh Baptist Church. Glancing up at the statue of the little big man, I'm sure it seemed ironic that his belly was finally fashioned out of lead.
Harry Lewman resides in Louisville with his wife, graphic designer Claire and his 15-year old son Curtis. His next project will be The Folk and Dance Songbook.