March 1997 Articles
Cover Story
Bob Bahr
Columns
Berk Bryant
Decimus Rock
Mike Stout
Paul Moffett
Cindy Lamb
Vicky Moon
Keith Clements
Todd Hildreth
Laura Karnes
Henry C. Mayer
CD Reviews
Paul Moffett
Tim Roberts
Tim Roberts
Bob Bahr
Bob Bahr
Performance Reviews
Katie & Joe Elder
Joshua D. Smith
Laura Karnes
Paul Moffett
Calendar
Paul Moffett
News Item
Henry C. Mayer
Blogs
Got Shows?
Send Them To Us
Bookmark Louisville Music News.net with these handy
social bookmarking tools:
Available RSS Feeds
- Top Picks
- Today's Music
- Editor's Blog
- Articles
Add Louisville Music News' RSS Feed to Your Yahoo!

Issue: March 1997

Cowboy Corner
Country Winners at 24th American Music Awards
The 24th American Music Awards were handed out Monday, January 27 in Los Angeles and country music was well represented. Among the performances on the three-hour live broadcast were country entertainers Brooks & Dunn, LeAnn Rimes, and Alan Jackson.
Garth Brooks presented a special tribute to the women of music in 1996. Country presenters included Terri Clark, Deana Carter, The Mavericks, Mindy McCready, Martina McBride, and Shania Twain.
The country winners were:
Favorite Male Artist – Garth Brooks
Favorite Female Artist – Shania Twain
Favorite Band, Duo, or Group – Brooks & Dunn
Favorite Album – George Strait's Blue Clear Sky
Favorite New Artist – LeAnn Rimes
Third Annual Nashville Music Awards Winners
The Third Annual Nashville Music Awards, also known as the "Nammies," were handed out last month in Music City. The top winners included Vince Gill, newcomers BR5-49, and Bela Fleck, each winning two awards. The winners are:
Male Vocalist: Vince Gill
Female Vocalist: Patty Loveless
Artist/Songwriter of the Year: Vince Gill
Songwriter of the Year: Matraca Berg
Misc. Instrumentalist: Bela Fleck, banjo
Best Album: BR5-49
Best Album Artwork: BR5-49
Instrumental Album of the Year: Steve Wariner's No More Mr. Nice Guy
Jazz Album of the Year: Bela Fleck's Live Art
Achievement Awards: Owen Bradley, Decca Records Producer, and Bud Wendell, President and CEO of Gaylord Entertainment.
TNN Music City News Country Awards Nominees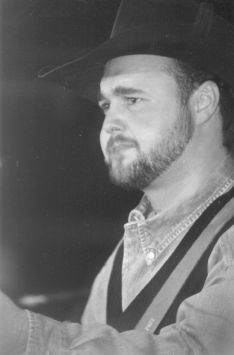 Darryle Singletary played to a large crows last month at Coyote's. Photo by Letha Marshall
The Nashville Network and Music City News have announced the final nominees in the 14 fan-voted categories for the 31st TNN Music City News Country Awards to be handed out at the Grand Ole Opry House on Monday, June 16. Alan Jackson, the reigning Entertainer of the Year, led the nominees with seven nominations, followed by Vince Gill with six. The nominees are:
Entertainer of the Year: Billy Ray Cyrus, Vince Gill, Alan Jackson, Reba McEntire, and George Strait. Male Artist of the Year: Billy Ray Cyrus, Vince Gill, Alan Jackson, George Strait, and Bryan White. Female Artist of the Year: Terri Clark, Faith Hill, Patty Loveless, Reba McEntire, and Lorrie Morgan.
Comedian of the Year: Gary Chapman, Jeff Foxworthy, Cledus T. Judd, Mike Snider, and Ray Stevens. Star of Tomorrow – Male: Trace Adkins, Paul Brandt, Ty England, Wade Hayes, and Ty Herndon. Star of Tomorrow – Female: Deana Carter, Mindy McCready, Jo Dee Messina, M.C. Potts, and LeAnn Rimes.
Vocal Duo: Bellamy Brothers, Brooks & Dunn, Daryl & Don Ellis, Regina Regina, and Sweethearts of the Rodeo. Vocal Group: 4 Runner, The Forester Sisters, The Moffatts, Oak Ridge Boys, and the Statler Brothers. Vocal Band: Alabama, BlackHawk, Diamond Rio, Sawyer Brown, and The Mavericks.
Christian Country Artist: Amy Grant, Susie Luchsinger, Paul Overstreet, Ricky Van Shelton, and Ricky Skaggs. Vocal Collaboration: Alan Jackson & Jeff Foxworthy's "Games Rednecks Play," Dolly Parton & Vince Gill's "I Will Always Love You," Eddy Arnold & LeAnn Rimes' "Cattle Call," Lorrie Morgan & Jon Randall's "By My Side," and Travis Tritt & Marty Stuart's "Honky Tonkin's What I Do Best." Single of the Year: LeAnn Rimes' "Blue," George Strait's "Blue Clear Sky," Alan Jackson's "Little Bitty," Billy Ray Cyrus' "Trail Of Tears," and Vince Gill's "Worlds Apart."
Video of the Year: Alan Jackson & Jeff Foxworthy's "Games Rednecks Play," Alan Jackson's "Little Bitty," Neal McCoy's "Then You Can Tell Me Goodbye," Billy Ray Cyrus' "Trail Of Tears," and Vince Gill's "Worlds Apart." Album of the Year: Bryan White's Between Now And Forever, George Strait's Blue Clear Sky, Alan Jackson's Everything I Love, Vince Gill's High Lonesome Sound, and Billy Ray Cyrus' Trail Of Tears.
Wynonna Has Third Best-Selling Female Country Album
Ashland, Kentucky's Wynonna, formerly half of one of country music's most successful duos, The Judds, was recently labeled as having the third-best-selling country album by a female artist in country music history. Wynonna's self-titled debut album has sold more than 5 million copies. Patsy Cline's 12 Greatest Hits has sold 7 million and Shania Twain's The Woman In Me 9 million.
Naomi Pushed Back to 1998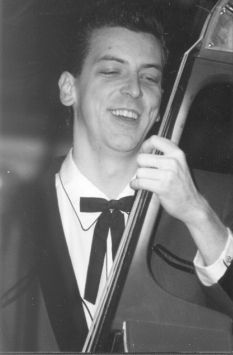 BR5-49's bassist, Jay McDowell, was all smiles during their well-received set. Photo by Letha Marshall
Wynonna's mother and former duo partner Naomi Judd will have to wait until next year before hosting her very own talk show, titled simply Naomi. Despite recent reports that the idea for the show was being scrapped, Naomi is being re-vamped.
This one-hour talk show will reflect Naomi's success-over-adversity view of life as each day a different subject is explored in a compelling and positive way. Naomi says, "We'll celebrate values to live by and look at all sides of life, because by learning together how to overcome conflict, pain, and tragedy, we will get stronger together."
The Kentucky Headhunters Reunion
The Kentucky Headhunters' former bass guitarist Doug Phelps, who left the band in 1992 along with his brother Ricky Lee Phelps to form Brother Phelps, is rejoining the Headhunters as lead vocalist for a brand new album this spring. The band began writing songs for a new album in January and played their new songs for RCA Label Group Chairman Joe Galante. Joe gave the band the green light for their debut BNA Records album, Stompin' Grounds.
The Kentucky Headhunters' debut album, Pickin' On Nashville was awarded a CMA, ACM and Grammy award for Album of the Year and captured the band the Group of the Year award. This album was certified platinum in a mere seven months, selling 1 million copies. The album has gone on to sell 2 million copies.
The newly re-united Kentucky Headhunters' first single, "Singin' The Blues," will be released early this month and the new album is scheduled to hit record stores in late April. The band was recently in Louisville filming a video for their first release. Stay tuned to CMT and TNN for this hot new clip.
Loretta Lynn Never Marched for Women's Liberation
Although the legendary "Coal Miner's Daughter" has written songs like "Don't Come Home A'Drinkin' (With Lovin' On Your Mind)," "Fist City," and "The Pill," Butcher Hollow, Ky.'s Loretta Lynn was never a cheerleader for the women's movement and didn't march for women's liberation.
Loretta says, "I never burnt my bra and I never marched...and I never smoked a cigarette and I wore my panties, too." She adds, "And I slept with myself on the road."
Loretta didn't write these songs as part of the women's movement, she wrote what she saw working in clubs. Although she has put her career on hold for close to four years because of her husband Mooney's illness, Loretta is back to writing and recording and she is preparing to hit the road again. Loretta is currently recording a new gospel album and is writing a follow-up book to her hugely successful Coal Miner's Daughter autobiography. She promises that this book will shed more light on her life in the music business and she says, "the end will be better." Look for her yet untitled tome to be in bookstores late this year or early next year.
CMT & Wal-Mart Country Tour
Country Music Television and Wal-Mart are rolling out the red carpet for country music fans in 1997 by providing free concerts by new country music hitmakers at Wal-Mart locations throughout the United States. The tour kicked off Monday, January 27 in Hazelhurst, Georgia, and will visit five cities a week for performances in Wal-Mart parking lots in more than 260 cities this year.
This tour is designed to accelerate the career development of country music newcomers, to provide retail support for well-established acts, and to offer quality entertainment for the entire family. Artists appearing on this tour include Deana Carter, George Ducas, Wade Hayes, Cledus T. Judd, and Bryan White.
CMT will provide tour information following videos by touring artists. A CMT crew will go on the road with the tour to cover the concerts for a one-hour special program to air on CMT. Traveling with the tour in select locations will be one of the network's 52-foot promotional vehicles, along with large video screens projecting performers' music videos to the concert audience.
Alan Jackson's New Projects
Long-legged country boy Alan Jackson is busy with several new projects these days. It was recently announced that former Ford car salesman Jackson is the new celebrity spokesperson for Ford Trucks and is now appearing in television commercials for the company, of which the first debuted on a $1 million, 30-second spot during the Super Bowl. Alan's father Eugene, who worked for a Ford plant in Georgia for several years, will also appear with his famous son in some of these commercials.
In the meantime, Alan, who has sold 23 million albums, is preparing for his 1997 concert tour. Touring with Alan this year is the red-hot 14-year-old country music sensation LeAnn Rimes.
And to top all of that off, Alan is preparing to be a father for the third time. Alan and his wife Denise found out Christmas day that they are expecting their third child. The couple expect a new little Jackson in September.
26th Annual Country Music Fan Fair Tickets Now On Sale
Tickets for the 26th Annual International Country Music Fan Fair, which takes place June 16-21 at the Tennessee State Fairgrounds, are now on sale. Sponsored by the Country Music Association and the Grand Ole Opry, Fan Fair brings devoted country music fans from around the world together with their favorite artists.
The registration fee for 1997's Fan Fair is $90 and includes live stage shows featuring top country artists; admission to the exhibit halls where artists sign autographs; one-day admission to Opryland USA theme park, the Country Music Hall of Fame, and the historic Ryman Auditorium; plus two meals prepared on-site by the world famous Odessa Chuck Wagon Gang from Odessa, Texas.
To attend Fan Fair, fans must register through the Grand Ole Opry. For ticket information, contact the Fan Fair office at (615) 889-7503, or write Fan Fair, 2804 Opryland Drive, Nashville, Tennessee 37214.
Upcoming Live Country
Alabama fans will be glad to know that the 1980's Artists of the Decade will be rolling into Freedom Hall Friday, March 21 for their annual Derby City performance. Appearing along with the group will be Neal McCoy. Tickets for this spectacular show are now on sale.
Louisville's favorite country nightspot, Coyote's, has some shows lined up for any country music fan. March 3, Riders In The Sky, who are celebrating two decades together, will perform. Country-rocker Marty Stuart will return for another Louisville show on March 13.
Well, that's it for now. Always remember: Keep your boots shined up and your hat on straight, 'cause country music is comin' your way.