March 1997 Articles
Cover Story
Bob Bahr
Columns
Berk Bryant
Decimus Rock
Mike Stout
Paul Moffett
Cindy Lamb
Vicky Moon
Keith Clements
Todd Hildreth
Laura Karnes
Henry C. Mayer
CD Reviews
Paul Moffett
Tim Roberts
Tim Roberts
Bob Bahr
Bob Bahr
Performance Reviews
Katie & Joe Elder
Joshua D. Smith
Laura Karnes
Paul Moffett
Calendar
Paul Moffett
News Item
Henry C. Mayer
Blogs
Got Shows?
Send Them To Us
Bookmark Louisville Music News.net with these handy
social bookmarking tools:
Available RSS Feeds
- Top Picks
- Today's Music
- Editor's Blog
- Articles
Add Louisville Music News' RSS Feed to Your Yahoo!

Issue: March 1997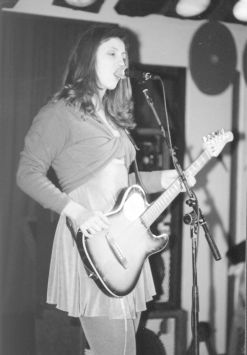 Sherry Cothan of the Evinruds. Photo by Paul Moffett
The Evinrudes at Butchertown Pub
By Joshua D. Smith
Rarely do you find a band that has all the right elements: the sexy female vocalist, the menacing bass player, the smooth-riffing guitarist, and the solid, tight drummer. The Nashville-based Evinrudes display all these components with seemingly great ease.
Named after the famous boat motor, The Evinrudes cruised into The Butchertown Pub on February 12. Their gritty, roots-rock originals were delivered with a great smooth force. The small crowd responded well to both their sound and their witty comments between songs.
The show was a pure onslaught of bottom-heavy, Neil Young-style rock and roll. Vocalist Sherry Cothran has a voice so close to Sheryl Crow it's scary, but better. Brian Reed's gritty guitar was catchy and poignant. Bassist Jeffrey Smith was heavy, but not loud enough. The 5'4" drummer Jennie Hoeft played with the authority of John Bonham.
Despite their drive and energy, the show encountered some slow spots and lost some of the audience's attention. All the music seemed to sound the same at times. This was probably due to a set list that was not well thought out. They were able to pull out of these slow runs though with a drastic change in tempo or a funny comment from Reed.
On the old "one to 10" scale, this show was about an 8.5. All in all, it was evident that The Evinrudes are a very professional, well-polished band. They must be doing something right. After all, they have sparked the interests of big record labels like Mercury (Joan Osbourne, Rusted Root).
There were two opening acts. Lexington's Gladys started everything off with their tasteful, whisky-borne, twang rock. They were followed by...(I don't remember the name)...who were a cross between Beck, Beavis and Butthead, and a toilet. Use your imagination.