February 1994 Articles
Cover Story
Allen Howie
Features
Jean Metcalfe
Paul Moffett
Columns
Berk Bryant
Jan Winders
Paul Moffett
Keith Clements
Todd Fuller
Darrell Elmore
Duncan Barlow
Elaine Ford
Henry C. Mayer
Alan Rhody
CD Reviews
Mark Clark
Allen Howie
Kory Wilcoxson
Bob Bahr
Bob Bahr
Kory Wilcoxson
Allen Howie
John Goodin
Kory Wilcoxson
Bob Bahr
Kory Wilcoxson
Performance Reviews
Berkley Harrington, Jr.
Interviews
Kevin Gibson
Calendar
Staff
Bob Bahr
News Item
Henry C. Mayer
Staff
Staff
Paul Moffett
Preview
Bob Bahr
Photos
Pete Strojny
LASC
Holly Watson
Earl Meyers
Staff
Staff
Jean Metcalfe
Staff
Jonathan Miller
Staff
Staff
Ray Yates
Staff
Blogs
Got Shows?
Send Them To Us
Bookmark Louisville Music News.net with these handy
social bookmarking tools:
Available RSS Feeds
- Top Picks
- Today's Music
- Editor's Blog
- Articles
Add Louisville Music News' RSS Feed to Your Yahoo!

Toni Braxton

Live at Louisville Gardens
The tension in the air was like a tangible thing. Outside Louisville Gardens on Jan. 16, ice and snow slicked up the streets in preparation for a week-long Winter Holiday. But inside, things were cozy and warm as hundreds of people waited for the Louisville premiere of Toni Braxton.
Finally, the MC took the stage. Bent over the microphone, he cajoled the audience: "Y'all give a big hand for the little lady with the big voice - Toni Braxton!!!"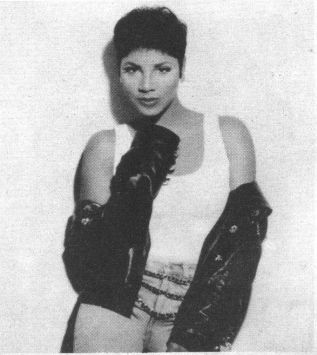 Toni Braxton. Photo by Daniela Federici
Big voice indeed. She has already made all the right stops: VH-1, MTV, BET, The Tonight Show, The Late Show with David Letterman, The Arsenio Hall Show, Entertainment Tonight, even The Today Show. The critics love her. She has gotten good press in The Washington Post, The New York Times, USA Today, Details, People Magazine, etc. etc. Indeed, ever since Toni Braxton began her 1992 hit-making path with "Give U My Heart" (a duet with master producer/recording star Babyface) and "Love Shoulda Brought You Home" (chart-topping singles taken from the Double Platinum-plus LaFace Records' soundtrack for the Eddie Murphy movie "Boomerang"), music buyers and industry insiders have been eagerly awaiting this dynamic singer's first album. Toni didn't disappoint: Her critically acclaimed debut album Toni Braxton has been certified Double Platinum, selling well over two million copies since its July release. Time observes that Braxton "seems destined for pop diva-dom," while The New York Times adds: "her rich, throaty alto (and) torchy lovelorn style is a throwback to an earlier era."
Wow. Not bad for the daughter of a part-time preacher, who had to argue with her deeply religious father in order to sing secular music. Her mother, however, was an amateur opera singer. "The opera wasn't considered secular," Ms. Braxton explains. "A lot of it was gospel songs in a sense." Ms. Braxton laughs when she recounts the times when she sneaked out of the house to watch "Soul Train" on television.
More important than her phenomenal record sales is the critical approval she has received. Ms. Braxton is already being favorably compared to Whitney Houston and Anita Baker. Indeed, her voice is reminiscent of Baker's, but with a distinctly odd flavor of its own. Low, gravelly, punched through with power, she sings from the heart. The only disappointing aspect of the show was the horrible sound mix provided by Louisville Gardens. Ms. Braxton's unique alto frequently became lost amid the feedback and low-end growl of the inadequate P.A.
On the upside was Ms. Braxton's inclusion of her four sisters in her stage show. There was a warm, familiar, amateurishness to their "En Vogue" stylings and moves as they sang back-up, often looking more like a group of cheerleaders than the smooth, sensual glamour girls they were emulating. Rather than detracting from the presentation, however, it provided a needed dash of reality and "down-homeness" to the entire show.
Soulful, sexy, yet possessing a realness that escapes many pop divas, Ms. Braxton is riding the roller coaster of success, and apparently is far from peaking. "I just want people to love and appreciate my music, because I sing it from the soul," she says, "It's emotional and I feel it."