February 1994 Articles
Cover Story
Allen Howie
Features
Jean Metcalfe
Paul Moffett
Columns
Berk Bryant
Jan Winders
Paul Moffett
Keith Clements
Todd Fuller
Darrell Elmore
Duncan Barlow
Elaine Ford
Henry C. Mayer
Alan Rhody
CD Reviews
Mark Clark
Allen Howie
Kory Wilcoxson
Bob Bahr
Bob Bahr
Kory Wilcoxson
Allen Howie
John Goodin
Kory Wilcoxson
Bob Bahr
Kory Wilcoxson
Performance Reviews
Berkley Harrington, Jr.
Interviews
Kevin Gibson
Calendar
Staff
Bob Bahr
News Item
Henry C. Mayer
Staff
Staff
Paul Moffett
Preview
Bob Bahr
Photos
Pete Strojny
LASC
Holly Watson
Earl Meyers
Staff
Staff
Jean Metcalfe
Staff
Jonathan Miller
Staff
Staff
Ray Yates
Staff
Blogs
Got Shows?
Send Them To Us
Bookmark Louisville Music News.net with these handy
social bookmarking tools:
Available RSS Feeds
- Top Picks
- Today's Music
- Editor's Blog
- Articles
Add Louisville Music News' RSS Feed to Your Yahoo!

Music to Our Ears: Michelle Made It!
By Jean Metcalfe
January 17, 1994, is a date that will long be remembered by the entire country. At 4:30 a.m., Los Angeles was rocked by a devastating earthquake that claimed, at last count, more than 50 lives. That very same morning, Louisville awoke to a winter wonderland of traffic-crippling snow (15.9") followed by record-breaking temperatures and several fatalities.
In Hikes Point a bittersweet story was unfolding. From Kentuckiana-area television screens the quavering voice of Barbara Schmitt brought news that, after a two-year wait, a life-saving donor liver was available for her three-year-old granddaughter Michelle Schmitt. In order to receive the liver transplant, however, Michelle would have to be in Omaha within six hours of the time the call came in. Two hours had already elapsed.
Bundled in a hooded jacket, the tiny toddler looked shy and vulnerable as she faced the television camera and waited for transportation. One could almost hear an entire region gasp.
Enter a caring community.
A later television update brought the welcome news that Michelle had been taken to Southeast Christian Church (the Schmitts are members there) where more than 200 neighbors and volunteers had cleared a spot in the church parking lot so a SkyCare helicopter could land. The Schmitts boarded the chopper and the shovelers applauded, cried and cheered as it lifted off for a rendezvous with the donated corporate jet of Paco Aire of Jefferson County that would whisk Michelle away to Omaha.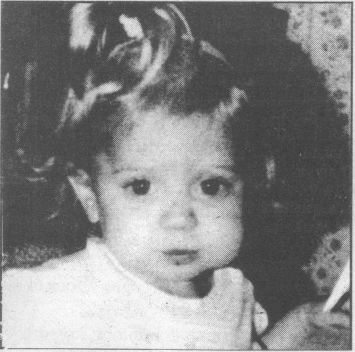 Michelle Schmitt
And thanks to that caring community of media, neighbors and strangers, less than 24 hours (seven hours of surgery) later Michelle had a new liver and was sitting up in her hospital bed in Omaha, calling for Coke, chocolate, and her bottle.
The Schmitt family has experienced tragedy beyond imagination of most of us. Michelle's older sister, Ashley, received a liver transplant in '91; her medical care so far has come with a $700,000 price tag, 80% of which is covered by insurance. Since Ashley's birth, Ed Schmitt has worked 60-70 hours a week to pay the medical bills for his daughters. His wife, Theresa, died 17 months ago at the age of 29, leaving the two little girls without a mother.
Local hairdresser Sharon Stevens has been raising money for the Schmitts for about two years, and was responsible for lining up the Paco Aire jet. Hair Angels, the non-profit group she set up two years ago for the purpose, has helped toward medication and insurance premiums. But, according to Stevens, the $50,000 raised by the group is insufficient to cover the mounting bills, and a more immediate need is for money to cover the Schmitt family's housing in Omaha, where Michelle must remain for up to three months.
If you'd like to help out in this worthy cause, send your tax-deductible contributions to Hair Angels, 239 Chenoweth Lane, Louisville, KY 40207.
Louisville Music News salutes the Hair Angels and all the other angels (including many unsung musicians who donated their time and talents for benefits) who have come to the aid of the Schmitt family.
And to Michelle, best wishes for a speedy recovery and a long and happy life; and also for Ashley. To Michelle's father, Edward Schmitt, and to Michelle's grandmother, Barbara Schmitt, we send words of encouragement for what has been and will continue to be a difficult struggle.
Amid all the bad news blaring from our television sets and the pages of our newspapers, the Michelle Schmitt story is a welcome and joyous one.