February 1994 Articles
Cover Story
Allen Howie
Features
Jean Metcalfe
Paul Moffett
Columns
Berk Bryant
Jan Winders
Paul Moffett
Keith Clements
Todd Fuller
Darrell Elmore
Duncan Barlow
Elaine Ford
Henry C. Mayer
Alan Rhody
CD Reviews
Mark Clark
Allen Howie
Kory Wilcoxson
Bob Bahr
Bob Bahr
Kory Wilcoxson
Allen Howie
John Goodin
Kory Wilcoxson
Bob Bahr
Kory Wilcoxson
Performance Reviews
Berkley Harrington, Jr.
Interviews
Kevin Gibson
Calendar
Staff
Bob Bahr
News Item
Henry C. Mayer
Staff
Staff
Paul Moffett
Preview
Bob Bahr
Photos
Pete Strojny
LASC
Holly Watson
Earl Meyers
Staff
Staff
Jean Metcalfe
Staff
Jonathan Miller
Staff
Staff
Ray Yates
Staff
Blogs
Got Shows?
Send Them To Us
Bookmark Louisville Music News.net with these handy
social bookmarking tools:
Available RSS Feeds
- Top Picks
- Today's Music
- Editor's Blog
- Articles
Add Louisville Music News' RSS Feed to Your Yahoo!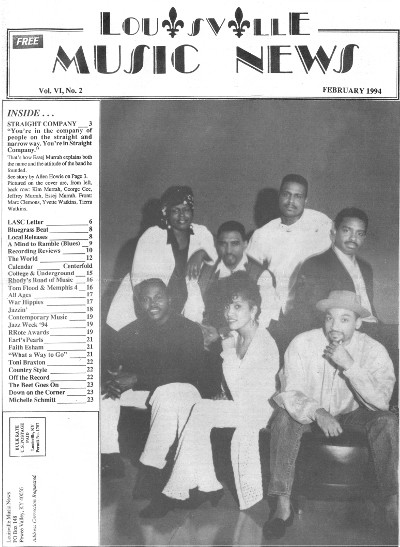 Straight Company Cover Photo
Straight Company
By Allen Howie
You're in the company of people on the straight and narrow way. You're in Straight Company."
That's how Essej Murrah explains both the name and the attitude of the band he founded, the group whose debut album on Benson, So Excited, continues to move up the Contemporary Christian charts on the strength of its single of the same name.
But Straight Company is a band that has "crossover" written all over it. This in spite of the fact that Essej refuses to even consider a song that doesn't glorify the Lord in some way. And in spite of the fact that there's not a single instrument to be heard on the band's album.
So what in heaven's name is going on here? An a cappella group, based in Louisville and performing, for lack of a better word, "inspirational" material, almost all of it original, finding a spot on the airwaves? And not just in the Christian community, either. BET, Black Entertainment Television, has the band's video in rotation all across the country.
In truth, what Straight Company plays is soul music in every sense of the word. Certainly it carries a direct and uplifting spiritual message. But it also carries an undeniable groove, a sense of rhythm and melody rooted in the classic soul and R&B of the '60s and '70s, updated but not sterilized.
Listen to the band's latest album, and you'll hear echoes of everything from the Chi-Lites to Sly & the Family Stone, from Al Green to the Fifth Dimension.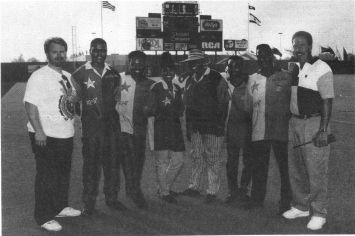 Straight Company sang the national anthem before the Redbirds game on August 16. Left to right are Andy Haynes, WJIE, Jeffrey Murrah, Essej Murrah, Yvette Watkins, Kim Murrah, Tierra Watkins, Marc Clemons and Tab Brockman, Assistant General Manager of the Louisville Redbirds.
It all starts with the song, and the song usually starts with Essej. Take "Put a Little Love in Your Heart," the old Jackie DeShannon chestnut that the band whips into a soulful sojourn through the best of pop and soul music. "When I mentioned it to Benson, they were looking for a nice song to rearrange or to do on the album that people were familiar with. When we mentioned that one, it was like, 'Hey, yeah, let's do that one.'"
"To do a song that everyone knows, like 'Put a Little Love,' we Straight Company-ize it. That means to either slow it down and make it funky — or speed it up and make it funky. We say, 'Let's chop this thing up for a cappella.' Because we don't have anything else to help us with that rhythm except for the rhythmic way that we sing it. We don't change the melody that much." He allows himself a chuckle. "Then we add things to it."
"I start with the bass line. Because we don't have a drummer, the bass is our rhythm section. If I syncopate it, you know, if I go bass, harmony, bass, harmony, ba-boom, ba-boom — you keep goin' like that, pretty soon you'll find yourself bobbing your head."
But Essej is quick to share the credit for a song's success with the rest of the band. "To Straight Company-ize a song also means to allow the creativity of the group to come into play. It depends on who's leading — who's working on the lead. My brother Jeffrey is good at just coming up with stuff, so between he and I, we'll usually just come up with ideas. That's what happened with ("Put a Little Love") — we said, let's go back to the '70s. If we're gonna do this thing from the '70s, let's go grab some other stuff — the O'Jays, Sly and the Family Stone — all the stuff we grew up with.
And although Essej hears the arrangements in his head as he works on a song, including who's going to sing each part, there's little coaching to do. "We've been together so long, they know where they fit. But we do so much switching around, even in the middle of a song, that anybody's capable of taking that part, including Marc. It's just a style we've developed that works well, and it works well on stage. We switch around within a song and from one song to the next, so we make the audience move with us. We play tricks on 'em — do stuff to try to make 'em wonder."
The songs aren't just the result of a lot of time in the studio — they get road-tested as well, which may account for the easy confidence that gives the record its spontaneous feel. "People like to see us live because of the things that we do. A lot of a cappella groups will just stand on stage and sing. We include a lot of visual things, so those songs where we do a lot of visual things are usually the most popular. Songs like 'So Excited' and 'Jesus Is Coming.' 'Taff Zali' is a song that we get a little crazy on, so they like that one. They like 'On Your Mind' because it has that groove to it, real smooth and mellow."
Unlike many a cappella groups, that visual, physical excitement translates to the record as well. Instead of the tightly controlled precision that often sounds so sanitized, So Excited has the in-your-face excitement of a live performance captured in the studio, but with all the vocal complexities intact. "I credit our producers for that," says Essej. "When we go into the studio, we're so very careful not to be off — especially in a cappella, where there are no instruments to hide behind. We had a production meeting at Benson Records, and they pointed out that Straight Company is a band that has to be seen — that's when we bowl people over. So they asked, 'How can we capture that on tape?'"
"First of all, we put it in the minds of the group to sing it like we're on stage. They used microphones on stands instead of the ones that hang down, and told us to act like we were on stage. We couldn't grab the mikes or anything, but just the fact that they were there kind of took you back to the performance setting."
"So when we went at it trying to be careful, they'd interrupt us and remind us to go for that energy. We did, and it came out on the record."
"When we first came to Benson, in every other breath, they were mentioning Boyz II Men, relative to Straight Company. Now, I like Boyz II Men, but we were around a long time before Boyz II Men. And Boyz II Men are produced by a guy from this area (Babyface) who likes all the same music we like. So Boyz II Men are singing what Babyface told 'em to, and he came from the same school of music that we did. So we don't sound like Boyz II Men — they sound like Straight Company."
"I get a little disheartened when an artist will get a lot of airplay because he sounds like this person over in the pop field. I see Christian radio in a lot of areas that do that. I don't know the reason, except that we want to walk on the edge of the secular world, as close as we can, without going over. So if we can find an artist who sounds just like Stevie Wonder, let's say he sounds just like Stevie Wonder, put him on the radio and get some listeners. Radio stations start determining what their audience likes to hear. I just wish that everybody would broaden their formats a little."
Straight Company started as the Music Makers in 1975 when Essej returned home from Southwestern Christian College in Texas. "The Music Makers were a cappella pioneers. Somewhere, Take 6 heard the Music Makers. The Music Makers were weekend warriors. We had requests to go somewhere every weekend. I lost my family behind Music Makers, man. Only now am I seeing why the Lord kept me there."
"Here in Louisville, we got into city-wide music contests and we won them as an a cappella group — first place two years in a row, then second place two years later. We've changed members, though, and this group (Straight Company) is hand-picked — some of the most talented people in the world."
Marc Clemons has sung with Essej since the days when the original Music Makers enjoyed a nationwide reputation as one of the best live vocal acts anywhere. Although Clemons is actually a tenor, he's the one responsible for those bass lines that bubble irresistibly under every Straight Company song. And he's persuasive — it usually takes two or three listens to the album to convince yourself that there really is no bass guitar on any of the tracks. It's all Marc.
"Marc was one of my first choices. When I became a Christian and went to church, he was the music director there. I admired his strong vocals. He's our bass singer now, but he was not singing bass then. What makes our songs so singable is the fact that the bass is really kickin'. His range is tremendous, from bass to falsetto, and he's got a great ear."
"On this album, the bass lines were totally separate from everything. We went line by line to make it interesting or make it work. And once Marc's got it, he's got it. Marc's a married guy with kids, worked for L & N for a lot of years, then quit to go full-time with Straight Company. He just believes in the ministry and believes in my dream. He and I are the oldest members."
"Then came Jeffrey (Murrah), my brother. When I had the Music Makers, Jeffrey was a little boy, and he started his own group. I used to come in and coach 'em. Then Jeffrey went off to school, and he got into music heavily. He'd send me tapes of him playing piano, then one day he sent me a tape of him singing. I couldn't believe it was him! When he came home, I grabbed him! He was perfect, because he's watched what I've done for so long. He has great ideas, he's a great writer and a phenomenal vocalist. He has a wife and two children."
"Next is my sister, Kimberly. She was going to school in Texas, where she had won awards. She was always very theatrical, was in all these dramatic things in school. She's the person that everybody wants to be around. In every city around the United States where we visit, Kim ends up being the most popular person. She's got this attitude, and her laughter is infectious."
"Kim is battling breast cancer. She has not been with the group for two months now. They did one operation to remove the cancer, then did some reconstructive surgery that didn't work. So she's recovering from that right now. But Kim is where I center the harmony. She is the voice around which the other harmonies flow. She's just so strong."
"She toured the country as lead vocalist for the college choir. I went down to see something they were doing, and she told me she had a surprise for me. So they had a performance, and the group that she was in went on stage — I thought it was cute — then she stepped out there and sang lead vocal, and, man, tears were runnin' everywhere! I couldn't believe it — I had no idea that she could sing like that — it just blew me away! She got out of college on a Saturday. The next Saturday, she did a concert with us in Dayton. That's how talented she is — she learned a complete show in two days of rehearsals. She has a great range, and probably the strongest voice in the group. So when she's not doing a lead, but singing background, it's all centered around her. I know she's gonna be the first one to remember every line. With her being out right now, it's rough."
Alto/soprano Yvette Watkins was a model in the Miss Louisville pageant around 1980. "The Music Makers had been to the Louisville Defender's Black Expo," remembers Essej. "This particular year, we were not in the gospel contest, 'cause we'd won it twice. I know Yvette's brother, because he and I had gone to college together. Anyway, she won the competition she was in, partly by singing this Natalie Cole song. I couldn't believe that this person who I'd known since she was a little girl had become this tremendous beauty who'd won this contest and had people on their feet."
"Well, I'm always keeping my eye out for talent. But she was married at the time, and couldn't leave to tour with us, so I couldn't use her. Later, she got a divorce, and two years after that, joined the group. So she's been here almost ten years. Tremendous soprano range — we're talking Deniece Williams and Mariah Carey. The bells that you hear on 'Put a Little Love' — that's Yvette. She's singing that!" Yvette and Essej have been engaged for over a year, but their hectic work schedule has prevented them from setting a date.
"Tierra Watkins is Yvette's brother. He had his own groups in Minnesota, then moved to Dallas, became a police officer and started a group there patterned after the Music Makers. When I needed somebody, I called him, and he said no many times. The last time, he called me, and he was ready to come. We went through Dallas and picked him up. Two days later we were in Osage, in Los Angeles, and he did the whole performance. He's a tenor. He does 'On Your Mind' with me and Yvette, and most of the lead vocal on 'Jesus Is Coming.'"
Indianapolis native George Gee entered the picture from another a cappella group after growing up hearing the Music Makers. He started groups of his own over the years, and sent Essej tapes, and toured with the group Acappella as a part of the Acappella Vocal Band for a couple years. He parted company with AVB when they disagreed on publishing, and joined Straight Company. Notes Essej, "He's a great stage performer with a really nice, sweet tenor — and he brought us to seven (members)."
George has since been replaced by Alabama native Chris Turner, who had been the lead singer for the South Side Singers in his native state. Chris had turned down several offers from Essej to join Straight Company, then turned the tables and called asking to join.
Essej wasn't one to ask his members to do something he himself wouldn't do. George's arrival coincided with the band becoming a full-time project, and Essej walked away from a well-paying job at Ford, a move which had more than a few people doubting his sanity. He lived in Atlanta for three years, and drove to Dayton every single weekend during that time, a 1200 mile round trip. What would possess a man to take on that kind of commute? "It didn't really bother me," insists Essej. "As a matter of fact, I worked for the phone company at the time, and I looked forward to Fridays — to get to the studio. If I was gonna drive ten hours, so what? I'm drivin' to the studio!"
"I was working with Johnny Wilder, the former lead singer for Heat Wave ('Boogie Nights,' 'Always and Forever'), who was producing our first record. Just the new experience of working with a guy like that, who was a phenomenal vocalist on his own, was just a thrill. So, man, those ten hours were like five."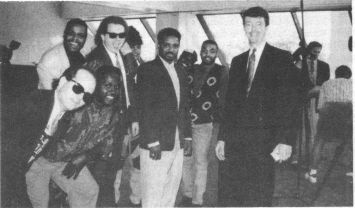 Benson Artist Straight Company at the filming of their video bio and concept video package. The video bio is a re-creation of Straight Company's campy, tongue-in-cheek impromptu audition for Benson Music Group President Jerry Park. Pictured front row, left to right: Dennis Disney, Director of Marketing, Benson; Mark Clemons, Essej Murrah, Straight Company; Jerry Park. Back row, left to right, Jeff Murrah, Straight Company; Dan Lynch, V. P. of Marketing, Benson; Yvette Watkins, Kim Murrah and Tierra Watkins of Straight Company.
"I learned recording technique from him. He's a paraplegic now. But he discovered Rod Temperton, who wrote 'Thriller,' and the whole 'Off the Wall' album in the sense of building the songs. If you go back and listen to Heat Wave, then listen to the Michael Jackson stuff, you'll hear Heat Wave in there — harmonies, bass lines, everything."
"Johnny Wilder was the leader of Heat Wave so he could relate to me, a guy with a band who's been in the business a long time. He and I got very close. I wrote his (solo) album, and had written Straight Company's album (I Like It), so we did two albums at the same time. When we were in the studio, he was recording. So either way, I was in the studio on the weekends."
"I learned to make a song beautiful from Johnny Wilder. Man, you take a song like (begins to sing) 'Always and Forever'" — he simply shakes his head.
The record deal with Benson came about thanks to a combination of good timing and sheer audacity on the part of Straight Company. They literally cornered the president of Benson in a Nashville parking lot and performed for him on the spot. The result was the contract that produced So Excited.
What about music industry predictions that Christian music is set to be the next big thing, emulating the current success of country music? Is Straight Company poised to share in that success? Essej points out that Christian stations often shy away from a cappella music. As for the pop stations, he worries about the pressure to "water Jesus down," something his group is determined to avoid.
"He's the reason we're here," Essej insists, "so if singing about Christ is going to hold us down, then I believe that's the Lord keeping us where we are. At the same time," he admits, "I know there are some things we have to do to be heard. Radio has to open up and allow Straight Company to be heard. Now Benson has taken some steps with our video to give them a nudge and show 'em that this ain't regular a cappella music. They sent the video to radio stations, which was a good idea. We'll see how well it works."
The group met some initial resistance from stations who refused to play their music because it's a cappella, a fact which confounds Essej in light of the success of million-selling a cappella hits by groups like Boyz II Men and Shai — even Huey Lewis, with his version of Curtis Mayfield's "It's All Right," which Straight Company also does in their live show. Stations like Louisville's WJIE who have given the song some airplay have found that it's well-received, and the song is near the Top Ten on the Inspirational charts. To their credit, Benson is campaigning to get the word out that Straight Company sounds like no one else you've heard. The album can be found in regular record stores like Camelot, as well as Christian outlets.
What finally sells the record are the group's live shows. "Our audience," remarks Essej, "looks like a basketball game — everybody's there! We have as many white fans as black, as many kids as white-haired women. The kids sit in the front, and they never leave, man, until that concert is over!"
"Every performance has a person there who I believe the Lord sent. For whatever reason — if he's just depressed and he needs a lift, the Lord has brought him to that performance. So I always try to re-instill that in the group before each show, that you never know who's in the audience, you never know the effect it's going to have on them. We've brought people to the Lord. We've changed people's ideas, changed their thinking. That's what we've been brought here to do."
"This past year in West Virginia," Essej recalls, "we were taken to a school that was having some racial problems. They chose Straight Company because some of the teachers there had seen us, and they knew we deal with the black and white thing. You know, let's stop this stupid stuff. Let's get down to the basics. We've got to stay here together — ain't nobody goin' anywhere! And we deal with that. We do songs like 'He Ain't Heavy (He's My Brother),' 'Put a Little Love,' all those things built around racial harmony. There are a couple songs on this record specially designed for racial harmony. 'Put a Little Love' is one of them. 'Find It in Your Heart' is totally about racial issues. Look in your brother's eyes and see yourself, and then you ain't so apt to hurt him. Part of our ministry is that."
"We make sure that the lyrics are really good, that they're easy to understand. If you have good lyrics, and good melodies, a good bass line, more than likely you'll sell that song to people. If it's a quality song, it will sell. The average Joe will like it."
Tags: