February 1994 Articles
Cover Story
Allen Howie
Features
Jean Metcalfe
Paul Moffett
Columns
Berk Bryant
Jan Winders
Paul Moffett
Keith Clements
Todd Fuller
Darrell Elmore
Duncan Barlow
Elaine Ford
Henry C. Mayer
Alan Rhody
CD Reviews
Mark Clark
Allen Howie
Kory Wilcoxson
Bob Bahr
Bob Bahr
Kory Wilcoxson
Allen Howie
John Goodin
Kory Wilcoxson
Bob Bahr
Kory Wilcoxson
Performance Reviews
Berkley Harrington, Jr.
Interviews
Kevin Gibson
Calendar
Staff
Bob Bahr
News Item
Henry C. Mayer
Staff
Staff
Paul Moffett
Preview
Bob Bahr
Photos
Pete Strojny
LASC
Holly Watson
Earl Meyers
Staff
Staff
Jean Metcalfe
Staff
Jonathan Miller
Staff
Staff
Ray Yates
Staff
Blogs
Got Shows?
Send Them To Us
Bookmark Louisville Music News.net with these handy
social bookmarking tools:
Available RSS Feeds
- Top Picks
- Today's Music
- Editor's Blog
- Articles
Add Louisville Music News' RSS Feed to Your Yahoo!



I've Got A Mind To Ramble
Nick Stump plays lap steel with the Mudcat Blues Band during the Kyana Blues Society Fundraiser
Is the local blues phenomenon that has slipped into the mainstream of white audiences a passing fancy or is it here to stay? You can go out nearly any night of the year now and hear a good blues band at a club.
The club scene has become prolific with the Blue Bird Cafe, Air Devils Inn, BJ Knockers, Zena's, Backstage Blues Cafe, Burbank's, Gators and Shenanigans all making a commitment to the blues. Even some of the larger venues like the Silo Microbrewery and Jim Porter's are booking blues talent on a weekly basis. Blues jams occur three nights a week at the Blue Bird and another at Air Devils. Remember the Rudyard Kipling was the first to hold the blues jams, SIX years ago on Thursday nights.
Louisville has at least a dozen blues bands and several have reached regional recognition. The Garvin Gate Blues Festival will be seven years old this year and the Waterside Arts and Blues Festival has drawn some major talent like Albert King, Luther "Guitar Jr." Johnson, Charlie Musselwhite, Sapphire, Pinetop Perkins and Lonnie Brooks during its short history.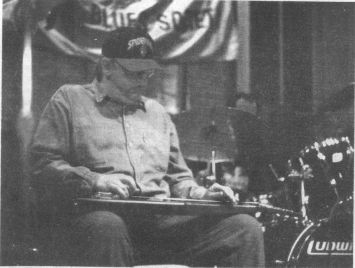 Nick stump plays lap steel with the Mudcat Blues Band during the Kyana Blues Soceity Fundraiser. Photo by Keith Clements
The two-hour Saturday Night Blues Party, hosted by Scott Mullins on WFPL, is a rallying point for all the local blues fans. The KYANA Blues Society has steadily grown over the past six years, with 275 current members, and publishes a newsletter, Blues News, that is as good as any other society's.
Judging from reading the thirty-odd newsletters the KYANA Blues Society receives from other blues organizations throughout the country, you would think there is a blues explosion going on. The blues big-bang theory is national as well as local. During the summer and fall there is a blues festival scheduled every weekend around the country and there are even blues cruises to the Caribbean in the winter. Small independent record companies like Black Top, Blind Pig, Bullseye, Earwig, Rooster and Fat Possum have joined the ranks of the veteran blues labels like Alligator, Delmark and Arhoolie, to reissue, rediscover and release new blues talent.
An inspection of recent books on the blues in the music section at Hawley-Cooke Booksellers shows a wealth of information available, plus the two excellent magazines Living Blues and Blues Review Quarterly. Even the U.S. Postal Service will be issuing a set of eight stamps honoring blues and jazz singers this May, which will include Muddy Waters, Howling Wolf, Robert Johnson, and "Ma" Rainey.
It seems everyone is now trying to cash in on the blues. First there was the folk-blues boom in the 1960s, followed by the British invasion of blues rockers. The awareness of the blues always seemed to be an underground appreciation by only a few even during those peaks and valleys. That is until about ten years ago, the same time the Chicago Blues Festival was initiated and began to attract vast crowds.
The blues phenomenon has gradually passed the point of no return. There is no turning back. Too many people have been exposed. As long as the performers have opportunities to perform at clubs and festivals, and are recorded, and the music continues to be true to its origins, yet fresh and vibrant, then it won't burst like a bubble and wait to be rediscovered again.
l
What greater way to celebrate our local blues scene than to attend the KYANA Blues Society fundraiser at the Rudyard Kipling this past Sunday, Jan. 16. Little did we know that it was on the eve of the worst snowstorm in Louisville's history. Because the streets were already getting slick, the crowd was modest and only three of the five bands showed up.
The Blue Rhythm Resonators opened the evening, featuring Pen Bogert on National guitar and Doug Norman playing second guitar. The quartet did a nice acoustic set of prewar blues and ragtime which helps to remind us of our blues heritage.
The Mudcat Blues Band followed with the added attraction of Nick Stump. Nick brought his lap steel guitar and weaved some deep, eerie sounds into the Mudcats' blues wearing his Spiderman cap. Jim Rosen introduced "Blues Cadillac," a new song about traveling in Mississippi, which will be on their new CD. The band finished out with a long version of "Rolling Stone," with everyone taking a solo.
MR2 Blue closed the event with an extended set, performing many of their standards like "Built for Comfort" and "Hoy, Hoy." When the band was in Memphis last year competing in the amateur blues talent contest, they picked up a new song, "You Talk Too Much," from James Thackery. When 11:00 p.m. rolled around, the devoted fans and musicians had dwindled down to a few. We struggled out to our cars, scraped off the ice and slid on home to wake up to a winter wonderland the next morning.