May 1994 Articles
Cover Story
Bob Bahr
Features
Rocky Adcock
Staff
Paul Moffett
Karen Le Van
Columns
Berk Bryant
Jan Winders
Paul Moffett
Keith Clements
Todd Hildreth
Darrell Elmore
Duncan Barlow
Henry C. Mayer
Alan Rhody
CD Reviews
John Goodin
Mark Clark
Bob Bahr
Kory Wilcoxson
Mark Clark
Mark Clark
Kory Wilcoxson
John Goodin
Allen Howie
Kevin Gibson
Allen Howie
Kory Wilcoxson
Kevin Gibson
Performance Reviews
Kevin Gibson
Kory Wilcoxson
Mark Clark
Jean-Marie Ebel
Allen Howie
Eric Metcalfe
Earl Meyers
Mark Clark
Staff
Calendar
Staff
News Item
Staff
Staff
Jean Metcalfe
Staff
Preview
Bob Bahr
Bob Bahr
Book Review
Steve Eng
Photos
Letha Marshall
Staff
Paul Moffett
LASC
Earl Meyers
Staff
Staff
Jean Metcalfe
Holly Watson
Blogs
Got Shows?
Send Them To Us
Bookmark Louisville Music News.net with these handy
social bookmarking tools:
Available RSS Feeds
- Top Picks
- Today's Music
- Editor's Blog
- Articles
Add Louisville Music News' RSS Feed to Your Yahoo!

Tim Krekel
Tim Krekel is an acclaimed musician for several reasons: he played guitar for Jimmy Buffett for several years, he has written songs that make other songwriters shake their heads in admiration, and he always seems to have two or three formidable irons in the music industry fire. Krekel is playing on the Courtyard stage at Butchertown Pub on May 27 with his band the Punishers (David Marasco on drums, Jim Wilson on guitar and Jim Baugher on bass).
LMN caught up with Krekel just after lunch recently. It was a beautiful day and his spirits were high, which we parlayed into a highly informal interview. From his home in the Highlands, Krekel talked about his leisure life, his six-year-old daughter's musical tastes, and the contents of his record collection.
What would be one moment from your musical career that you would save if you could only save one?
One magical moment I could preserve . . . It wasn't playing "Taking Care of Business" with Randy Bachman. It was at Tin Pan South, a songwriter's thing in Nashville, which culminates in a big show. Bachman did thirty minutes of thirty of his hits, and he asked me to sit in with him on "Taking Care of Business." It wouldn't be that.
It would probably be just some club where everything just went perfectly, everybody was tuned in. That's corny, isn't it?
What do you do when you're not playing music?
Cut the grass. Sleep. I'm such a man of leisure but I have a lot of interests. Just sit outside and look up at the sky. Watch movies.
Do you recommend anything?
"Hudsucker's Proxy." It's the first Coen brothers film that's for the whole family. Well, maybe "Raising Arizona." Suspend disbelief and go see it.
What have you done today?
I've just been a real bum today, played golf and had a few beers for lunch. I had a Budweiser at Jeffrey's, then I came home and had another one from the refrigerator. My nephew Marty went with me. He had an Ice at Jeffrey's, then he had a Bud from here too. He was with a band called The Uninvited. They were called Assault Your Congressman's Daughter before that, or AYCD.
What records do you think are in the record collections of your fans?
Bob Dylan, the Byrds, James Brown, Sam & Dave, the Beatles, Rolling Stones, John Prine, NRBQ, maybe Miles Davis, the Beach Boys. I like them all, so I figure they might too.
Is there anything in your record collection that might surprise people?
A lot of kids stuff for my daughter. We don't really listen to it though. She went through a Michael Jackson phase; a babysitter got her interested in the Police. She asked me to play a disc the other day; she asked me to play "the cops." She thinks the Chili Peppers are cute.
Born
Cross-Eyed
I have an accountant friend who takes every June completely off in order to concentrate on thoroughbred racing without any distractions.
Similarly, the musicians in the band Born Cross-Eyed close down shop when the Grateful Dead are on tour. The break is necessary because some members of the band follow the Dead on tour, but it could just as easily be in deference to a bigger musical competitor. You see, Born Cross-Eyed is a Grateful Dead tribute band. The seven-piece Lexington band has 100 Dead tunes in their repertoire, spanning the band's entire 29-year career. Born Cross-Eyed is coming to Butchertown Pub on May 28.
We talked recently to Christopher Fuller, who plays keyboards and saxophone for the band, about the art of being Dead.
What makes for a good Dead band?
We subscribe to the philosophy of the Grateful Dead, more than playing note for note. We play with the same feel. I don't know why or how that is. We got lucky.
How many times have you seen the Grateful Dead?
I'm not the right person to ask, because I've only seen them four or five times. Kirk [Harrod, lead singer] has maybe seen them a couple hundred times.
The band formed out of a group of friends in Lexington, where they jammed together at home for a while before taking their covers of Dead tunes to the bars. They now have a strong following in Louisville; Lexington; Oxford, OH; and Huntington, WV.
Can someone who isn't a Deadhead enjoy Born Cross-Eyed?
I didn't know a thing about the Dead before I started, and I enjoyed the music. If you don't like the Dead, then you probably won't like it, but if you give it a chance . . ..
Ernspiker's Market
Sometimes it takes a tragedy to unite people. So it seems with Dave Ernspiker's calamitous accident in December, which left him with months of pain and boredom in the hospital, and left Louisville musicians with a poignant cause. Because of Ernspiker's ebullient personality and kind heart, local players came forward with not just one big benefit at the Phoenix Hill Tavern, but several events to help Ernspiker handle his considerable medical bills and rehabilitation costs. Ernspiker's parents have set up an account and a P.O. Box for donations.
The latest fund-raiser is dubbed Ernspiker's Market, and will be held at the Butchertown Pub on May 26. The event will include musical performances, poetry readings, food and beverages, and several tables featuring items donated by the evening's performers and other musicians.
Bands that have committed to play at press time include Kelly Wilkinson, the Nasty Weather Blues Band, the Java Men, poet Chris Byrd, lovesauce & soulbones, Candy Says, an acoustic trio version of Ernspiker's band About Us, Speaking in Tongues, and Talebearers' Talisman, a group featuring two of Ernspiker's guitar students. And the good Lord willing, harp great Jim Rosen will be there with some variation of his band Mudcat Blues Band.
Ernspiker's Market is the brainchild of percussionist Ray Rizzo. Rizzo is brimming with ideas, and when that happens, an event turns into a unforgettable experience. I've seen it firsthand.
Two of the ideas that may spring to life are a booth where someone could donate $4 and get a tape of a song improvised on the spot by danny flanigan or another songwriter, and a percussion ensemble area in the Dancehall for entertainment between bands.
"I think it has the absolute potential to just totally slam," Rizzo said.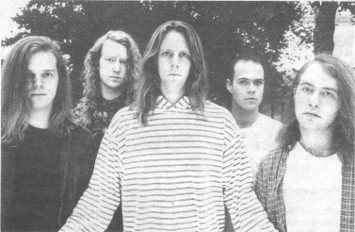 The Predators. This blues rock band hunts the listener from several angles: Jimi V\'s swee blues vocals, two guitarists with blistering solo voices, and a crack rhythm section, all ganging up to create one of Louisville\'s top draws. They play at several places around town, including the Silo Brew Pub on May 13 & 14