May 1994 Articles
Cover Story
Bob Bahr
Features
Rocky Adcock
Staff
Paul Moffett
Karen Le Van
Columns
Berk Bryant
Jan Winders
Paul Moffett
Keith Clements
Todd Hildreth
Darrell Elmore
Duncan Barlow
Henry C. Mayer
Alan Rhody
CD Reviews
John Goodin
Mark Clark
Bob Bahr
Kory Wilcoxson
Mark Clark
Mark Clark
Kory Wilcoxson
John Goodin
Allen Howie
Kevin Gibson
Allen Howie
Kory Wilcoxson
Kevin Gibson
Performance Reviews
Kevin Gibson
Kory Wilcoxson
Mark Clark
Jean-Marie Ebel
Allen Howie
Eric Metcalfe
Earl Meyers
Mark Clark
Staff
Calendar
Staff
News Item
Staff
Staff
Jean Metcalfe
Staff
Preview
Bob Bahr
Bob Bahr
Book Review
Steve Eng
Photos
Letha Marshall
Staff
Paul Moffett
LASC
Earl Meyers
Staff
Staff
Jean Metcalfe
Holly Watson
Blogs
Got Shows?
Send Them To Us
Bookmark Louisville Music News.net with these handy
social bookmarking tools:
Available RSS Feeds
- Top Picks
- Today's Music
- Editor's Blog
- Articles
Add Louisville Music News' RSS Feed to Your Yahoo!

Issue: May 1994
Country Style
The most exciting time of the year for Kentuckiana is here — THE KENTUCKY DERBY. There are so many Derby activities to attend, it's hard to keep up with this big party! Thunder Over Louisville kicked off the Derby festivities on April 23. So, put your sneakers on and hit all the free shows, chow wagons, the parade, and the amazing and festive balloon race (if it isn't too late when you read this). You don't know what you've missed if you haven't seen the balloon race; the beauty will astound you. And don't forget to buy your Pegasus pin to get in some of the activities free. It's Derby Mania. Catch it!
The chow wagons will feature local bands for your entertainment. One of the bands scheduled to appear is the WAMZ band contest winner,BlackHawke Xpress. In January they signed exclusively with Triangle Talent; on March 30 they opened up forNeil McCoy at Coyote's, and did a super job. BlackHawke Xpress will open forJerry Reed at the Popcorn Festival in Corydon, Ind., on May 21; play for a Belle of Louisville dance in June; and they have been booked for 11 days at the Kentucky State Fair.
"The contest helped us get recognized to receive more bookings, I think. I've noticed more respect coming from our peers and that means so very much to us," Beverly Ballard, BlackHawke Xpress' female lead singer, commented.
Charlie Walls of Music Man Records has really been getting reviews he is very excited about. Would you believe ... The Netherlands and England. Charlie produced the Coyote's Country CD. Some of the music on this album is getting airplay in England. Now that's something to write home about. Music Man Productions must be doing something right!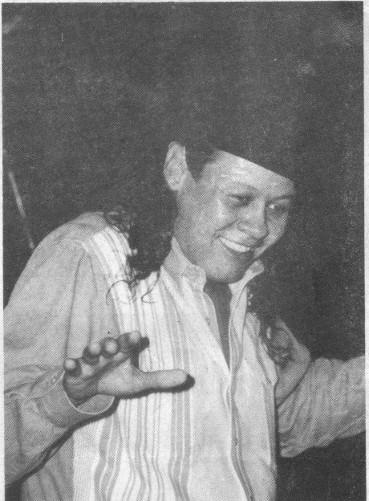 Neal McCoy. Photo by Letha Marshall
News Flash, hot off the press ... The 1st Annual Jam Fest '94 will be held June 10, 11 and 12, featuring a variety of music. June 10 will be country night; acts to be announced. It's a three-day bash of jammin' with local and big-name acts, plus a classic car show and fireworks. The Fest will be held outside where everyone can have fun and relax. This event could grow into something bigger and bigger every year. Tune in to WAMZ for more details.
The first WAMZ Free Concert at Louisville Motor Speedway will be held in May. Get those calendars marked and get ready for a hot and busy summer of music.
Toby Keith has broken his ankle. He was playing football with his alumni football team, the "Sooners" of Oklahoma.
"This was a freak accident; it could have happened to anyone that was playing," Keith stated. He cancelled his headliner concerts for two or three weeks afterward.
Look forLorrie Morgan's new CD to be released in a few weeks. War Paint is coming to a town near you!
The Philip Morris Festival of Stars will star the legendary George Jones and Brother Phelps. Be there early on May 5 to enjoy the great show that the good people of Philip Morris bring to the people of Kentucky at this festive time of the year every year!