May 1994 Articles
Cover Story
Bob Bahr
Features
Rocky Adcock
Staff
Paul Moffett
Karen Le Van
Columns
Berk Bryant
Jan Winders
Paul Moffett
Keith Clements
Todd Hildreth
Darrell Elmore
Duncan Barlow
Henry C. Mayer
Alan Rhody
CD Reviews
John Goodin
Mark Clark
Bob Bahr
Kory Wilcoxson
Mark Clark
Mark Clark
Kory Wilcoxson
John Goodin
Allen Howie
Kevin Gibson
Allen Howie
Kory Wilcoxson
Kevin Gibson
Performance Reviews
Kevin Gibson
Kory Wilcoxson
Mark Clark
Jean-Marie Ebel
Allen Howie
Eric Metcalfe
Earl Meyers
Mark Clark
Staff
Calendar
Staff
News Item
Staff
Staff
Jean Metcalfe
Staff
Preview
Bob Bahr
Bob Bahr
Book Review
Steve Eng
Photos
Letha Marshall
Staff
Paul Moffett
LASC
Earl Meyers
Staff
Staff
Jean Metcalfe
Holly Watson
Bookmark Louisville Music News.net with these handy
social bookmarking tools:
Available RSS Feeds
- Top Picks
- Today's Music
- Editor's Blog
- Articles
Add Louisville Music News' RSS Feed to Your Yahoo!

Letters to Cleo on the Hill
I couldn't believe it! The Beatles were finally getting back together on Friday, April 1, and Louisville Music News wanted me to cover it! Of course, I should have suspected in was an April Fool's joke when they told me the monumental show was in the Roof Garden of Phoenix Hill Tavern.
The Fab Four didn't put in an appearance but I did catch a band called Letters to Cleo. Granted, they don't have the name recognition (or the haircuts) of the boys from Liverpool, but they did put in a game set, especially considering their circumstances.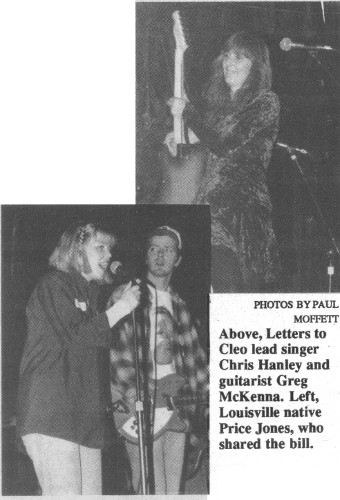 The band, which hails from Bah-ston, Mass., was on the last stop of a month-long tour of the East Coast, Southwest and Midwest. That long on the road can make a band bone-tired, and Letters to Cleo exhibited symptoms of Tour-itis. A few numbers were a little listless and the band as a whole seemed to be less than up to the task.
But who can blame them, playing to a sparse and mainly non-appreciative crowd? For the record, I clapped after every song. I know, because I heard it echoing.
Musically, Letters to Cleo is an alterna-pop band that gets compared so much to Juliana Hatfield "it's almost ridiculous," said lead singer Kay Hanley. Never having heard Juliana and her Three, I can neither validate nor dispute that claim, but if it sounds anything like Letters to Cleo, it would be worth the ducats.
Cleo's songs rely on bouncy energy to get the musical message across, and on the songs that needed it most the band came through. "Here and Now," the catchiest tune from their album Aurora Gory Alice, translated well to the stage, fueled by Michael Eisenstein's punchy guitars. The second catchiest tune, "I See," was also guttily delivered, but suffered from the understandable exhaustion. It would have been better luck to catch Letters to Cleo a week or so into their tour rather than on the last night, when undoubtedly their minds were more on the road to Beantown than their music.
photos by paul moffett
Above, Letters to Cleo lead singer Chris Hanley and guitarist Greg McKenna. Left, Louisville native Price Jones, who shared the bill.