May 1994 Articles
Cover Story
Bob Bahr
Features
Rocky Adcock
Staff
Paul Moffett
Karen Le Van
Columns
Berk Bryant
Jan Winders
Paul Moffett
Keith Clements
Todd Hildreth
Darrell Elmore
Duncan Barlow
Henry C. Mayer
Alan Rhody
CD Reviews
John Goodin
Mark Clark
Bob Bahr
Kory Wilcoxson
Mark Clark
Mark Clark
Kory Wilcoxson
John Goodin
Allen Howie
Kevin Gibson
Allen Howie
Kory Wilcoxson
Kevin Gibson
Performance Reviews
Kevin Gibson
Kory Wilcoxson
Mark Clark
Jean-Marie Ebel
Allen Howie
Eric Metcalfe
Earl Meyers
Mark Clark
Staff
Calendar
Staff
News Item
Staff
Staff
Jean Metcalfe
Staff
Preview
Bob Bahr
Bob Bahr
Book Review
Steve Eng
Photos
Letha Marshall
Staff
Paul Moffett
LASC
Earl Meyers
Staff
Staff
Jean Metcalfe
Holly Watson
Blogs
Got Shows?
Send Them To Us
Bookmark Louisville Music News.net with these handy
social bookmarking tools:
Available RSS Feeds
- Top Picks
- Today's Music
- Editor's Blog
- Articles
Add Louisville Music News' RSS Feed to Your Yahoo!

Issue: May 1994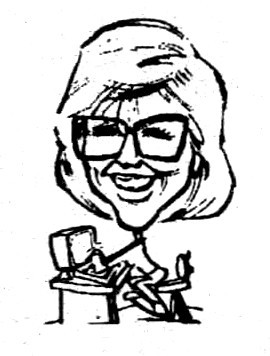 Newsical Notes
Had a call early in April from Charlie Walls down in Springfield. He was just back from a visit to his local department store to buy himself an atlas so he could pinpoint all the places from where he's had inquiries about his Coyote's Country album.
And Charlie's sure learning fast about the music business. Nowadays his conversation is sprinkled with words like "perpetuity," Devonshire, Harry Fox, mechanicals, et al. Actually, don't let Charlie's "aw shucks," down-home demeanor fool you. He is all of that, of course, but he's one savvy gentleman. And he's happiest when he can help other songwriters and musicians while he's trying to make a living in the business.
I know that I, for one, wouldn't be able to walk into the Texas Roadhouse at the Green Tree Mall and punch up a song I had co-written (with Charlie and, of course, principal writer Prez Paul) if it hadn't been for the Music Man. The Coyote's Country CD Charlie produced is on the Roadhouse's jukebox; stop in and punch it up. Maybe we'll get a little action from the performing rights people.
Charlie's hard at work on a follow-up compilation album, and other verrrry interrresting projects.
Had a couple of phone calls from Karen LeVan, who works on Saturday nights at Nashville's Ramada Inn South, Interstate 65 and Harding. She is starting a jam session there on Saturday nights which she calls "The Saturday Night Specials." If you're interested in a slot on one of the jams, which start at about 7:30 or 8 p.m., phone Karen at 615-662-2339 and she'll assign you a slot. And remember, Nashville is on CDST — an hour behind us.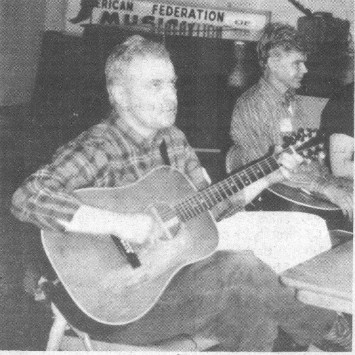 Songwriter's Lament? "He Stopped Songwriting Today." Steve Eng performs his version of the Alabama hit song. Photo by Jean Metcalfe
Congratulations are in order for lifetime LASC member Debbie Hupp on having her Grammy-winning song "You Decorated My Life" (co-written with Bob Morrison) picked up by Benjamin Moore Paints. Frankly, I'm surprised it took so long for a paint company to see the light on this one; it's a natural for their product. Those kinds of commercials always get my attention because, naturally, they use a memorable song. Heck, I even almost maybe sorta like the commercial for one of the big discount chains using the Patsy Cline hit "I Fall to Pieces" to tout the falling of their prices. It's a stretch and I'll admit I did wince the first time or two I saw it.
Sorry I had to miss Rhonda Rainwater's performance on the stage of the Cherry River Grand New Opry stage on Sunday, April 17. LASC friend Madison Steele, a regular on the Opry (and a very entertaining one, I might add), signed Rhonda up for the gig several weeks ago after meeting her at one of our meetings.
Maggie Brummett, the Opry's founder and guiding light, gave the LASC a plug in the evening's printed program. Thanks, y'all.
A note arrived recently from former member Rob Williams in which he said he had plugged the LASC on his TV show last year. Thanks, Rob. And since we subscribe to the Golden Rule here in Newsical Note Land, we'd like for our readers to know that Rob is President/Producer of R.A.W. Productions Ltd, a demo recording service. Interested? Call 502-776-1326 or write 3612 Del Park Terrace, Louisville, KY 40211.
Doc Dockery is getting ready to head south for the annual Jimmie Rodgers festival. The event goes by an acronym that I can't recall, but give me a "B" for brakeman, Vanna.
Doc went to the event last year and had such a good time that he's really looking forward to the '94 version. He recommends the festival to anyone who likes The Singing Brakeman's music, and nice, friendly folk. (I believe Earl Meyers is considering making the trek.)
Doc will be performing on the program again this year, and will probably include his original "Daddy Sang Those Jimmie Rodgers Blues" on his playlist. And Doc's dad (and son) will most likely be in the audience. Doc played the tune at the April 18 meeting's Songwriter Circle; after the meeting he shared with me that he and his wife, Mary Pirtle Dockery — herself a talented singer — just learned they will be welcoming an addition to the family around the middle of December.
Speaking of the April 18 Songwriter Circle, it was a pleasure to meet Steve Eng and hear a few of his originals that evening. Steve is a talented writer of songs, poems, reviews and books, including an excellent biography of Porter Wagoner.
Steve first came to my attention via a clever song Bill Ede introduced at the old LASC open stage at the Rudyard Kipling several years ago. Steve had rewritten the lyric to an Alabama hit song and turned it into "He Stopped Songwriting Today." Esoteric, to be sure, but perfect for a songwriting group.
Steve subsequently submitted a number of interesting and well-written book reviews to Louisville Music News. At this writing, his review of Skeeter Davis' autobiography is scheduled for this issue. If space considerations do not permit its inclusion, look for it in a future issue.
Earl Meyers will be extremely busy at the Churchill Park School's graduation exercises this month. In addition to the invocation and benediction, he will be handling the musical portion of the evening. They must have enjoyed his performance last year since people don't usually ask for seconds unless they enjoyed the first helping.