May 1994 Articles
Cover Story
Bob Bahr
Features
Rocky Adcock
Staff
Paul Moffett
Karen Le Van
Columns
Berk Bryant
Jan Winders
Paul Moffett
Keith Clements
Todd Hildreth
Darrell Elmore
Duncan Barlow
Henry C. Mayer
Alan Rhody
CD Reviews
John Goodin
Mark Clark
Bob Bahr
Kory Wilcoxson
Mark Clark
Mark Clark
Kory Wilcoxson
John Goodin
Allen Howie
Kevin Gibson
Allen Howie
Kory Wilcoxson
Kevin Gibson
Performance Reviews
Kevin Gibson
Kory Wilcoxson
Mark Clark
Jean-Marie Ebel
Allen Howie
Eric Metcalfe
Earl Meyers
Mark Clark
Staff
Calendar
Staff
News Item
Staff
Staff
Jean Metcalfe
Staff
Preview
Bob Bahr
Bob Bahr
Book Review
Steve Eng
Photos
Letha Marshall
Staff
Paul Moffett
LASC
Earl Meyers
Staff
Staff
Jean Metcalfe
Holly Watson
Blogs
Got Shows?
Send Them To Us
Bookmark Louisville Music News.net with these handy
social bookmarking tools:
Available RSS Feeds
- Top Picks
- Today's Music
- Editor's Blog
- Articles
Add Louisville Music News' RSS Feed to Your Yahoo!

Issue`: May 1994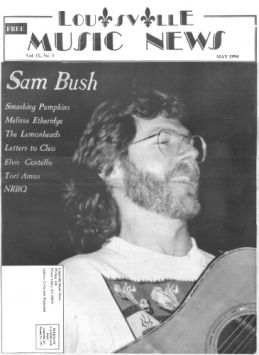 Sam Bush
By Bob Bahr
New Grass Revival, a groundbreaking bluegrass quartet, found itself at a turning point about five years ago. Ever-growing, ever-touring, the band was experiencing a bad case of burnout, and the persistent tug of personal ambitions was further pulling apart Pat Flynn, Bela Fleck, John Cowan and Sam Bush.
"Bela was the first one to quit, because he wanted to start the Flecktones," explained mandolin player/fiddler Bush. "So we thought about it. John and I had to make a big decision: There was one thought that we could go ahead and make a new direction again for the Revival, because you don't replace Bela Fleck. You just have to change directions, which we were willing to do. Basically, I think for John and I especially, we had been doing it for so long we simply needed to do something else. I was in the band for 18 years.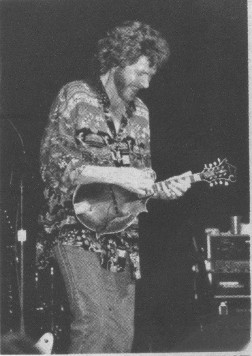 Sam Bush at the Great Songs of Louisville on April 14. Photo by Jean Metcalfe
"There's no one thing that broke us up. I think you could probably get four different answers from the four different members. It would only be coming from one member if I were to comment on what broke us up. . . Success?" he laughed. "I am totally joking when I say that. No, it just got to the point where it was so all-consuming for all of us. We had so many activities that didn't relate to music anymore, and I think we all learned to play for the joy of playing. Looking ahead, I can't imagine ever being in any one organization for 18 solid years again."
"All in all, John and I took a good hard look at it, and I, for the first time made a decision that was only for me, not for the Revival. Just for my wife and I, that I needed to stop. I needed a change in my life. That change being that I would not be a bandleader for a while, and just relax and play and enjoy my instrument."
In a recent interview with the acclaimed free-lance session player, now a member of Emmylou Harris's band, the Nash Ramblers — plus several side projects — the terminally good-natured Bush repeatedly returned to that theme: playing for fun. Anyone who has caught Bush with New Grass Revival has seen him enthusiastically bobbing over the weathered mandolin, dubbed "Old Hoss" by virtuoso guitarist Tony Rice, that he's played for 21 years. Quick with a smile or a corny joke, easy to spot with his bright shirts, trimmed beard and long, wavy brown hair, Bush is the one on stage that seems wired directly into the music's fusebox.
The thrill of playing almost always comes through in his recordings too, whether he's obliging a client with a tailor-made mandolin part or stretching out in his "musically schizophrenic" way to touch parts of reggae, rock or heartfelt blues. Bush and his longtime musical partner John Cowan recently performed at ear X-tacy's Great Sounds of Louisville concert at the KCA's Bomhard Theater for a fund-raiser benefiting St. Francis High School. On display at that electrifying concert was the large span of Bush and Cowan's musical interests, which on April 14 included Merle Travis' "Dark as a Dungeon," Bob Marley's "Is This Love," the Allman Brothers' "Midnight Rider," a Eastern influenced instrumental named "Sapporo," and a large dose of gospel including "Mighty Clouds of Joy." Of course, there were plenty of New Grass Revival songs too.
"I get to strut instrumentally, and John gets to strut vocally, and we get to sing the duets and have fun," Bush said about the collaboration with Cowan, which had turned into a mini-tour that included stops in Washington, D.C., and Nashville. "That's our whole reason for doing this, because both John and I make our living playing different kinds of music. It's a chance for us to play together."
The capacity crowd at the Bomhard on April 14 took to the musical twists and turns with relish. It seems that Bush's enthusiasm for the music is highly infectious.
Born in Bowling Green, Ky., 42 years ago, Sam Bush never had a chance to sidestep the music bug.
"I was really introduced to music just from growing up around it," Bush said. "My father played the fiddle and the mandolin for his own enjoyment." Although his father got him started on the basics, Bush is largely a self-taught musician, inspired by the string of country luminaries he saw on the Grand Old Opry and other music shows.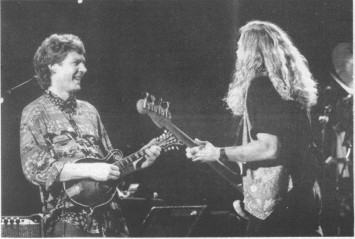 Sam Bush and John Cowan at Kentucky Center for the Arts, July 1992. Photo courtesy of the Lonesome Pine Specials
"Being from Bowling Green, we grew up only 55 miles from Nashville, so on Saturday afternoons, you would have the Flatt & Scruggs Show, Porter Wagoner, Ernest Tubb, Bill Anderson — all these people had shows and we watched them," Bush said. "We watched the Ralph Emery show every morning before I went to school. The scene in the movie "Coal Miner's Daughter" where they are all sitting around on a Saturday night listening to the radio is very familiar to me. That's the way we grew up too."
His family had a farm growing tobacco, beef cattle and hogs. Summers were spent hauling hay and working in the tobacco fields. In the early '60s, the folk boom was in bloom, and the Bush household was musical. His sisters Clara and Janet were singing together in a group, Bush got his first mandolin when he was 11, and in his teens, he picked up the fiddle too. He proved proficient on both instruments, and for a while, it seemed the fiddle was going to be his instrument. To this day, Bush switches off between the two. "It goes back and forth," he said, "but I still consider the mandolin to be my first instrument."
As a senior in high school, Bush took violin lessons to find out the technically correct way to note the instrument and use the bow correctly. He considered attending Western Kentucky University in Bowling Green, majoring in Strings. Then he got the call from an innovative, Louisville-based band called the Bluegrass Alliance. A nationally recognized group, they had just lost their guitarist, a talented picker by the name of Dan Crary. Straight out of Warren Central High School, Bush joined the group and moved to Louisville in 1970.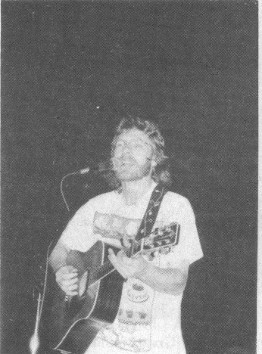 Bush soundchecks the afternoon of the Great Sounds concert. Photo by Jean Metcalfe.
"The Alliance were making a statement in bluegrass at the time that you could play different kinds of music using bluegrass instruments. So that was appealing."
Bush was recruited as a guitarist, playing an instrument he had "always knocked around on." Bush got to return to his favored instrument after an incident at a bluegrass festival in Reidsville, N.C.
"We saw the world's skinniest man sitting on a guitar case playing guitar," Bush said. "It was Tony Rice. Without even asking my other band members — now I know this is not the proper protocol — I was so knocked out with his playing that I asked him to join the band. He could play guitar, I could go back to playing mandolin. When the rest of the guys heard him, fortunately, they agreed with me."
The Bluegrass Alliance went through a few personnel changes, including the addition of Bush's old friend from Cave City, Courtney Johnson, on banjo. Ebo Walker performed duties on bass. In the fall of 1971, Rice left the group and was replaced by guitarist Curtis Burch, and the Alliance took an even more adventurous turn, playing more rock songs and incorporating rock overtones into their bluegrass repertoire. The group was renamed New Grass Revival.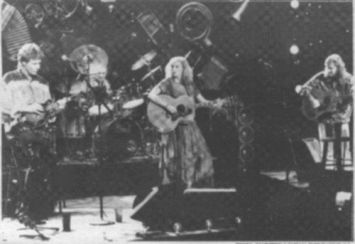 L to r, Bush, drummer Larry Atamanuik, Emmylou Harris, and guitarist John Randall perform at a Lonesome Pine Specials concert in the summer of 1992. Randall and Atamanuik rounded out the band for Bush and Cowan at the Great Sounds of Louisville concert in April. Photo courtesy of the Lonesome Pine Specials
The band's first album was recorded in 1972 in three days, and it was mixed down in two. Self-titled, the recording had versions of "Great Balls of Fire," Leon Russell's "Prince of Peace" and an instrumental named "Lonesome Fiddle Blues" by Vassar Clements.
"That one was a pretty big departure for bluegrass people," Bush said. "We had heard people do it, friends of ours and us jamming and stuff, where you just play like a rock or jazz band, basically just improvising until you feel that you've improvised all you want. That's what we were trying to do. We were just trying to do the same type of thing with our bluegrass instruments that, say, the Allman Brothers were doing."
"Looking back, I realize how incredibly enthused we were and excited to be in the studio, and the excitement and joy in our playing really comes out on that first record. We were so happy to be able to get in there and play, to get in there and record."
The album later turned up in truck stops under the title Today's Bluegrass. The idea that New Grass Revival's souped-up, electrified version of bluegrass could be the wave of the future disturbed some purists.
"It was a pretty interesting time," Bush recalled. "I think when we did 'Lonesome Fiddle Blues' on our first album, I think a lot of people realized that we were a lot different than the norm. Over the years, with the changing trends of music and what have you, people started accepting us for it. I think people in traditional bluegrass were not threatened anymore because they realized there were good young groups coming up that played excellent traditional-style bluegrass. I think once the bluegrass world figured out that we weren't going to change the whole music, we just played like we liked to, [the purists became more tolerant]. And now we've got some great traditional groups that are young musicians and players that do want to play traditionals, and I'm glad they do. I enjoy playing traditional music myself."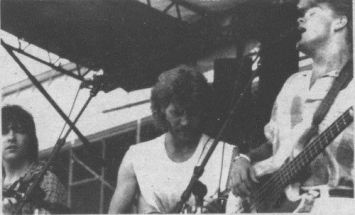 Bela Fleck, Bush and John Cowan perform as the New Grass Revival at the 1985 Kentucky Fried Chicken Bluegrass Festival. Photo courtesy of Bob Bahr.
The group — Bush on mandolin, fiddle and occasionally electric guitar, Walker on electric bass, Johnson on banjo, Burch on guitar, vocals and dobro — traveled around the country playing their new brand of music, later dubbed newgrass in tribute to the group. They decided to go for the Big Time.
"Like a lot of people, we wanted to see if we could do well, get a major label deal and so forth," Bush remembered. "We were here [in Nashville] for about a year and nothing really worked for us in this town at that time, so we moved back up to Kentucky, in Barren County."
In the course of the band's regrouping, Walker left the band. The Revival was searching for a new bassist. Enter John Cowan.
"Actually, we heard about John from our friend Ken Smith. He told us that he didn't think we'd find anyone who could play the bass or sing better than John Cowan. So we asked John to come down to Barren County and play with us. Basically, just as soon as he tuned his bass, just as soon as he touched the thing, we thought, 'All right! We got this guy.' And sure enough, he did want to join. Crazy enough, we asked him to play the bass before we even heard him sing. So imagine our surprise when he opened his mouth and this beautiful voice came out. We knew we had the right guy finally."
"When John joined, in the first rehearsal, John actually said, 'Do you mind if I sing a song?' I sort of implied, 'Yeah, go ahead, but I'm the lead singer.' And then after he sang one, I said, 'I used to be the lead singer. Now you are.'
That was 1974. Cowan's prowess at singing increased with each new New Grass Revival album — Fly Through the Country, Too Late to Turn Back Now, When the Storm Is Over, Barren County, Commonwealth — Cowan gradually took over most of the vocals. As beautiful, strong and tasteful as Cowan's voice was, it gained definition and power from the blending of his voice with Bush's. Alternating on lead and teaming up on harmonies, the two singers blended to make an unmistakable sound. It is that unique chemistry that makes today's collaboration remain vital, thrilling the crowd at Bomhard and causing more than a couple of Revival fans to pull out the old albums and give them another spin. Commenting on New Grass Revival's catalog, Bush modestly said they "were in time and in tune. That's about all I can ask for." Bush was at a loss for words when asked to describe the appeal of Bush and Cowan's vocal chemistry.
"I wish I knew the answer. It's a joyful thing to sing with John. Our voices are not really that alike. I know that I sing better when I sing with John, and he sings great no matter who he sings with. But it is a great blend and one that we still enjoy getting to do."
Louisville remained a stronghold for the group's popularity, invigorated each year by the band's appearances at the Kentucky Fried Chicken Bluegrass Festival. The annual festival was held on Louisville's Belvedere until 1987, when it mutated into a stylistically sprawling music event before finally dying a couple of years later, abandoned by its corporate sponsor.
"I really miss that festival," Bush said. "Certain festivals I really miss because they don't happen anymore, but that one especially. For me it was especially fun, because my wife Lynn is from Louisville, the Revival used to live in Louisville and we just have so many pals. It's such a nice feeling to play in Louisville and see so many friends. Not to mention, I think they had really worked into a quality festival in the United States. I thought they were doing a really great job at showing off bluegrass music, and it is missed. I think a lot of people still miss that festival in Louisville."
Tags: