June 1994 Articles
Cover Story
Jeff Walter
Features
Staff
Paul Moffett
Paul Moffett
Columns
Henry C. Mayer
Berk Bryant
Jan Winders
Paul Moffett
Keith Clements
Todd Hildreth
Darrell Elmore
Duncan Barlow
Alan Rhody
CD Reviews
Michael Campbell
Bob Bahr
Kevin Gibson
Mark Clark
Mark Clark
Michael Campbell
Kory Wilcoxson
Kevin Gibson
Mark Clark
Allen Howie
Kory Wilcoxson
Kevin Gibson
Kevin Gibson
Performance Reviews
Wally Stewart
William Brents
Kelvin Bailey
Mark Clark
Interviews
Jean Metcalfe
Calendar
Staff
News Item
Paul Moffett
Staff
Preview
Staff
Bob Bahr
LASC
Jean Metcalfe
Jean Metcalfe
Blogs
Got Shows?
Send Them To Us
Bookmark Louisville Music News.net with these handy
social bookmarking tools:
Available RSS Feeds
- Top Picks
- Today's Music
- Editor's Blog
- Articles
Add Louisville Music News' RSS Feed to Your Yahoo!

Issue: June 1994
Greg
Foresman
& the Freakouts
We've all seen "all-star" bands that play full-throttle — and produce a big sound about as interesting as an engine roaring at its limits. Greg Foresman has put together a supergroup of sorts for the Freakouts: David Barrickman on keyboards, Matt Thompson on drums, Rae Smith on percussion and backing vocals, Michael Murphy on sax, Tim Halcomb on bass and Foresman on guitar and lead vocals. And they deftly sidestep the flat finesse of the aforementioned all-star groups through a simple trick: They have fun. The musicians in the Freakouts are members of other bands around town, but Foresman told LMN that the players have the most fun when they're freaking out. See Greg Foresman & the Freakouts at Butchertown Pub on June 15.
"I strive for everybody on stage to have fun," Foresman said. "One thing I can guarantee is that the guys in the band are all top-notch. And the guys in my band seem to have the most fun when they play with me because I don't tell them what to play. I got them all because I liked what they do, and I just let them do it."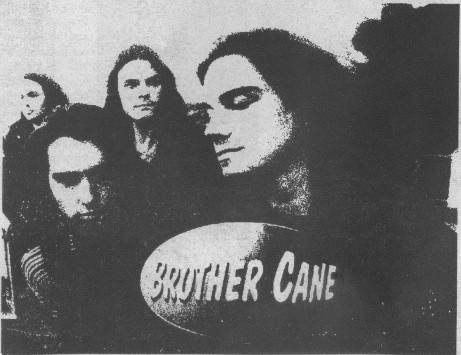 Brother Cane
Foresman has a bit of a problem describing the music he makes with the Freakouts.
"I've really quit analyzing what I do at all," said Foresman. "I don't know WHAT it is. It's not as in your face as the HammerHeads [Foresman's last band, which had a regional following]. It has a little more of a jazz influence and a little less of a rock influence."
Then again, I've heard people say it's totally different music than the HammerHeads, and I've heard people say it's similar to the HammerHeads. It's definitely very easy to dance to, but people sit and listen to it too. [Foresman called out to his wife, then returned saying,] My wife says its bluesy rock music."
Although the Freakouts seem to be steadily gaining an audience in Louisville, the band isn't Foresman's money gig. The talented guitar player is living in Nashville, doing occasional session work, and playing in country artist Deborah Allen's touring band. In June, one of the cuts on Deborah Allen's new record ("Why Can't You Leave My Heart Alone") is a co-write with Foresman. Foresman is presently pursuing a publishing deal, and he said his writing career is taking off.
"I've always written songs in so many different veins, in so many different areas," Foresman said. "Before I started playing with Deborah Allen, country music was the one genre that I felt influenced me the least. Now I'm writing a few country songs."
The Freakouts have recorded eight songs at MOM's Recording Studio, and after they add a few more, Foresman said he will shop the recording around the independent labels. The self-deprecating musician is carefully nudging his solo career into the limelight.
"Right now I'm getting ready to gear up to the next level," he said. "I've just been sort of easing into this thing — fronting my own band."
The Festival of the Bluegrass
'T'aint much better than a bluegrass festival in the Kentucky summertime . . . but we all can breathe a little easier if the pickers and players visit in the cooler June rather than the suffocating heat of August. The Festival of the Bluegrass does just that — bring some of the shining lights of bluegrass to our fair state — on June 9 through the 12th.
Headliners include Kentucky Blue, Alison Krauss & Union Station, Seldom Scene, Jerry Douglas, Doyle Lawson & Quicksilver, Jim & Jesse & the Virginia Boys, IIIrd Tyme Out and The McLain Family. Tickets range from $32 for a four-day pass to $7 for Sunday's shows only. For more information about tickets, call 606-846-4995. Events start at 7 p.m. on Thursday, 1:15 p.m. on Friday, around noon on Saturday, and 10 a.m. on Sunday. This is in the campground area of the Kentucky Horse Park in Lexington, so you can spend the night if you like.
The can't-miss session is Saturday night, when the McLain Family Band, Doyle Lawson & Quicksilver, Jim & Jesse, Alison Krauss & Union Station, and the great Seldom Scene perform on that night. Two performers on Friday night stand out as well: dobro whiz Jerry Douglas and the up-and-coming IIIrd Tyme Out.
Attending a bluegrass festival is a unique experience, evoking a wholesome, country atmosphere, dazzling with instrumental skill and amazing vocal harmonies, and usually smacking wholly of honesty. Anybody who likes great musical chops can dig it, and you don't need to wear overalls to fit in. Bluegrass fans are a fairly tolerant lot, as long as you don't show up drinking, swearing or smoking that funny crop they grow in Marion County.