June 1994 Articles
Cover Story
Jeff Walter
Features
Staff
Paul Moffett
Paul Moffett
Columns
Henry C. Mayer
Berk Bryant
Jan Winders
Paul Moffett
Keith Clements
Todd Hildreth
Darrell Elmore
Duncan Barlow
Alan Rhody
CD Reviews
Michael Campbell
Bob Bahr
Kevin Gibson
Mark Clark
Mark Clark
Michael Campbell
Kory Wilcoxson
Kevin Gibson
Mark Clark
Allen Howie
Kory Wilcoxson
Kevin Gibson
Kevin Gibson
Performance Reviews
Wally Stewart
William Brents
Kelvin Bailey
Mark Clark
Interviews
Jean Metcalfe
Calendar
Staff
News Item
Paul Moffett
Staff
Preview
Staff
Bob Bahr
LASC
Jean Metcalfe
Jean Metcalfe
Blogs
Got Shows?
Send Them To Us
Bookmark Louisville Music News.net with these handy
social bookmarking tools:
Available RSS Feeds
- Top Picks
- Today's Music
- Editor's Blog
- Articles
Add Louisville Music News' RSS Feed to Your Yahoo!

Issue: June 1994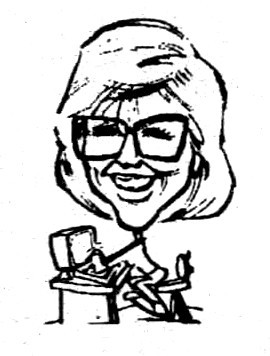 Newsical Notes
Charlie Walls and his recording studio played supporting roles in the May 9 edition of WHAS-TV's Louisville Tonight Live program. The Music Man was shown in his Springfield studio, working with artist David Yates, who is helping raise money for the television station's annual Crusade for Children.
A tip of the hat to David and Charlie. And to the folks at LTL and WHAS-TV as well.
Also, one of the Music Man's projects got a very favorable review in the South Yorkshire (England) Advertiser on April 25. In "Pete Smith's Country Scene," the columnist describes Coyote's Country as "a little gem," and boldly states that "all the original 20 songs have merit and all the 12 performers have enough talent to reach the upper regions of the national charts."
Pip, pip and jolly good show, Charlie.
Former member Rob "Butch" Williams phoned up mid-May and jogged my memory about his having been nominated for Airplay International's King Eagle Award for his song "I'm Hurt."
Butch plans to travel to Nashville, Tenn., in September to receive his award should he win one. It is an honor to be nominated, said Butch, and even if he doesn't win he will receive a certificate.
Good luck, Butch.
Sharon Beavers, an LASCer from Rineyville, Ky., has completed a new album called We Believe in Kentucky. Released mid-May on Nashville's Westwood Records, the 12-song album is available on cassette tape at Avatar Records in Radcliff, Ky., or by mail: Sharon Beavers, 101 Belaire, Rineyville, KY 40164. ($10/cassette includes shipping and handling.)
Sharon's mother/manager Janie Beavers says that they are getting airplay and have received a lot of positive feedback on the album's Kentucky songs "but we are not going to count our chickens yet."
Sounds as if she's pretty realistic about the music business.
Readers will recall that Sharon performed on our Hit Makers '92 Songwriter Showcase at Jim Porter's and did a very nice job.
She also entertained at this year's Derby Breakfast in Frankfort, hosted by Gov. and Mrs. Brereton Jones, at the recommendation of Secretary of Tourism Crit Luallen.
On May 5 she opened a showcase for Canadian country artist Brent McAthey at Douglas Corner Cafe in Music City, U.S.A., and LASC friend and former member Karen LeVan was in the audience.
Best of luck with your new album ... and your career, Sharon.
Had a letter from former LASC Board member/officer/seminar chair/hard worker Diana Black, who now resides in Florida. She sent along several new "The Beet Goes On" cartoons which are really clever; Diana is a very punny person.
She also passed along the news that she is expecting a grandbaby in July. Well, as my mother might have said, if that doesn't beet beat all! Funny, Diana doesn't look like a grandmother, but it's a safe bet she'll be a good one.
Our best to all of you, Diana, Greg, Jennifer and Adam.
The mail also brought us news that member Eric T. Johnson, has opened a law office in Atlanta, Ga. Eric has been a supporter of LASC for a number of years, and has done quite well in our songwriting contests.
Congratulations, Eric.
(If any of our readers would like to get in touch with Eric, just give me a call.)
Honorary Member Alan Rhody will be conducting a songwriting seminar during this year's Kentucky Music Week, August 1-5. Classes will be held at the air-conditioned Foster Heights Elementary School in historic Bardstown, Ky. With songs such as "Wild-Eyed Dream" and Trainwreck of Emotion" to his credit, Alan could surely teach most of us a thing or more about our craft.
For additional details about Alan's songwriting class, plus a variety of other interesting activities that same week, write for a brochure to Nancy Barker, KMW, Inc., P.O. Box 86, Bardstown, KY 40004, or call her at 502-348-5237.
Speaking of Bardstown, one of our newer members, D.V. Gilbert, lives in that historic town just a short drive out Bardstown Road. D.V. appeared on our March 5 Songwriter Showcase and has a showcase coming up June 20 at Nashville's Sweetwater Lounge in the Holiday Inn, Briley Parkway, in Nashville, Tenn. He says that performers who'd like to be on that same showcase should contact Steve Bivins at 615-824-1529.
In addition, D.V. says he has just finished a re-cut of his "Blue Lonely World" for a project soon to be released on Charlie Walls' Music Man Records.
And ... "Holding You," a D.V. Gilbert original, was awarded a Certificate of Achievement in Billboard's 5th Annual Song Contest. Plus ... D.V. received an invitation to attend the Southern Songwriters Guild's 9th Annual Awards and Installation Banquet on May 28 in Bossier City, La. A phone call informed him that he'd won an achievement award, but he will be unable to make the trip to Bossier City to pick it up.
If you'd like to book D.V. for a private party, wedding reception, etc. "for a reasonable fee," contact him at 502-348-9505.