June 1994 Articles
Cover Story
Jeff Walter
Features
Staff
Paul Moffett
Paul Moffett
Columns
Henry C. Mayer
Berk Bryant
Jan Winders
Paul Moffett
Keith Clements
Todd Hildreth
Darrell Elmore
Duncan Barlow
Alan Rhody
CD Reviews
Michael Campbell
Bob Bahr
Kevin Gibson
Mark Clark
Mark Clark
Michael Campbell
Kory Wilcoxson
Kevin Gibson
Mark Clark
Allen Howie
Kory Wilcoxson
Kevin Gibson
Kevin Gibson
Performance Reviews
Wally Stewart
William Brents
Kelvin Bailey
Mark Clark
Interviews
Jean Metcalfe
Calendar
Staff
News Item
Paul Moffett
Staff
Preview
Staff
Bob Bahr
LASC
Jean Metcalfe
Jean Metcalfe
Blogs
Got Shows?
Send Them To Us
Bookmark Louisville Music News.net with these handy
social bookmarking tools:
Available RSS Feeds
- Top Picks
- Today's Music
- Editor's Blog
- Articles
Add Louisville Music News' RSS Feed to Your Yahoo!



Bluegrass Beat
Festivals are all around us. A sure sign of spring and summer when the bluegrass festival ads are in full bloom. A wonderful season. As you read this the second Otter Creek Park festival (May 27-29) is probably seeing the dust settle and a few preliminary plans for next year's underway. As I write this I am looking forward to a great weekend at Otter Creek. Hope you are, uh, were there. Randall Hylton and the Lewis Family were the opening night headliners, following the Pizza Hut Showdown that afternoon. Some of the other acts there during the weekend included the Osborne Bros., Dry Branch Fire Squad, Laurie Lewis, Josh Williams, the Nashville Bluegrass Band and J.D. Crowe.
Some other festivals for the coming month include: C.R. Wilson's festival at Seven Springs, Ky. Line-up for the June 2-3 show includes the Kentucky Bluegrass Band, Tommy Brown & County Line Grass, Clyde & Marie Denny, Wade Hill & Co., and The Sunnysiders.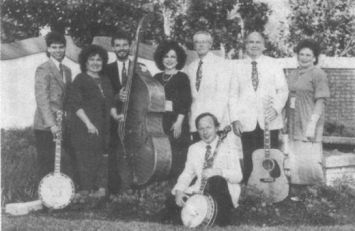 The Lewis Family will be at the July 1-3 Old Joe Clark Festival at Renfro Valley
June 9-12 takes us to the Kentucky Horse Park at Lexington. On Friday their line-up includes IIIrd Tyme Out, Larry Stephenson, Traditional Grass, Redwing and Seldom Scene. Saturday features Seldom Scene Alison Krauss, Doyle Lawson, Jim & Jesse, McLain Family and Hazel Dickens. On Sunday, Doyle Lawson and Kentucky Blue.
A festival that is definitely one of my favorites each year is the Charlotte (Mich.) Bluegrass Festival, June 23-26. I MC this show each year and I recommend it to any bluegrass festival enthusiast as having a near dream line-up: Dry Branch Fire Squad, Warrior River Boys, Lewis Family, Larry Sparks, Bill Grant & Delia Bell, Randall Hylton, Emma Smith and (on Friday) Ralph Stanley/Bill Monroe. There are many more. Let's all go together.
Old Joe Clark's festival at Renfro Valley is July 1-3. The line-up includes Osborne Bros., Lewis Family, IIIrd Tyme Out, Lost & Found, and Jim & Jesse w/Mike Stevens.
This should be enough festival information for this month; if you want more, listen to Sunday Bluegrass on WFPL each Sunday, 8:30-11 p.m.
In the "I Heard" Department, Jr. Blankenship and Ernie Thacker have left Ralph Stanley. The two are on their own. (I know Ralph hates to see you go, but good luck.)
The rest of this month is going to look/listen to some new CDs from Pinecastle Records.
A Day in the Country is a new release by Butch Baldassari. Mandolin with fiddle, hammered dulcimer and guitar. Don't expect hard bluegrass from this. I find it an easy-to-listen-to CD for when you just want some relaxing and background music. It is instrumental, and my favorite track is "Little Rosewood Casket/Old Spinning Wheel." All of it is nice and easy, with "Pass Me Not," "Midnight on the Water," "Azalea Waltz" and several more medleys.
When the Roses Bloom In Dixieland, from the Osborne Bros. You are rarely disappointed with something new from the Osbornes. The title cut, "Lorena," "Amazing Grace," "Damn Yankee Lad" and "The Waltz You Saved for Me" make up this 12-song CD. Good.
The L&N Don't Stop Here Anymore, The New Coon Creek Girls. Fans of the NCCG know what sound to expect of this group. They turn out good material and have done so with this release. It's done with such songs as "Fireball Mail," "I Should Be With You," "Kentucky Blues," "Hammer and Nails" and "Brand New Home." A total of 15 good songs. Some fans say this is the best make-up of the NCCG. OK, but I still miss Wanda Barnett with the group.
Acoustic Celebration, The Reno Bros. The songs of the great Don Reno have put together an acceptable CD. Not all hard-shell bluegrassers will embrace it, but there is some good music here. "Mr. Coachman," "Homemade Love," "I Love You," "The Last Frontier," "Top O' the Morning," just to name a few of the 13 selections found here. Most of these were written by the boys. "Top O' the Morning is possibly a recollection of the early-morning TV show Don Reno and Red Smiley did on WDBJ, Roanoke, Va., for a number of years, a show I enjoyed visiting as a guest several times.
Don't Look Now, Gene Wooten. The title tune, an old Ernest Tubb song, done well. Others of the 14 numbers here include "Southbound," "Sunny Side of Life," "No Doubt About It," "I'll Be All Smiles Tonight," "Flat Lonesome" and "Preachin', Prayin', Singin'." A good effort here that I think all BG fans can enjoy. All of these are from: Pinecastle Records, P.O. Box 456, Orlando, FL 32802.
Enjoy and join me at the festival of your choice. Come around and say hello. Let me know you are there.