June 1994 Articles
Cover Story
Jeff Walter
Features
Staff
Paul Moffett
Paul Moffett
Columns
Henry C. Mayer
Berk Bryant
Jan Winders
Paul Moffett
Keith Clements
Todd Hildreth
Darrell Elmore
Duncan Barlow
Alan Rhody
CD Reviews
Michael Campbell
Bob Bahr
Kevin Gibson
Mark Clark
Mark Clark
Michael Campbell
Kory Wilcoxson
Kevin Gibson
Mark Clark
Allen Howie
Kory Wilcoxson
Kevin Gibson
Kevin Gibson
Performance Reviews
Wally Stewart
William Brents
Kelvin Bailey
Mark Clark
Interviews
Jean Metcalfe
Calendar
Staff
News Item
Paul Moffett
Staff
Preview
Staff
Bob Bahr
LASC
Jean Metcalfe
Jean Metcalfe
Blogs
Got Shows?
Send Them To Us
Bookmark Louisville Music News.net with these handy
social bookmarking tools:
Available RSS Feeds
- Top Picks
- Today's Music
- Editor's Blog
- Articles
Add Louisville Music News' RSS Feed to Your Yahoo!



I've Got A Mind To Ramble
If you have driven by 1047 Bardstown Road lately you've noticed a change where Tewligans used to be. It's the resurrection of the Cherokee Blues Club. The new manager, Tony Tkac, described at our last KYANA Blues Society meeting what he and his partners are planning. Now open is the front room, which is set up for 100 people and will be used for acoustic acts. The larger back room was ready on May 20, and Curtis and Kicks opened the first two nights. Charlie Musslewhite really christened the place with a concert on May 24. The club will be open six nights a week and closed on Sunday.
The hours are from 8 p.m. to 2:30 a.m. on weekdays and 8 p.m. to 4 a.m. on weekends, plus a 4-8 p.m. happy hour on Fridays. The partners are planning to have at least two national or regional acts per month, booking through Rosebud or Sunshine agencies.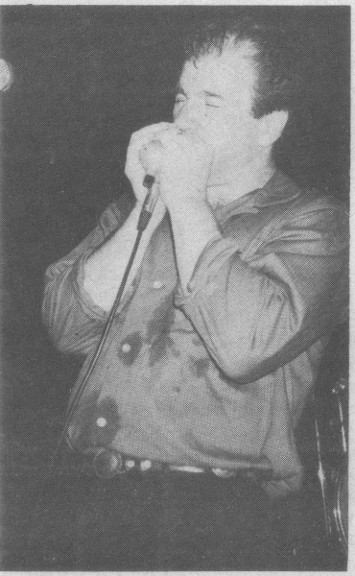 Gary Primich at the Backstage Cafe on April 28. Photo by Keith Clements
The interior decor, stage lighting and the sound system will all be improved. The bar will be enlarged and they hope to have a liquor license in July. In the near future they will be serving food, with Terry Payne doing the cooking.
Let's all go out and support this new venue.
l
John Grantz called to update the talent booked at the Waterside Art & Music Festival scheduled for July 1-3. Things have gotten a lot hotter with Larry McCray from Saginaw, Mich., who has a recent release out on PointBlank called Delta Hurricane. The other hot guitarist is Tinsley Ellis. Remember the double whammy show Tinsley did with Lonnie Mack at the Lonesome Pine concert in July 1992? Later that night he jammed at the original Cherokee Blues Club with Alligator Records producer Bruce Iglauer in the audience. These two performers should make the Ohio River boil.
l
Let's talk about two recent blues concerts that occurred in April. On the night of Thunder Over Louisville the "Earth Shaker" came to the Thunderdome at the Brewery. Also known as the "Queen of the Blues," KoKo Taylor and her Blues Machine put on one of the strongest shows I've seen her do. KoKo has had her ups and downs with a serious van accident and the loss of her husband, Pops, a few years ago. But she is back on top again with her latest Alligator CD, Force of Nature, which is a force to be reckoned with. Bobby Bland has his nasal snorts and KoKo has her characteristic guttural growls to punctuate her vocals.
Complementing her strong voice, her Blues Machine has always been a group of strong musicians. Maestro Saunders, Johnny B. Moore, Sammy Lawhorn and Criss Johnson have played their guitars behind the Queen. That night Eddie King and "Vino" Louden traded guitar solos with her veteran bass player, Jerry Murphy, and Duke Kelly on drums. It took a while for Jeremiah Africa to get his keyboards up and playing but he chimed in near the end of the set. Actually the concert was one long set followed by an extended jam between the drummer and bass player, and finally KoKo came out for a rousing encore for one hour and 50 minutes of continuous music.
The audience was a mixture of diehard blues fans who crowded around the stage and a younger crowd who normally frequent the sports bar. It was appropriate following all the spectacular fireworks that KoKo made the plausible threat that "I'll be on you like thunder, I got lightning in my hands" when she sang her recent hit "Mother Nature." KoKo and her Blues Machine will be the featured act the final evening of the Chicago Blues Festival on June 5 and then she will be back in Kentucky again on August 28 for the Hot August Blues & Bar-BQ Festival at Kenlake State Park.
Gary Primich is one of those many blues musicians who keep coming out of Austin, Texas. He blew his harp at last year's Waterside Festival and he will be back again for this summer's festival. When the KYANA Blues Society planned the concert for Gary at the Backstage Cafe on April 23 we thought the promotion and the timing were right, but the attendance was disappointing. We can't blame it on the tornado watch because Coyote's was packed with line dancers. Maybe it was the name recognition or the price of the ticket. Gary said he played to a standing-room crowd the night before at Blind Willie's in Atlanta. After the Mudcats opened playing several of the songs from their recent CD Back to the Basics, Gary blew his brand of raw, hard-driving blues, drawing on his Chicago and Texas influences. Growing up in Gary, Ind., he spent some time playing on Chicago's Maxwell Street, blowing alongside the veterans. In the early '80s he formed the Mannish Boys who had a hit with "A Lil' Dab'll Do Ya." Throughout the concert Shorty Lenoir (who is anything but short) provided some nice backup and swinging solos on his hollow-body guitar. Richard Grigsby and Chris Hunter provided the right punch on bass and drums. Gary blew and sang his heart out to the small, appreciative audience that evening.
Unfortunately, it will be a while before the KYANA Blues Society sponsors another blues concert.