November 1994 Articles
Cover Story
Jeff Walter
Features
Darrell Elmore
Columns
Berk Bryant
Jim Galipeau
Mike Stout
Paul Moffett
Keith Clements
Todd Hildreth
Duncan Barlow
Henry C. Mayer
Henry C. Mayer
Alan Rhody
CD Reviews
Allen Howie
Robert Gruber
Ray Rizzo
Allen Howie
Kory Wilcoxson
Kory Wilcoxson
John Goodin
Mike Stout
Bob Bahr
Bob Bahr
Robert Gruber
Mike Stout
Performance Reviews
Ninette Shorter
Bob Bahr
Bryan E. Hurst
Mark Clark
Mike Stout
Ray Rizzo
Interviews
Mike Stout
Michael Campbell
Calendar
Bob Bahr
News Item
Henry C. Mayer
Photos
Robin Roth
LASC
Paul Moffett
Michael A. Howard
Jean Metcalfe
Blogs
Got Shows?
Send Them To Us
Bookmark Louisville Music News.net with these handy
social bookmarking tools:
Available RSS Feeds
- Top Picks
- Today's Music
- Editor's Blog
- Articles
Add Louisville Music News' RSS Feed to Your Yahoo!

Issue: November 1994
"Diverse" is the operative word to describe the November music schedule. Everyone from Ray Charles to Nine Inch Nails to Brooke Shields will be here in the River City to entertain you. (Yes, Brooke Shields. I said diverse, didn't I?)
Five-Eight walks a dangerous line indeed between punk rock and alternative melodrama, but you don't win big if you don't raise the stakes, as my Uncle Bootsy always said. (Actually, I don't have an Uncle Bootsy, but if I did, that's what he'd say.) Out of Binghampton, Ny., by way of Athens, Ga., Five-Eight is an intense quartet that has been likened to the Sex Pistols and the Who (by the same person, no less). Drummer Patrick "Tigger" Ferguson claims his influences include Public Image, Ltd., Public Enemy, public radio and public restrooms. Five-Eight is at the Butchertown Pub on November 1.
The plaster in the Palace Theater will be put to the test on November 2 when Candlebox headlines a thunderous bill with local faves the Flaming Lips and Sweet Water. These three bands are all flirting with superstardom and all have accomplished it to one degree or another.
Folks who have seen guitarist Larry Crane perform solo could tell how much John Cougar Mellencamp owed Crane for his early hits. And Mellencamp's post-Crane music is noticeably lacking . . . Crane's magic touch on guitar.
For Crane on his own now, writing great hooks (like in his solid solo single "Independence Day") hasn't proved to be enough to launch a big career. What's missing? Danged if I know. Puzzle it together yourself on November 4, when Crane arrives at the Butchertown Pub.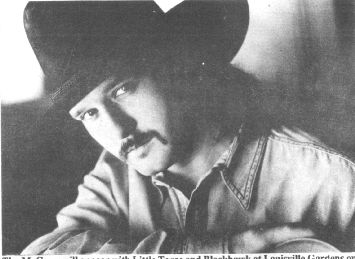 Tim McGraw will appear with Little Texas and Blackhawk at Louisville Gardens on Nov. 9
Melding an orchestra onto a pop star can drown the musician in string-laden goo, or it can expand upon the themes of the music. For evidence, consider the SuperPops series. For a specific instance, consider Ray Charles. Brother Ray doesn't need any help getting his soulful work across. Nevertheless, he's set to join the Louisville Orchestra on November 4 at the Kentucky Center for the Arts for a Breeder's Cup event featuring another classy R&B act, Gladys Knight. It doesn't look good on paper, but thoroughbred fans know that you can't always trust the stats. Knight and Charles are a pretty good gamble.
The Kentucky HeadHunters are pretty dependable too, always giving up a good show. Thus, their November 9 concert at the Louisville Gardens is a safe bet for good, rockin' country with an authentic Kentucky flavor. But the bonus is almost as good as the grand prize: Nashville's Cactus Brothers open the show. Playing a mysterious, high-octane blend of various popular musics, the Cactus Brothers will have you alternately clogging and slam dancing to their virtuosic playing. Pay special attention to dulcimer whiz David Schnaufer, drummer par excellence Dave Kennedy and multi-instrumentalist Tramp.
Call the unassuming Steven Curtis Chapman "the Garth Brooks of contemporary Christian music," and he'll probably protest. But his unparalleled success is analogous to Brooks' commercial ascension, er, I mean he's just as popular in his own way. See Chapman sing about "Heaven in the Real World" during his November 10 concert at the Louisville Gardens. The Newsboys open.
Alison Krauss is arguably the hottest female star in bluegrass music and the reasons are twofold: her deft violin playing and her strong, lonesome vocals. She headlines a show with the Cox Family (the bluegrass group that won fans opening for the Counting Crows a few months back) at the Macauley Theatre on November 11.
The next night brings Louisville one of the hottest shows of the year: Nine Inch Nails. Trent Reznor and band play a unique kind of industrial/rock, with lyrics that cut through b.s. like butter. The show is November 12 and the venue is Louisville Gardens. The Jim Rose Circus Side show opens. If you want to attend this concert, you better do something about getting tickets within the next ten minutes.
Are you ready for this? A performance of the musical Grease is coming to the Kentucky Center for the Arts from November 15 through November 20 and the cast includes Sally Struthers (TV's "All in the Family"), Davy Jones (the cute one on "The Monkees") and (gasp) the one and only Brooke Shields as Rizzo, the leader of the Pink Ladies gang. Rex Smith plays Danny Zuko. The price for this spectacle ranges from $33 to $45.
Timbuk 3 demonstrated their familiarity with irony with the 1986 hit "Future's So Bright I Gotta Wear Shades." Their latest album, titled Looks Like Dark to Me, features an acoustic version of "Born to Be Wild." Intriguing, eh? See what the husband and wife team of Pat and Barbara MacDonald (a.k.a. Timbuk 3) have up their sleeves at their November 19 show at the Palace Theatre. It starts at 10:30 p.m. and part of the proceeds will help pay the costs of local programming on WFPL 89.3 FM. Timbuk 3 will perform at the Palace's Stagedoor Johnny stage after the conclusion of "Jesus Christ Superstar" in the big room.
The charismatic Vince Gill will pack 'em in at Freedom Hall on November 20 and the supporting acts for that show do not slouch. Trisha Yearwood and Larry Stewart will be warming up the crowd.
No, they don't sound like Hendrix. Sky Cries Mary calls itself "America's premiere psychedelic space-rock band," but they're really not that bad. In fact, the seven-piece band is kind of cool when they swirl with a trance-like lilt, punched with danceable drumbeats and the occasional slash from a razor-like guitar. They glide into the schizophrenic Cherokee Blues/Alternative Club on November 23.
In the Our Amps Go To Eleven Department, the polished hardcore and brutal grooves of Pro-Pain come to the Toy Tiger on November 27. M.O.D. opens that show. I'm decidedly anti-pain myself.