November 1994 Articles
Cover Story
Jeff Walter
Features
Darrell Elmore
Columns
Berk Bryant
Jim Galipeau
Mike Stout
Paul Moffett
Keith Clements
Todd Hildreth
Duncan Barlow
Henry C. Mayer
Henry C. Mayer
Alan Rhody
CD Reviews
Allen Howie
Robert Gruber
Ray Rizzo
Allen Howie
Kory Wilcoxson
Kory Wilcoxson
John Goodin
Mike Stout
Bob Bahr
Bob Bahr
Robert Gruber
Mike Stout
Performance Reviews
Ninette Shorter
Bob Bahr
Bryan E. Hurst
Mark Clark
Mike Stout
Ray Rizzo
Interviews
Mike Stout
Michael Campbell
Calendar
Bob Bahr
News Item
Henry C. Mayer
Photos
Robin Roth
LASC
Paul Moffett
Michael A. Howard
Jean Metcalfe
Blogs
Got Shows?
Send Them To Us
Bookmark Louisville Music News.net with these handy
social bookmarking tools:
Available RSS Feeds
- Top Picks
- Today's Music
- Editor's Blog
- Articles
Add Louisville Music News' RSS Feed to Your Yahoo!

Issue: November 1994
Jeff Walter By Michael Boehnlein
Jeff Walter is a writer — a journalist as well as a songwriter. Because he makes his living stringing words together, he takes the craft of writing, be it prose or lyrics, seriously. Consequently, he usually brings at least one song for critique when he attends a meetings.
Jeff joined' the LASC in September 1993, but it was awhile before he attended a meeting, mostly because he lives in Lexington. A sports writer for the Lexington Herald-Leader for seven years, Jeff left that paper in 1991 to start his own business, Vital Communications. The Insider's Guide to Greater Lexington, published by the Herald-Leader, is one of his most notable efforts.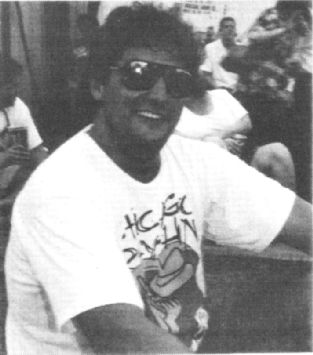 Jeff Walter
He has also written cover stories for Louisville Music News, the most recent being the Karen Kraft story in this issue.
For the last few months, however, Jeff has been making the trip to Louisville regularly, leaving his wife Roberta and son Reece with her family in Louisville before arriving at the Union hall.
He has also made the journey to Music Row to pitch his tunes and to network. Like many other songwriters, he is still looking for that one publisher who likes his material.
Jeff's music reveals a variety of influences, from rock to country to blues. He says that he has learned that a great song transcends musical boundaries.
"There's a lot of great music that tends to fall between the cracks," he notes. "[Such music} is too rock for country or too country tor rock or simply not mainstream enough."
As for his own material, he shrugs.
"Although I'm most actively pursuing country markets right now, I'd rather just write music and let somebody else worry about what kind of label to stick on it."