April 2018 Articles
Cover Story
Paul Moffett
Columns
Eddy Metal
Eddy Metal
Blogs
Got Shows?
Send Them To Us
Bookmark Louisville Music News.net with these handy
social bookmarking tools:
Available RSS Feeds
- Top Picks
- Today's Music
- Editor's Blog
- Articles
Add Louisville Music News' RSS Feed to Your Yahoo!

Issue:
'They're Playing Our Song' at Derby Dinner
By Ninette Shorter
Lava lamps. Disco balls. Synthesized violins.
If you just can't get enough '70s nostalgia, you can probably get your fill from the Derby Dinner Playhouse rendition of"They're Playing Our Song." The Playhouse is celebrating its 20th anniversary by presenting Neil Simon's romantic comedy and the producers fittingly decided to retro-prop the stage and costume the cast in '70s-era style, matching the time when the story was written.
Whether the characters were inspired by either Simon's short-lived marriage to actress Marsha Mason or the on-again off-again romance of composers and lyricists Marvin Hamlisch ("The Way We were,""The Sting") and Carole Bayer Sager ("Don't Cry Out Loud,""A Groovy Kind of Love"), the play takes a humorous and lighthearted look at the relationship between two creative types. Music and lyrics were composed and written by Hamlisch and Sager specifically for the play and the songs include"If He Really Knew Me,""When You're in My Arms," as well as the play's title song. If not staggeringly memorable, the songs are sweet and light and they fit the story's tone.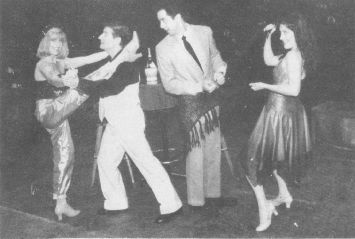 Left to right, Barbara F. Cullen as alter ego, Bill Hanna as alter ego, Ed Kross as Vernon Gersch and Amy Hansted as Sonia Walsk
Romantic comedy, comedic romance with music, call it what you will, the show is cute, cute, cute. Chicagoan Ed Kross and New York-based Amy Hansted make their dual Derby Dinner debut in the roles of finicky composer Vernon Gersch and loony lyricist Sonia Walsk, an unlikely duo that joins up to churn out romantic hits. Their pairing sparks more than sentimental ballads.
Both Kross and Hansted grow into their roles gradually, endearingly bringing out their disparate characters' quirks and charms, stirring up hope for more than musical collaboration from this mismatched couple. Hansted's Sonia is marvelously frenetic and capricious, in riotous contrast to the color-inside-the-lines orderliness of Kross's Vernon. Yet both characters somehow become increasingly believable and lovable as the story moves along.
If a couple has quirks, they'll come out in matters of the hay. Some people like a cigarette when the dust has settled and some people like to just drift off to sleep. Then there are those who like "pistachios for afterward." Guess which scenario fits one half of our odd couple.
And what relationship is complete without a little love triangle? Psycho-politically incorrect thinking in the boundary-aware '90s, but nonetheless, Hansted and Kross do such a good job of building up the integral third-party character Leon that it's difficult to believe he's never actually present on stage.
Speaking of triangles, the play uses a clever yet underemployed device to support both main characters. Both Sonia and Vernon are here and there joined by a trio of identically dressed "alter egos" — Super Ego, Passion, and Skepticism – to personify the partners' inner voices as they try to fit their lives together. Whether due to the script or to Derby Dinner's rendering, the three mirror images seem to be more in unison than truly representative of the partners' inner conflicts. Two such strikingly different personalities as Sonia's and Vernon's beg more boisterous and contrasted alter egos.
The props leave you grinning and chuckling helplessly, particularly in the driving scene and "Le Club." Even seen through the eyes of a former disco queen whose heart still beats for the likes of "Disco Infemo," cheese abounds. But it's fun cheese.
Anyone who's been in a relationship will find something to laugh about, get misty about, or wince about, which is probably just what Neil Simon had in mind. It's all the stuff of relationships, a la '70s.
And hey, Ed Kross has really nice arms!
"They're Playing Our Song" continues through Nov. 20 at Derby Dinner Playhouse, 525 Marriott Drive in Clarksville. Call 812-288-8281 for reservations and information.