November 1994 Articles
Cover Story
Jeff Walter
Features
Darrell Elmore
Columns
Berk Bryant
Jim Galipeau
Mike Stout
Paul Moffett
Keith Clements
Todd Hildreth
Duncan Barlow
Henry C. Mayer
Henry C. Mayer
Alan Rhody
CD Reviews
Allen Howie
Robert Gruber
Ray Rizzo
Allen Howie
Kory Wilcoxson
Kory Wilcoxson
John Goodin
Mike Stout
Bob Bahr
Bob Bahr
Robert Gruber
Mike Stout
Performance Reviews
Ninette Shorter
Bob Bahr
Bryan E. Hurst
Mark Clark
Mike Stout
Ray Rizzo
Interviews
Mike Stout
Michael Campbell
Calendar
Bob Bahr
News Item
Henry C. Mayer
Photos
Robin Roth
LASC
Paul Moffett
Michael A. Howard
Jean Metcalfe
Blogs
Got Shows?
Send Them To Us
Bookmark Louisville Music News.net with these handy
social bookmarking tools:
Available RSS Feeds
- Top Picks
- Today's Music
- Editor's Blog
- Articles
Add Louisville Music News' RSS Feed to Your Yahoo!

Travis Tritt / Lee Roy Parnell
By Michael W. Stout
Travis Tritt's Ten Feet Tall Tour left the near sell-out crowd ten feet off the ground on October 8, at Freedom Hall. What was scheduled to be a triple-header wound up being a mere double-header due to Joe Diffie's illness, but turned out to be a winner just the same.
Travis Tritt hit the stage riding a spit-and-polished, jet black-and-chrome motorcycle through a cloud of smoke and lasers. This foreshadowed a night to remember. A steel hydraulic bridge, balcony and Tritt's 10-foot initials in red and white lights added to the theatrics of the evening.
He offered selections that fans of any genre of music would enjoy. This jukebox of hits included both old and new Tritt tunes, a tribute to the greats of country music and a hefty selection of rock tunes.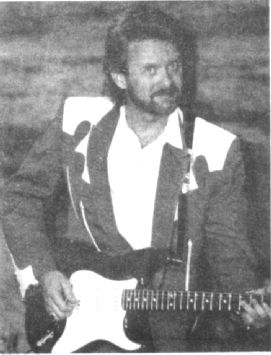 Lee Roy Parnell. Photo by Letha Marshall
The crowd rose to its feet and roared at tunes such as "Foolish Pride," "Here's A Quarter (Call Someone Who Cares)," "Country Club," and his latest release, "Ten Feet Tall and Bulletproof." The crowd sat only during Tritt's tribute to country music when he honored George Jones, Merle Haggard and Johnny Cash with the combination of his unique voice, his guitar, a stool and a spotlight.
Tritt stated that being called an outlaw was the best compliment he could receive and paid respect to the outlaw by performing "Outlaws Like Us" with Waylon Jennings and Hank Williams Jr. via a bigger-than-life video screen. The crowd resumed its rowdiness on rockin' tunes such as "Pink Cadillac" and "Keep Your Hands to Yourself."
The Country Club, Tritt's six-piece band, offered up a heaping portion of mighty fine fiddle, heavenly harmonica, bad bass, kickin' keyboard and some major drumming. These fine musicians kept the crowd feisty throughout the evening.
The crowd ate up Tritt's nearly 2-hour set, which included a 5-song encore, but walked away still hungry. He got lost in the moment and seemed to forget to sing many of his hit ballads like "Anymore," "I'm Gonna Be Somebody," "Drift Off to Dream," and "Worth Every Mile." When the fans pay to hear Travis Tritt, they expect to hear Travis Tritt.
Lee Roy Parnell started the evening off right with a very simple, yet extremely pleasing 60-minute set, proving that simple can still be good. Parnell's stage consisted of his 5-piece band and a desert road backdrop. He described his show as "no smoke bombs, we just stick to the music."
Parnell wowed the crowd with some of his biggest hits such as "On the Road," "Love Without Mercy," "I'm Holding My Own" and "Tender Moment." He also offered a well-received tribute to Merle Haggard by singing "Working Man Blues," and a rhythm and blues tribute with his soulful version of "The Weight."
Lee Roy's voice was very pleasing, though sometimes muffled due to the sound being turned several notches too high, but didn't hold a candle to his virtuoso guitar playing. This is not meant to degrade his vocal ability, but to try to paint a picture of just how high he is on the totem pole of guitar playing. His slide guitar left a permanent imprint in my mind. From the crowd's response, it seems that Lee Roy Parnell is finally starting to receive the recognition he deserves.