November 1994 Articles
Cover Story
Jeff Walter
Features
Darrell Elmore
Columns
Berk Bryant
Jim Galipeau
Mike Stout
Paul Moffett
Keith Clements
Todd Hildreth
Duncan Barlow
Henry C. Mayer
Henry C. Mayer
Alan Rhody
CD Reviews
Allen Howie
Robert Gruber
Ray Rizzo
Allen Howie
Kory Wilcoxson
Kory Wilcoxson
John Goodin
Mike Stout
Bob Bahr
Bob Bahr
Robert Gruber
Mike Stout
Performance Reviews
Ninette Shorter
Bob Bahr
Bryan E. Hurst
Mark Clark
Mike Stout
Ray Rizzo
Interviews
Mike Stout
Michael Campbell
Calendar
Bob Bahr
News Item
Henry C. Mayer
Photos
Robin Roth
LASC
Paul Moffett
Michael A. Howard
Jean Metcalfe
Blogs
Got Shows?
Send Them To Us
Bookmark Louisville Music News.net with these handy
social bookmarking tools:
Available RSS Feeds
- Top Picks
- Today's Music
- Editor's Blog
- Articles
Add Louisville Music News' RSS Feed to Your Yahoo!

Issue: November 1994

Cowboy Corner
The 28th Annual Country Music Association nominees have been announced, the ballots have been tabulated, and the awards have been handed out. Not only was Vince Gill the Master of Ceremonies, but he was also the Master of Awards, taking home three statues to accompany his mass of others from previous years. Gill was named Entertainer of the Year for the second consecutive year and was named Male Vocalist of the Year for a fourth time. No other male artist has received the Male Vocalist award more than Gill. In addition to these two honors, Gill was recognized as a contributor to Album of the Year, Common Thread: The Songs Of The Eagles. Vince Gill remains the most awarded CMA nominee.
Reba McEntire topped the nomination list with six nominations, but only took home one, Vocal Event of the Year for "Does He Love You," her smash duet with Linda Davis. Alan Jackson received four nominations but only took home two awards: Song of the Year, along with Jim McBride, for "Chattahoochee," and Album of the Year as part of Common Thread: The Songs Of The Eagles.
The big surprise of the awards ceremony was the Female Vocalist of the Year award. Pam Tillis, more surprised herself than anyone, beat out Mary Chapin Carpenter, Reba McEntire, Wynonna, and Trisha Yearwood to take home this award.
John Michael Montgomery made Kentucky proud by winning his first two CMA awards. The Nicholasville native received the Single of the Year award for "I Swear," and dedicated his Horizon Award to his recently deceased father. Congratulations, John Michael!
The entire list of winners is as follows: Entertainer of the Year: Vince Gill; Album of the Year: Common Thread: The Songs Of The Eagles; Song of the Year: "Chattahoochee," written by Alan Jackson and Jim McBride; Single of the Year: "I Swear," John Michael Montgomery; Male Vocalist of the Year: Vince Gill; Female Vocalist of the Year: Pam Tillis; Vocal Group of the Year: Diamond Rio; Vocal Duo of the Year: Brooks & Dunn; Vocal Event of the Year: "Does He Love You," Reba McEntire and Linda Davis; Musician of the Year: Mark O'Connor (fiddle); Music Video of the Year: "Independence Day," Martina McBride, performer, Robert Deaton and George J. Flanigen IV, directors; Horizon Award: John Michael Montgomery; Country Music Hall of Fame: Merle Haggard.
Congratulations to all the winners!
•
Be on the lookout for several hot new CDs from some of your favorite country artists. These new and upcoming releases include John Anderson's Country 'Til I Die; George Jones' duet album, The Bradley Barn Sessions; Simpatico, a collaboration by Suzy Bogguss and the great Chet Atkins; Larry Stewart's Heart Like A Hurricane; Tammy Wynette's Without These Walls; and Healing Hands of TimeBy Willie Nelson.
Several tribute albums and box sets are filling the record store shelves. Among these are Merle Haggard's Mama's Hungry Eyes; Chris Ledoux's 1972-1994; the Tanya Tucker box set; and Asleep At The Wheel's box set, Still Swingin'.
•
Country fans should hurry to the box office to get their tickets for the Nov. 4 Little Texas, Tim McGraw, and BlackHawk concert at Louisville Gardens. This will be a great triple-header you won't want to miss.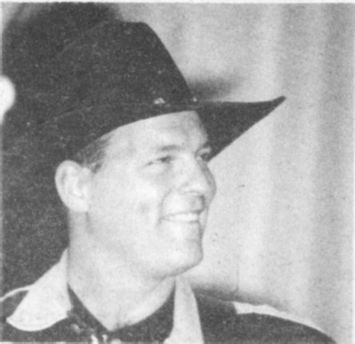 CMA Winner John Micahel Montgomery. Photo by Letha Marshall
Vince Gill, the current CMA Entertainer of the Year and Male Vocalist of the Year, will make a stop in Louisville on Sunday night, Nov. 20, at Freedom Hall. Vince is sure to sing the ballads and other hit tunes that have earned him these awards, as well as songs from his latest album, When Love Finds You. Vince alone would be enough of a show, but he is also bringing Trisha Yearwood and newcomer Larry Stewart with him. Trisha will perform tunes from her three smash albums: Trisha Yearwood; Hearts In Armor; and The Song Remembers When. Larry Stewart will offer songs from his new release, Heart Like A Hurricane.
•
Tim McGraw has made history with his triple-platinum Not A Moment Too Soon album. Tim's album has been certified as the fourth longest lasting number one record on the Billboard charts. This album topped the charts for over 25 weeks. Only two artists' albums have occupied this spot longer than Tim: Garth Brooks and Billy Ray Cyrus. Keep up the good work, Tim!
Wynonna, Tracy Lawrence, Ronna Reeves, and Mark Collie were all recently honored with their own star on the Country Music Walk of Fame at the Country Music Hall of Fame in Nashville. Mark Collie was nearly speechless and said that honors like this make up for all the hard times on the bumpy road to fame. Each performer was asked to donate an item to be placed into the Hall of Fame and Wynonna donated a guitar for all the "Girls With Guitars," saying she would have donated her mom, Naomi, but she was busy. Congratulations to you all!
Congratulations are in order for Reba McEntire for such a great job on her Oct. 9 CBS Sunday night movie, Is There Life Out There?, which was based on her smash hit song and video of the same name. Good job, Reba!
Keith Whitley fans will want to be sure to pick up the new Keith Whitley Tribute album, which was co-produced by Whitley's widow, Lorrie Morgan. This album contains four previously unreleased tunes by Whitley, a duet with Lorrie, some of his greatest hits sung by friends and peers in the music business, and an all-star tribute song to Whitley. Thanks to all involved for a long overdue tribute to the late, great Keith Whitley.
We wish Brady Seals, formerly of Little Texas, much success with his future solo endeavors. Seals recently announced that he will no longer perform with Little Texas, leaving on friendly terms. He played keyboards in the band and wrote and co-wrote several of the band's songs. Little Texas plans to continue without Seals. Good luck, Brady! We'll be anxiously waiting to hear from you real soon.
Brooks & Dunn are enjoying much success with their brand new release, Waitin' On Sundown. This smash album was released Sept. 27, debuted on the album charts at number one the very first week, and was certified gold within just two weeks of its release. This album has already produced a number one song and video, "She's Not The Cheatin' Kind." Once you listen to this album, you'll agree that they'll be enjoying a lot more success from this album in the future. Congratulations and keep up the good work, Kix and Ronnie!
l
I would like to hear from you local country bands out there. Let me know what's going on, any new records, where you'll be playing, etc. Let our readers get to know you better. I'd also like to encourage each of you readers to take a few minutes and write me a note. Let me know what you like about the column, what you don't like, what you want to hear, questions, comments, suggestions, etc. Drop me a note:
Michael W. Stout
c/o Louisville Music News
7505 Cambridge Drive
Crestwood, KY 40014
That's it for now. I hope you all have a wonderful Thanksgiving and always remember: Keep your boots shined up and your hat on straight, 'cause country music is comin' your way.
••••
Editor's Note: Just a few days before deadline, a wonderful package from Rhino Records landed on our doorstep: Heartaches & Harmonies, a 4-disc box set by The Everly Brothers, with a very interesting photo-filled booklet included.
Last month Mike told the readers to keep their eyes open for this one. We did, and since he's so young that he thinks of "Kathy's Clown" as a Reba McEntire song, guess I'll just have to review this one myself.
Last month we introduced "Country Cowboy," a new country music column written by Michael W. Stout. Hope you enjoyed it.
Mike is an avid country music fan whose favorite artist is Dolly Parton. One of his goals is to interview Ms. Parton, but in the meantime he plans to read her new autobiography, "Dolly: My Life and Other Unfinished Business."
Welcome, Mike.
We wish to thank our very first country columnist, Jan Winders, for writing "Country Style" for us since March 1993. Jan is a writer for Rockin' Country Review and graciously agreed back then to cover the country music scene for us until we could snag our own columnist.
Thanks, Jan, and we'll be looking for you whenever we're at a country music concert.