November 1994 Articles
Cover Story
Jeff Walter
Features
Darrell Elmore
Columns
Berk Bryant
Jim Galipeau
Mike Stout
Paul Moffett
Keith Clements
Todd Hildreth
Duncan Barlow
Henry C. Mayer
Henry C. Mayer
Alan Rhody
CD Reviews
Allen Howie
Robert Gruber
Ray Rizzo
Allen Howie
Kory Wilcoxson
Kory Wilcoxson
John Goodin
Mike Stout
Bob Bahr
Bob Bahr
Robert Gruber
Mike Stout
Performance Reviews
Ninette Shorter
Bob Bahr
Bryan E. Hurst
Mark Clark
Mike Stout
Ray Rizzo
Interviews
Mike Stout
Michael Campbell
Calendar
Bob Bahr
News Item
Henry C. Mayer
Photos
Robin Roth
LASC
Paul Moffett
Michael A. Howard
Jean Metcalfe
Blogs
Got Shows?
Send Them To Us
Bookmark Louisville Music News.net with these handy
social bookmarking tools:
Available RSS Feeds
- Top Picks
- Today's Music
- Editor's Blog
- Articles
Add Louisville Music News' RSS Feed to Your Yahoo!

Issue: November 1994
'The Masked Ball' By Henry C. Mayer
Riccardo, Louisiana's governor, ignores warnings by his secretary and best friend, Renato, of a plot against his life. He also makes light of fortune teller Ulrica's prophecy that a friend will assassinate him. When circumstances mislead Renato into believing that his wife Amelia and Riccardo (who actually love each other) had kept a lover's tryst, he joins the conspirators and shoots Riccardo at a masked ball. Riccardo proves his loyalty to his friend by swearing that he had not touched Amelia and then producing an order transferring the man and wife on a prestigious mission to England. Commanding a pardon for all conspirators, he dies.
In previewing this season, my earlier article predicted that the opener would provide a generous amount of the most beautiful music ever written by Giuseppe Verdi. That was an understatement; like Solomon's visitor, the Queen of Sheba, "the half had not dawned on me."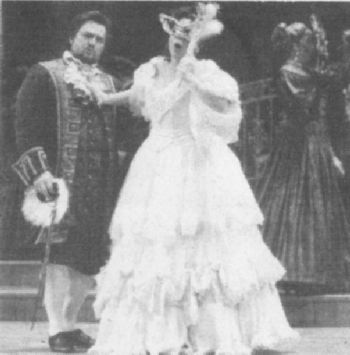 Keith Buhl and Nova Thomas
This production was also beautiful in other ways. The costuming for the masked ball in the closing scene was elaborate. The settings in pre-Civil War Louisiana were truly attractive. The text had many moving sentences and its translation showed by an overhead projection was thoughtful and, it is hoped, memorable.
Talking with the chief participants afterwards, we learned that it was one of those performances in which everyone was well pleased. This was not only the result of one of the most talented ensembles which Thomson Smillie has put together for local audiences. It was also a tribute to the extra hard work of Conductor Hal France and Chorus Master Robin Stamper, Stage Director John Hoomes and his assistants, Lisa and Carla, Set Designer Eric Fielding, Costume Designer Susan Memmott-Alfred and Lighting Designer H. Charles Schmidt. In the latter instance, it would be hard to say which was most effective: the sorceress' lair, the cemetery scene or the closing scene. In each one of these, lighting can and did make all the difference.
It is not always true that one can rate the principals with equal applause. Keith Buhl and Stephen Lussman ran a dead heat for the male roles. One would have to say practically the same thing for Nova Thomas (Amelia), Susan Shafer (Ulrica) and the pixie-like page, Oscar, skillfully played and sung by Pamela Hinchman. The conspirators were portrayed with elan and believability with a special nod to Rick Harvey. One audience member singled out Ms. Shafer while also commenting, "Verdi's music really lets you follow the story with ease."
We now look forward to "Cinderella."