April 2018 Articles
Cover Story
Paul Moffett
Columns
Eddy Metal
Eddy Metal
Blogs
Got Shows?
Send Them To Us
Bookmark Louisville Music News.net with these handy
social bookmarking tools:
Available RSS Feeds
- Top Picks
- Today's Music
- Editor's Blog
- Articles
Add Louisville Music News' RSS Feed to Your Yahoo!

Issue:


I've Got A Mind To Ramble
What, another blues club in Louisville!
Mike Pollard, along with his partner, Fred Wooten, staged a grand opening on October 21 for Stevie Ray's nightclub. The Derby City Blues Review and Lamont Gillespie & the Homewreckers christened the place that Friday and Saturday night. The nightclub is located at 230 E. Main Street between Brook and Floyd streets.
Their marketing research showed that the community wanted a place to be entertained with music that did not start so late at night. Therefore, music will begin at 7 Tuesday through Saturday nights, with happy hours from 4 to 8. Both beer and liquor are available, but no food.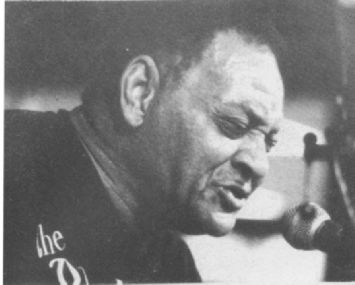 Junior Kimbrough. Photo by Keith Clements
The long, narrow interior will have exposed brick walls and lots of posters and memorabilia from New Orleans. There is seating on two levels for 150 people around a centrally located stage. The space has been completely gutted and redone with new air-conditioning, ceiling fans, bathrooms, a 30' long bar and a sound system by Acoustical Designs. When Mike said that the place was carpeted, I suggested that he cut out a sizeable area for a dance floor. The front facade is very open with lots of glass windows for views to Main Street.
Mike and Fred have turned over the bookings of the acts to the club manager, Mary Ferril. Next spring an outdoor courtyard is planned out back called the Voodoo Garden. This place sounds like a class act, so let's go down and check it out.
•
Two of our local bands were recently up at the Slippery Noodle Inn in Indianapolis laying down tracks for the second in the series of live albums on the Slippery Noodle Sound label. There was a four-day recording session September 22-25.
Both Curtis & the Kicks and Lamont Gillespie & the Homewreckers are on the recording plus the Wolfpack, Governor Davis & the Blues Ambassadors, Gene Deer & the Groove Merchants, Harvey & the Blue Tones, the Dynamics and the Cooler Kings. Curtis had several tracks taped so he can take them out to California for promotion.
Lamont said that Yank Rachell was in the audience throughout most of the sessions listening to the younger generation of blues musicians. When the Homewreckers were done recording, Yank said to Lamont, "You didn't leave anything in this room." This was quite a compliment that meant they used up all the sounds with their performance. Look for this release out by the Christmas holiday.
•
Has anyone heard of the Derby City Bop Association? Well, I did for the first time from Ron Wallace who was one of the founders, past president and current music director. This local group has 150 members and they meet at Jim Porter's each Tuesday night. They conduct dance lessons from 6:30 to 7:30 and from 7:30 on they do the bop, swing, shag and jitterbug.
The music they dance to is strictly rhythm & blues, no rock and roll. We're talking the music of Big Joe Turner, Amos Milburn, Wynonie Harris, Johnny Otis, Roy Brown, Louis Jordan and Big Jay McNeely. These are the honkers and shouters of the late '40s and '50s.
This is a national phenomenon for Cincinnati has a similar organization with over 300 members and there are four clubs in both Nashville and Memphis.
Ron was inducted into the National Bop Hall of Fame last year and now he is organizing a Midwest D.J. Association to network local R&B recordings around the country. These boppers put out a monthly newsletter and each year they hold a Bop Birthday Bash over the Labor Day weekend. So whether you are a bobby soxer, hepcat, greaser, cool chick or just curious, drop by Jim Porter's to learn how to do the cement mixer or just listen to some genuine R&B.
•
I'm still euphoric about the last Garvin Gate Blues Festival that was October 7-9. The music, weather, crowds and the cooperation among those who put it together was outstanding. Since I've run out of space to describe the weekend, I'll just share some pictures of the two headliners, Junior Kimbrough who performed Friday night and Willie Kent who was on the stage Saturday.