February 1995 Articles
Cover Story
Rick Mattingly
Features
Henry C. Mayer
Columns
Berk Bryant
Jim Galipeau
Mike Stout
Paul Moffett
Keith Clements
Todd Hildreth
Duncan Barlow
Henry C. Mayer
CD Reviews
Kory Wilcoxson
Bob Bahr
Dallas Embry
Kory Wilcoxson
Berk Bryant
Todd Hildreth
Kory Wilcoxson
Mark Clark
Ninette Shorter
Mark Clark
Bob Bahr
Mike Stout
Performance Reviews
Henry C. Mayer
Mike Stout
Calendar
Bob Bahr
News Item
Michael Campbell
Jean Metcalfe
Photos
LASC
Jean Metcalfe
Cindy Lamb
Paul Moffett
Blogs
Got Shows?
Send Them To Us
Bookmark Louisville Music News.net with these handy
social bookmarking tools:
Available RSS Feeds
- Top Picks
- Today's Music
- Editor's Blog
- Articles
Add Louisville Music News' RSS Feed to Your Yahoo!

Issue: February 1995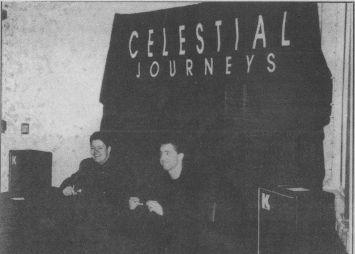 Bobby Brooks, left, and Steve Fish
'Celestial Journeys' Launched at Science Center
On the night of Jan. 5 the event unfolding on the fourth floor of the Louisville Science Center could not have been mistaken for an Alan Jackson album release. Rows of white holiday lighting canopied offerings of half-moon cake, electric-blue cookies, folks dressed out in full Trekkie regalia, and, emanating from the back corner of the room, shimmering waves of space music. Thus Louisvillians Steve Fish and Bobby Brooks launched the release of their 24-month collaboration, Celestial Journeys, with the help of 75 or so supporters in attendance.
The room setup did not lend itself to a thorough sonic presentation of the work, but Bobby Brooks was happy to provide some background. In 1992, he and Fish were invited to provide music to a "Space Hall" event at the Science Center and that got the ball rolling. The two labored over a 24-track sequencer for two years to develop "a musical passage into space." Perfectionist tendencies here? "Oh yes," admits Brooks.
Relying on experiences in the promotional aspect of the Nashville music industry, Brooks sees this event, along with getting airplay on WFPK, as a non-traditional means to an end. That end is to transcend the niche of the New Age market, and get more into the mainstream. Brooks cites Yanni as a successful example.
It may be instructive to those in the local music promotion scene to track the success of this approach as the duo searches for a distributor for this inaugural release on their Fish N' Brook label. Celestial Journeys is currently available on cassette, with a CD release planned soon.