April 2018 Articles
Cover Story
Paul Moffett
Columns
Eddy Metal
Eddy Metal
Blogs
Got Shows?
Send Them To Us
Bookmark Louisville Music News.net with these handy
social bookmarking tools:
Available RSS Feeds
- Top Picks
- Today's Music
- Editor's Blog
- Articles
Add Louisville Music News' RSS Feed to Your Yahoo!

Issue:


I've Got A Mind To Ramble
When two class acts like B.B. King and Bobby Bland come to a classy place like the Palace on the eve of New Year's Eve, it's a special event. The African Americans came dressed in their finest, the men in their chapeaus and the ladies in their glittery dresses and long earrings. The white members of audience tended to dress more casual.
Bobby "Blue" Bland opened the show with his usual 50-minute set of familiar standards that seemed to segue into each other as a continuous melody. This show was similar to the one he did at Coyote's this past June, only Bobby's voice (and guttural effects) were in much better form this night. Bobby is a masterful showman and singer who can manipulate his deep nasal-toned voice for the soft ballads like "Ain't No Sunshine" and "That's the Way Love Works." After some 45 minutes of crooning his special brand of soul blues, Bobby still can establish a strong rapport with the women with the vulnerability of his lyrics and persona. During his set Bobby took a moment to pause in memory of Buddy Ace, who recently passed away.
After intermission it was time for the King of the Blues. I was expecting a standard Las Vegas-type show from B.B. with lots of jiving with the audience, but tonight B.B. came to play, not basketball but Lucille, his beautiful black Gibson guitar.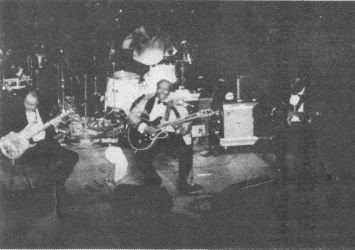 B. B. King at the Palace Teathre, Dec. 30, 1994. Photo by Keith Clements
B.B. hit the stage with that characteristic high-pitched whine from his guitar with "Let the Good Times Roll." His floral green dinner jacket and the greying of his hair gave him the distinguished appearance of an ambassador of the blues. B.B. commented during the show that the band had recently returned from playing in Russia and Moscow, where they played to audiences similar to those at the Palace, for "they seemed to be enjoying themselves."
B.B.'s unflappable showmanship was put to the test when during a slow instrumental there was a buzz distortion coming out of his amp. The sound crew ran on stage and replaced the faulty equipment. B.B. played through the change without missing a lick, to the crowd's delight.
Both Bobby and B.B. brought excellent veteran musicians with punchy horn arrangements. I enjoy watching B.B.'s trumpet player, James Bolen, who has played with B.B. for 16 years. When he is not blowing his horn, he is shuffling his feet and rocking his head like his neck bone "ain't got no bone."
Midway during B.B.'s long set the horn players left the stage, leaving B.B. and his bass, keyboard, drummer and rhythm guitar players. The three guitarists sat down and B.B. told the audience that it was "time to reminisce over these past 45 years." It was the B.B. of the chitlin' circuit and Regal Theater days playing such great oldies as "Rock Me Baby" and "How Blue Can You Get," which has the classic line "I gave you seven children and now you want to give them back." Then B.B. got everyone in a blue yule spirit with an emotional interpretation of "Merry Christmas Baby."
At the end of the three-hour concert the enthusiastic audience demanded an encore and B.B. obliged with "When the Saints Go Marching In." B.B. is a very gracious superstar who remained on stage to sign autographs and throw out guitar picks to his appreciative fans long after the concert was over.
I anticipated that both Bobby and B.B. would perform a set together like the old ABC double LP Together for the First Time ... Live. But since B.B. was in such good form this night, I was not disappointed and hoped that his affair with Lucille would never end.
•
Let's wish a speedy recovery for Lamont Gillispie who is recuperating from a bleeding ulcer. Mark Hoekstra has been filling in for Lamont with the Homewreckers on the band's recent gigs. Jerome Hawlett, the animated little saxophone player who has been playing most recently with B.B. Taylor's Band, has recently suffered a severe stroke which has left him partially paralyzed. Let's hope both of these talented musicians will be back on the bandstand again soon.