February 1995 Articles
Cover Story
Rick Mattingly
Features
Henry C. Mayer
Columns
Berk Bryant
Jim Galipeau
Mike Stout
Paul Moffett
Keith Clements
Todd Hildreth
Duncan Barlow
Henry C. Mayer
CD Reviews
Kory Wilcoxson
Bob Bahr
Dallas Embry
Kory Wilcoxson
Berk Bryant
Todd Hildreth
Kory Wilcoxson
Mark Clark
Ninette Shorter
Mark Clark
Bob Bahr
Mike Stout
Performance Reviews
Henry C. Mayer
Mike Stout
Calendar
Bob Bahr
News Item
Michael Campbell
Jean Metcalfe
Photos
LASC
Jean Metcalfe
Cindy Lamb
Paul Moffett
Blogs
Got Shows?
Send Them To Us
Bookmark Louisville Music News.net with these handy
social bookmarking tools:
Available RSS Feeds
- Top Picks
- Today's Music
- Editor's Blog
- Articles
Add Louisville Music News' RSS Feed to Your Yahoo!

Issue: February 1995
Taking the Co-Option
LASC Showcase at the Rudyard Kipling
By Cindy Lamb, Photos By Jean Metcalfe
The success of the January 19 LASC Songwriter Showcase was the culmination of many songs, much networking and the celebration of unity among local artists. In the debut engagement of the new year, Marie Augustine, Rita Beach and Lenny Simkin focused the limelight on the female gender and packed the Rud to the rafters with original music.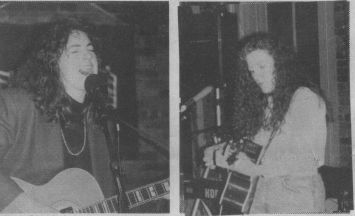 Linny Simkin, left and Marie Augustine
Settling in Louisville after moving from Los Angeles with her husband (music documentarian Jeff Jobson), Linny Simkin immediately became involved in the live original music scene, frequently hosting the Monday Night Open Stage at the Rudyard Kipling as well as joining the LASC.
Linny kicked off the festivities with now-recognized local favorites such as "Can't Stay Away From the Flame," "Declaration of Independence" and "Angel of Mercy," named for her 1987 recording project in her hometown of (as she described it) "pre-grunge" Seattle.
Linny was joined by another Louisville newcomer (actually, a native rebounded from Boston), violinist Peter Rhee. Rhee, who also performs alongside R&B kingpin Michael Murphy in the group Testostertones, added a vivid dimension to Simkin's hardy, busk-style songwriting. Simkin, who's always ready with a song, is enjoying her introduction to Louisville — and apparently it's welcoming her with open ... tape players. Her most recent recorded project, alright, is selling very well at her performances.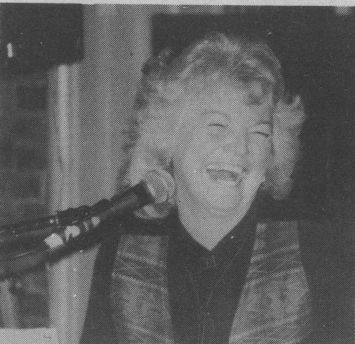 Rita Beach
Having imported an enthusiastic cross-section of her Northern Kentucky fan base, songwriting vet (45 singles and over 1 00 songs), Rita Beach brought the volume up on both sides of the stage.
Joined by her partner, saxophonist Gene Cahill, Rita's heartfelt ballads, including industry attention-getter "Echoes," brought the house down. Up? Rita's penchant for storytelling brought each song to a high, emotional pitch, whether the subject was enjoying your loved ones before they're suddenly gone, or reminiscing about a cold baptismal spring in the backwoods. Cahill's warm, fluid sax lines were darn good. Tropical-spirited "Trouble In Paradise" could've spun the paper parasol right out ofJimmy Buftett's pina colada.
If you ever played "crack the whip" at recess, you knew that the person on the end had to either be strong or have a wild sense of adventure. This must've been the kind of thinking that came over the gods when Marie Augustine was signed on to end both sets of the evening.
A longtime member of the LASC, Marie lived up to a critic's description of "song sampler" as she demonstrated folk jazz, rock and pop abilities. Wrapping around her red Takamine guitar Marie's style is physical and earthy. And under all that hair, there's a grin that indicates whimsical. Cutting up from the stage with master of ceremonies Bryan Hurst about the old days at Tewligans, Marie sent everyone who'd endured the dark sticky environs of the grand little club down memory lane (And this time it smelled better.) The drumming of an ode to the personals in "Thrifty Nickel Man" got the room steamed; a tune penned by Louisville poet Umar Williams cooled us down and closing out with a rollicking version of "Amazing Grace' sent everyone to either the merchandising booth or the bar with the sounds of salvation in their ears. Good stuff.
Joining Marie on stage for intense (sorry, I had to use the "I word") acoustic accompaniment was Serpent Wisdom's Ken Lucchese.
Congrats to Ms. Augustine who has recently qualified to perform in the Jefferson County and Southern Indiana school systems.
Speaking of gifts and merchandise . . . the novelties booth, skippered this evening by Paul Moffett (filling in for his wife, Beth Moffett, who has manned the merchandise table from Day 1) sold many a T-shirt and sweatshirt, mugs, plus LASC's unique compilation tapes, First Time Out and Almost Famous.
The new president of LASC, Paul Dell Aquila, jumped up from his soundman duties at the board to receive an official sweatshirt and handshake from Paul Moffett. Many thanks to the outgoing and incoming Pauls.
Also thanks go to Grace Delligatti, Jean Metcalfe and Jack Roberts for their commitment to the January showcase and to LASC.